Link to this page: https://www.socialistparty.org.uk/articles/11727
Posted on 6 April 2011 at 21:50 GMT
Call for strikes to stop Ford attack on pensions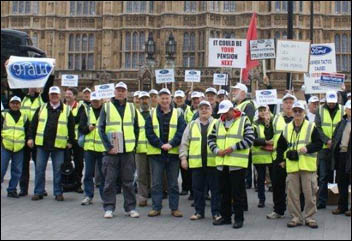 200 Visteon pensioners demonstrated outside parliament on Tuesday 29 March as Ford executives met MPs , photo Mike Gard
Strike action is looming in Ford as the patience of both workers and pensioners runs out. The car giant is intent on pushing ahead with changing the way in which pensions are increased in retirement to take account of inflation (index-linking) so that they will be based on the Consumer Price Index (CPI) rather than the present Retail Price Index (RPI).
Rob Williams, NSSN anti-cuts convenor and former Swansea Visteon (ex-Ford) Unite convenor
As RPI is generally around 1% greater, pensioners could see their pensions reduced by up to 15% over their retirement. It seems that during negotiations with the Unite and GMB unions, the company offered a cash lump sum which the convenors saw as "derisory".
In any case, Ford workers should be demanding that their pensions are left alone as no lump sum will compensate for these losses.
Ford are hiding behind government legislation as an easy way to save themselves a few hundred millions of pounds off their deficit but it's likely that they will be back for more.
They would like to make greater attacks on the final salary pension which is reported to be in deficit by about £2 billion and they have just had a two year 'holiday' from paying anything in.
This isn't just about the 10,000 working in the plants in the UK, but also over 40,000 pensioners.
The latest meeting between the unions and the company was lobbied by Ford pensioners who were supported by ex-Ford Visteon pensioners and NSSN supporters.
Legal battle
The ex-Ford Visteon pensioners are involved in a legal battle with Ford about their own pensions.
Two years ago, almost to the day, 600 Visteon workers were sacked with six minutes notice. They only secured a decent redundancy payment because of their heroic campaigns of occupations and pickets at plants in Belfast, Basildon and Enfield.
However, the pensions of 3,000 present and future pensioners are in doubt because Visteon UK went into administration.
Ford broke their promises to these ex-Ford workers, now they want to put their hands in the pockets of Ford workers and pensioners. This from a company that made $6.6 billion profit last year and can afford to pay its two senior executives almost $100 million a year between them.
The unions told the company that a strike ballot will be starting as soon as possible. No doubt many Ford workers will wonder why they should work overtime at the moment for a company that treats them so badly.
This is a battle that can be won. Ford are hiding behind the laws of a government in crisis.
Ford workers should invite their pensioners to attend their mass meetings to explain why their pensions are worth fighting for.
They should also link up with public sector unions in a united struggle against any attempt by government and employer alike to attack our pensions. They should time action to coincide with action being considered by public sector unions and attend any protests organised by these workers.
Whatever happens, the next meeting in the week beginning 18 April should be met with a mass lobby of Ford workers and pensioners.
Donate to the Socialist Party
Finance appeal
The coronavirus crisis has laid bare the class character of society in numerous ways. It is making clear to many that it is the working class that keeps society running, not the CEOs of major corporations.
The results of austerity have been graphically demonstrated as public services strain to cope with the crisis.
The government has now ripped up its 'austerity' mantra and turned to policies that not long ago were denounced as socialist. But after the corona crisis, it will try to make the working class pay for it, by trying to claw back what has been given.
The Socialist Party's material is more vital than ever, so we can continue to report from workers who are fighting for better health and safety measures, against layoffs, for adequate staffing levels, etc.
When the health crisis subsides, we must be ready for the stormy events ahead and the need to arm workers' movements with a socialist programme - one which puts the health and needs of humanity before the profits of a few.
Inevitably, during the crisis we have not been able to sell the Socialist and raise funds in the ways we normally would.
We therefore urgently appeal to all our viewers to donate to our Fighting Fund.
---