Link to this page: https://www.socialistparty.org.uk/issue/666/11747
From The Socialist newspaper, 13 April 2011
NHS IN THE FIRING LINE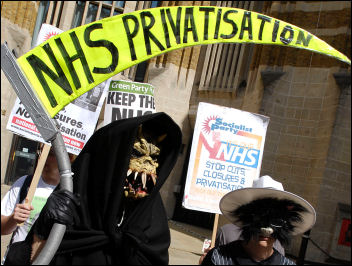 The Socialist Party's 'Grim Reaper', photo Paul Mattsson
Build mass action to save our health service
The NHS is not safe in Con-Dem hands. A new Royal College of Nursing (RCN) report warns that one in eight of all nursing jobs are set to disappear in the next three years. The government puts 'saving' £20 billion from NHS budgets above saving nurses' jobs or patients' lives.
Roger Shrives
Durham and Darlington NHS Foundation Trust is axing 300 nurses and many trusts have similar aims. Also in the firing line would be doctors, midwives and other vital frontline clinical staff. 50,000 jobs are on the chopping block.
Cuts put patients' safety at risk. Hospital infections may become more virulent as staff already have scarcely enough time to do basic duties.
Intensification of labour has reached our hospital wards. Almost 95% of nurses told a recent survey that they worked over their contracted hours - 20% did that on every shift. Nurses were working when they were unwell.
Even Peter Carter, general secretary of the traditionally non-striking RCN, says that nurses could take action such as only working their contracted 37.5 hours a week.
Many trusts are using cheaper or unregulated workers to cut costs. Private firms are making massive profits out of the problems. Temp agencies are making fortunes - some increasing profits by over 1,000% - by supplying temporary doctors and nurses to hospitals hit by staff cuts.
All these are before the NHS feels the real effects of the internal market, which puts private companies' interests above those of patients and NHS workers.
This is already a crisis. The whole trade union movement needs to take action to safeguard our vital public services such as the NHS.
Health workers, NHS users and campaigners, should use their power to safeguard our NHS. We need a return to the massive demonstrations against the hospital closures and privatisation under the last Labour government.
And the trade unions should take a decisive lead on this. Trade unionists should organise a protest, better still a one-day strike, against what the Con-Dems are doing to the NHS.
This would be the most effective reply during the three-month pause for 'consultation' announced after the 26 March TUC demonstration.
No to Con-Dem attacks on the NHS! Build anti-cuts unions in every area, working with health unions, patients organisations and those GP practices opposed to the attacks to defend the NHS and the public. It's our NHS - help save it.
Why not click here to join the Socialist Party, or click here to donate to the Socialist Party.
---
In The Socialist 13 April 2011:
---
Anti-cuts campaigning

NHS IN THE FIRING LINE

Vote socialist to fight the cuts

Fight the cuts by supporting TUSC

Fighting the cuts after 26 March demo

Hands off our services - Westminster

Hands off our Services - Leeds
---
Socialist Party editorial

Middle East and North Africa
---
Socialist Party feature

Con-Dems' economic policy... austerity, austerity, austerity!
---
Socialist Party workplace news

Jobcentre Plus call centre strike

Saltend lock-out

Unison health conference

NUJ conference calls for general strike

Striking against a Coventry academy

NSSN conference
---
International socialist news and analysis

Portugal:'We won't pay their debt!'

'Unions and socialism to blame for deficit' - rants Glenn Beck
---
Youth Fight for Jobs

Jarrow jobs march gains momentum
---
Socialist Party news and analysis

Coordinated strike action to defeat the cuts

Banking giants avoid punishment

No to nuclear power - nationalise the environment-unfriendly energy giants

News of the World admits it

Chauvinist 'thoughts' from David Willetts
---
Home | The Socialist 13 April 2011 | Join the Socialist Party
---