Link to this page: https://www.socialistparty.org.uk/issue/670/11999
From The Socialist newspaper, 11 May 2011
PCS conference: Prepare for united action on 30 June
Cuts can be stopped
John McInally, national vice-president of the Public and Commercial Services union (PCS), explains, in a personal capacity, some of the main issues facing delegates to this year's conference.
All delegates are focused on the national executive committee's (NEC) emergency motion, debated at branch mandating meetings, which sets out a strategy capable of defeating the cuts.
PCS will step up its campaign to defend jobs, pensions, pay, conditions and services on all fronts, including legal, publicity, parliamentary, anti-cuts alliance building. We will be arguing for the PCS Alternative based on tax justice, job creation and investment.
All this is vital work but the brutal reality is that if we are to defeat the cuts programme, defend the public sector and members' interests then we must build for widespread, coordinated industrial action. That is the view of the NEC and is likely to be overwhelmingly endorsed by delegates.
PCS has argued that the TUC should coordinate joint action against the cuts but we cannot hold on until other unions decide to ballot; to do so would mean leaving cuts in jobs, conditions and services that are happening now unchallenged. The proposed strike with education unions on 30 June is not intended to be a one-off; protest action alone will not stop the cuts. Thursday 30 June must be the start of an unfolding campaign that will see other unions joining the battle as their members demand industrial action to defend their own jobs and conditions.
As part of building unity in action Len McCluskey, the recently elected general secretary of Unite will address the conference. PCS is also trying hard to build unity with Unison, whose members face the same problems as PCS members.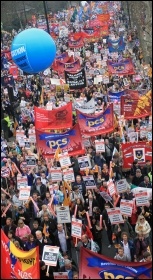 PCS contingent on the half-million strong TUC demo, central London, 26 March 2011, against the government's cuts, photo Senan (Click to enlarge)
Almost a million public sector workers could be on strike on 30 June. The day will involve rallies and demonstrations; PCS is asking the TUC to coordinate such events in every town and city, and other activity, linking the strike to the wider battle in our communities against the cuts.
But first we have to win the debate at conference and then go on to campaign as never before to win the biggest possible majority for action.
This government is attempting to finish the work Thatcher and New Labour started but they are weak and increasingly divided. By autumn the cuts will be biting even more deeply. PCS will continue to work to ensure that by then many millions of workers will be involved in the type of action capable of stopping the coalition in its tracks.
---
>
PCS prepares for cuts battle: Fighting leadership re-elected
John McInally
PCS vice president, personal capacity
In the Public and Commercial Services union ( PCS), the left-led Democracy Alliance national executive committee has been re-elected with an increased majority.
This demonstrates, for those willing to take notice, that when workers are offered a campaigning alternative to the attacks of pro-big business Labour and coalition governments they will be prepared to fight to defend their jobs, services and conditions.
This is a solid endorsement of a campaigning, left leadership that over the past decade has transformed PCS into a union that has become a beacon for workers desperate to challenge the calculated destruction of the public sector and the race to the bottom.
Members have again rejected the do-nothing collaborationist "4themembers" group, a cynical re-branding of the despised "Moderates", who failed in an attempted coup to remove Mark Serwotka as general secretary ten years ago.
Members and activists have been fully involved in the development of the union's campaign strategies. While PCS members face unprecedented challenges, they can have confidence in a leadership that always starts from a simple principle - the union must defend jobs, conditions and services using all campaign methods and never being afraid to use industrial action.
Why not click here to join the Socialist Party, or click here to donate to the Socialist Party.
---
In The Socialist 11 May 2011:
---
Socialist Party NHS campaign

Fight for the NHS
---
Socialist Party workplace news and analysis

PCS conference: prepare for united action on 30 June

Crucial time for Saltend dispute

Defending trade unionism on London Underground

Poverty minimum wage

Library cuts hit staff and users: time for action against the cuts

Workplace news in brief
---
Socialist Students

Students occupy against cuts at London Met

For sale: university places
---
Socialist Party election analysis

Government Con-Demned at ballot box

TUSC shows alternative to Con-Dem and Labour cuts

Labour wins Welsh Assembly election -

SNP landslide – but it will be a government of savage cuts
---
Socialist Party news and analysis

Defend independent living rights

Con-Dems put squeeze on democratic rights

Bahrain repression: Muted criticism of West's ally

Suffolk Tories in retreat?

News in brief
---
International socialist news and analysis

UN report on Sri Lanka war crimes
---
Socialist Party reviews

The Ragged Trousered Philanthropists

Review: Panorama on housing: The human impact of the crisis
---
Home | The Socialist 11 May 2011 | Join the Socialist Party
---