Link to this page: https://www.socialistparty.org.uk/issue/673/12132
From The Socialist newspaper, 1 June 2011
Government plans for the NHS: Privatisation and world class profits!
A review of The Plot Against the NHS by Colin Leys and Stewart Player
Roger Davey, Unison health service group executive, personal capacity
Some on the political left believe that, despite all its betrayals, Labour still retains more of a commitment to the NHS than the Tories. However, a reading of the excellent new book The Plot Against the NHS by Colin Leys and Stewart Player quickly dispels this illusion.
The authors demonstrate that the government's Health and Social Care Bill is not a negation, but a continuation of Labour's policies. You're left wondering whether there is any difference at all between them and the Tories, or even, on some issues, the Republicans in the USA!
The book concentrates on developments within the service since 2000, showing how every Labour government reform and policy had the aim of turning health care into a commodity and a source of profit. The authors argue this was done covertly, with the government hiding behind euphemisms such as 'choice', 'world class commissioning', and 'patient-centred care', when what they really meant was privatisation, marketisation and world class profits!
Tory privatisation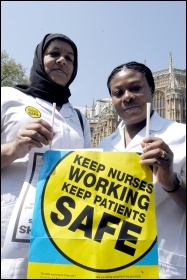 Marching against NHS cuts and privatisation - protest by Royal College of Nurses (RCN) in 2006, photo Paul Mattsson (Click to enlarge)
The privatisation of the NHS started with the contracting out of cleaning services under the Thatcher government. Between 1981 and 1994 non-clinical employment in the NHS fell from 500,000 to 200,000 as a result of privatisation. A reduction that has had deadly and predictable consequences for hospital hygiene.
More followed under the Tory John Major government, notably the internal market, but it was under Labour that the drive towards privatisation really picked up pace.
Initially private hospitals could not compete on cost with those in the NHS. So the government unbundled the low risk, non-complex, high-volume cases and awarded the contracts to Private Treatment Centres. These companies were paid at a higher rate than the NHS, through block contracts, which took no account of how many patients were actually treated.
It cost the government millions and destabilised other NHS hospitals. But it achieved its aim of breaking the NHS monopoly in secondary care.
Reading this book reminds you of the scale and scope of Labour's onslaught on the NHS. In little over a decade it had introduced the Private Finance Initiative into the NHS, personal care budgets, privatisation of community care, outsourcing of support functions and the growing corporate takeover of GP services. Hospital, ward and other NHS budgets were slashed.
One of the most damaging policies introduced by Labour was the creation of a market in health care. Out went the fundamental NHS principles of planning and cooperation to be replaced by competition, profit and market instability. The government established commissioners of care - Primary Care Trusts - and providers of care - Foundation Trusts, NHS, private sector - with the latter competing for contracts, and being paid a fixed tariff for every medical procedure.
Health secretary Andrew Lansley's bill proposes to abolish the tariff, which would allow private companies to win contracts by reducing costs and the quality of care. Also the purchasing of care will be transferred to private GP consortiums.
Even with a tariff, care has still been determined by the market and what is profitable. It was Labour that created this market, the coalition is merely taking it to its logical conclusion.
Another major objective for Tony Blair's government was to transform NHS organisations into bodies that operated like businesses. Large acute hospitals were encouraged to become Foundation Trusts (FTs), free from NHS control. Their priority was now financial discipline rather than patient care. The government proposes to extend FTs' independence. But in essence both they and Labour view FTs as a half-way house towards privatisation.
In fact such is the direction FTs are travelling, with potential mergers/partnerships with private companies, and their freedom to treat an unlimited number of private patients, it can be argued that they are no longer part of the NHS. With all NHS organisations set for FT status, within two or three years the NHS will no longer exist as a provider of health care.
Furthermore plans for commissioners to be privatised, and for the market to determine care, means that by 2014 the NHS will have been abolished.
In reality, as the book argues, everything was in place for the development of a market by 2004. In fact market dynamics will increasingly dictate the process of privatisation, rather than parliamentary acts. It will, alongside the biggest cuts in the NHS's history, have a devastating effect on the health of millions.
So why is the NHS being destroyed? The book correctly highlights the influence and power of the multinational health corporations. But there is a more fundamental reason, the historical bankruptcy of capitalism. It is increasingly a system that can no longer develop the real economy, but instead seeks to maximise its profits through massive global financial speculation, and privatisation such as in the lucrative health care market.
Why have they got away with it so far? A major factor is the lack of a fighting trade union leadership. Despite the fact that the NHS has been under attack for over a decade, there has not been even one day of national industrial action on this issue. One reason for this of course is the link between many unions and the Labour Party.
Indeed the fact that Labour was instrumental in the privatisation of the NHS, without any real opposition from its rank and file, proves that it is both unreformable and rotten to the core.
Political architect of the NHS, Nye Bevan, said that the health service would survive as long as there were people ready to fight for it. Working class people are ready to fight for the NHS. But we also need effective trade union leadership and a political voice, in other words a mass workers' party.
The Plot Against the NHS
by Colin Leys and Stewart Player
£13.50 including postage from:
Socialist Books PO Box 24697, London E11 1YD.
bookshop@socialistparty.org.uk
020 8988 8789
Why not click here to join the Socialist Party, or click here to donate to the Socialist Party.
---
In The Socialist 1 June 2011:
---
Socialist Party news and analysis

Rage against bankers

Fifa scandal

Glencore - Profiting from global hunger

New attacks on women's sexual and reproductive rights

Disabled protester - "inadvertently struck with a police baton"

Shoesmith sacking - social work under growing pressure

Gil Scott-Heron

News in brief
---
International socialist news and analysis

Egypt and Tunisia: Revolutions at the crossroads

Greece: unite the struggles and bring down the government
---
National Shop Stewards Network

Strike - to defend jobs and pensions
---
Socialist Party NHS campaigning

Government plans for the NHS: Privatisation and world class profits!

"Frontline first" a dangerous tactic - unity is the key

Cardiff NHS protest against Topshop tax dodger

Demonstration against closure of day centre in Llandeilo
---
Socialist Party workplace news

Southampton - council workers' strike spreads

Saltend construction workers' struggle ends

TUC disability conference

Lewisham teachers - Action threat spells victory

Newcastle East Coast rail call centre - Save jobs!

Workplace news in brief
---
Socialist history

18 years since Stephen Lawrence murder
---
Youth fight for jobs and education

Coventry action against academies grows

Yorkshire meetings make Jarrow plans
---
Socialist Party feature

Lib Dems - a party rooted in capitalism
---
Home | The Socialist 1 June 2011 | Join the Socialist Party
---