Why Socialism 2011?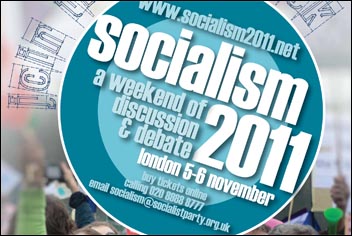 Socialism 2011 will be a showcase for the socialist alternative to a world in crisis. We will examine how the world got here.
We will hear from those on the frontline of struggle. We will discuss and debate how we can make the socialist alternative tomorrow's reality.
Boom turned to bust
The world is becoming a more uncertain place. Three years ago the 'boom' turned into a catastrophic bust.
In Britain £2 trillion of wealth was wiped out. Entire countries - Iceland, Greece, Ireland and now Portugal - have gone bankrupt.
Others may follow. In virtually every 'rich world' country brutal austerity is demanded by governments.
Mass unemployment, cuts to public services, and increased taxes are demanded to satisfy the super-rich speculators on the international financial markets.
Big business politicians have sided with this elite against the working class and middle class. But this declaration of class war from the top is being challenged.
Across Europe austerity has been met with mass protests and general strikes. In Britain up to 700,000 marched against cuts in the biggest trade union demonstration ever.
In Wisconsin and other cities in the United States, hundreds of thousands of workers have protested and occupied in response to attacks on trade union rights.
And across the Middle East and North Africa revolutions and uprisings have toppled dictators. The world is being re-shaped around us.
Socialism needed
This is no time to sit on the sidelines. If the super-rich and their big business politicians have their way, their profits and bonuses will be secured by the destruction of our living standards.
That is the reality of capitalism in the twenty-first century, a crisis ridden system that wrecks countries and destroys lives. That is because capitalism is a system that puts the profits of the few ahead of the needs of the vast majority.
But capitalism is not 'normal' or 'natural'. There is another way of running the world.
Socialism 2011 will demonstrate the socialist alternative. It will provide analysis and provoke debate about how the world got into this mess.
We will hear from leading trade unionists and discuss how to make socialism a reality.




LATEST POSTS

WHAT'S ON

CONTACT US
Locate your nearest Socialist Party branch Text your name and postcode to 07761 818 206
Regional Socialist Party organisers:
Eastern: 0798 202 1969
East Mids: 0773 797 8057
London: 020 8988 8786
North East: 0191 421 6230
North West 07769 611 320
South East: 020 8988 8777
South West: 07759 796 478
Southern: 07833 681910
Wales: 07935 391 947
West Mids: 02476 555 620
Yorkshire: 0114 264 6551

ABOUT US

ARCHIVE
---

2017

2016

2015

2014

2013

2012

2011

2010

2009

2008

2007

2006

2005

2004

2003

2002

2001

2000

1999