Link to this page: https://www.socialistparty.org.uk/issue/677/12301
From The Socialist newspaper, 29 June 2011
Greece, Spain, Britain...
We won't pay for their crisis
Sean Figg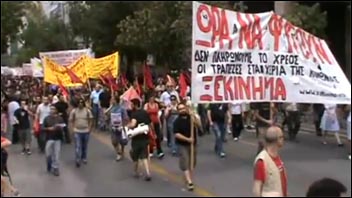 Xekinhma, Greek section of CWI, on massive general strike in Greece on 15 June 2011, photo Stephan Kimmerle
"Liars and thieves!" That's the accusation that Greek workers and youth are hurling at those in the Greek parliament voting for further cuts. "They have to go" is their demand. Pro-big business politicians expect the working class in Greece to accept a cataclysmic austerity programme that will throw society back decades.
Already, 34% of Greek households live below the poverty line and 45% cannot feed themselves properly. Public sector wages have been cut by 30%. The European Union and the International Monetary Fund are demanding a massive privatisation programme. This is before they attempt to push through a further €28 billion cuts package.
In Spain, a massive movement of angry young people makes the same charge against their discredited political class. Youth unemployment is over 40%, austerity is biting and the Spanish economy is on the brink, with the bond market vultures circling.
In both countries, as the Socialist goes to press, workers and youth rose to their feet in anger. "Why should we pay for a crisis caused by the banks?" is the main question being asked. The 48-hour general strike in Greece preceded nearly a million teachers, lecturers and civil servants striking in Britain against attacks on pension rights. Wherever you look, massive protest movements are bursting onto the scene.
Across Europe, capitalist politicians are wielding the axe of austerity on behalf of big business and the super-rich. To guarantee their profits and bonuses they are decimating our living standards.
There is no future for millions if the capitalist system remains in place. Its priorities are profits for the few, regardless of what it does to the majority. Everywhere governments say: "There is no alternative".
Well, the Greek workers are right - these politicians are liars! This is their crisis not ours. It is a crisis of the capitalist system.
The richest 0.15% of the population worldwide has a combined wealth of $42.7 trillion. This, the capitalist class, collectively has got more now than it had before the world economic crisis began! Imagine what could be done if this wealth was used for the benefit of all, the world over.
Taking the banking sector into full public ownership under the democratic control of the working class would be a good start. The discussion would then not be about lowering living standards but raising them.
The struggles in Europe and across the world will grow louder and stronger in the coming months. The revolutions in the Middle East and North Africa have shown that when working class people decide in their millions that they have had enough, governments can be swept aside. The idea that the system - capitalism - is to blame is crystallising.
Capitalism's crisis is global in nature and it will need a global solution. That solution is international socialism: the democratic planning of wealth and resources under working class control. The movements developing now will blaze a trail for socialist ideas, ideas that will allow us to construct a world that makes the deprivation and uncertainty of capitalism a dim, unpleasant memory.
If you agree with us, join the Socialist Party, and help build that socialist future.
Why not click here to join the Socialist Party, or click here to donate to the Socialist Party.
---
In The Socialist 29 June 2011:
---
30 June pensions strike

Next step: one-day public sector strike
---
Socialist Party editorial

Con-Dems' pension attack demands coordinated and determined response
---
Unison conference

Unison conference Socialist Party meeting spells out action needed

Unison delegates reject leadership proposals
---
Socialist Party news and analysis

Universities on the cheap!

Trade unionists must fight for LGBT rights

Western governments more concerned about business deals than human rights in China

News in brief
---
Socialist Party workplace news

'Hard lesson' for tube management as driver wins reinstatement

Shafted By AEI cables

'No redundancies!' say Forest Hill school teachers

Trade union news in brief
---
Socialist Party reports and campaigns

Save heart services for children!

Jobs threat at Derriford hospital

Nuneaton: exterminate the cuts!

Marching against cuts in Haringey
---
Trade Unionist and Socialist Coalition

Who speaks up for workers?
---
Socialist Party news

Why I left Labour - and joined the socialists

Public money into private firms' hands
---
International socialist news and analysis

Greece, Spain, Britain... We won't pay for their crisis

Syria: Regime steps up repression... but opposition continues to grow
---
Socialist Party review

The Pitmen Painters
---
Socialist Party features

Workers say: Renationalise the railways!

Private railways rip off fares

National Pensioners Convention parliament
---
Socialist Party events

Socialist Party summer camp - bigger and better than ever!
---
Home | The Socialist 29 June 2011 | Join the Socialist Party
---