Link to this page: https://www.socialistparty.org.uk/issue/677/12317
From The Socialist newspaper, 29 June 2011
Play review
The Pitmen Painters
Mark Baker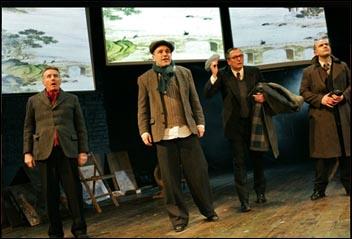 The Pitmen Painters theatre production, photo Keith Pattison
Lee Hall, creator of Billy Elliot, focuses here on the real experiences of Ashington miners who, through the Workers Education Association (WEA), become celebrated artists in their spare time.
The play's main characters include a fussy, pedantic union bureaucrat; an unemployed young lad; an individual who quotes Karl Marx rigidly in all circumstances and a softly spoken teacher, Robert Lyon, who tries to educate these hardened souls about 'Art'.
Their different class and cultural outlook immediately becomes apparent. However, as the group begins to paint pictures depicting working class life, particularly their own experiences in the mining community, they catch the eye of the "art world" in particular a local heiress, Helen Sutherland.
Their invite to the "great house" brings out the class differences and Helen attempts to recruit one of them, Oliver Kilbourn, to become a 'professional artist'. For the men, though, mining is a way of life. The class solidarity between them is beyond her comprehension.
The debate about what art is, and how it seems, to working class people is played out here as Lyon explains when presenting "the first exhibition of paintings entirely by working class artists in British history... the only reason we've not seen their like before is not because the working class lack talent, but because no one has given them a paintbrush...You simply have to find the key and unlock all of this creativity."
As war approaches their whole world becomes threatened. The young lad signs up for the front as the only means of escaping the perpetual cycle of unemployment in the north-east of the 1930s.
Kilbourn visits Lyon who reflects "we can make a world where everyone can flourish... if the working classes use their power and their intelligence and their creativity... but you can't have a rich culture if three-quarters of the people are disenfranchised."
Reunited after the war, the group are full of optimism. A Labour government is pledged to building a National Health Service and a welfare state, including improved access to education for the working class.
This last section is made more poignant by our awareness of all the things this coalition government now seeks to destroy.
The humanity, spirit and resolve of these miners, whose pit eventually closed in 1981, is inspiring. We are also reminded of the removal of the socialist Clause IV from the Labour Party constitution in 1995. Forward to socialism where working class talent like theirs can be truly liberated.
An unforgettable piece of theatre, The Pitmen Painters is on tour to various locations around Britain until 1 October. A London run is expected to follow.
Why not click here to join the Socialist Party, or click here to donate to the Socialist Party.
---
In The Socialist 29 June 2011:
---
30 June pensions strike

Next step: one-day public sector strike
---
Socialist Party editorial

Con-Dems' pension attack demands coordinated and determined response
---
Unison conference

Unison conference Socialist Party meeting spells out action needed

Unison delegates reject leadership proposals
---
Socialist Party news and analysis

Universities on the cheap!

Trade unionists must fight for LGBT rights

Western governments more concerned about business deals than human rights in China

News in brief
---
Socialist Party workplace news

'Hard lesson' for tube management as driver wins reinstatement

Shafted By AEI cables

'No redundancies!' say Forest Hill school teachers

Trade union news in brief
---
Socialist Party reports and campaigns

Save heart services for children!

Jobs threat at Derriford hospital

Nuneaton: exterminate the cuts!

Marching against cuts in Haringey
---
Trade Unionist and Socialist Coalition

Who speaks up for workers?
---
Socialist Party news

Why I left Labour - and joined the socialists

Public money into private firms' hands
---
International socialist news and analysis

Greece, Spain, Britain... We won't pay for their crisis

Syria: Regime steps up repression... but opposition continues to grow
---
Socialist Party review

The Pitmen Painters
---
Socialist Party features

Workers say: Renationalise the railways!

Private railways rip off fares

National Pensioners Convention parliament
---
Socialist Party events

Socialist Party summer camp - bigger and better than ever!
---
Home | The Socialist 29 June 2011 | Join the Socialist Party
---