Link to this page: https://www.socialistparty.org.uk/issue/678/12351
From The Socialist newspaper, 6 July 2011
Birmingham - the fightback begins
Tom Creek, Birmingham Socialist Party
In Birmingham on 30 June, striking teachers, lecturers and civil servants were joined by thousands of local government workers who are fighting brutal attacks on their terms and conditions. The strike rally in the city centre brought together 5,000 workers in defiance of the Con-Dem cuts.
271 schools were affected by the strikes. 31 libraries, 20 neighbourhood offices, three leisure centres, four Connexions offices and four adult day centres were closed completely. There was disruption across other council services and in many universities and colleges, and numerous jobcentres and Department for Work and Pensions offices were also closed or disrupted.
Last year, all 26,000 council workers were threatened with redundancy unless they accepted reduced terms and conditions. The imposed deal was nicknamed the 'Martini contract' because it will force employees to work 'anytime, anyplace, anywhere'.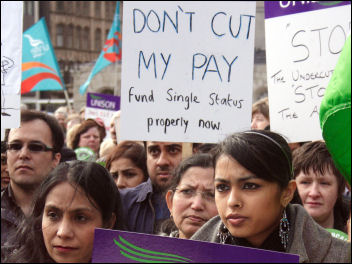 This is combined with the removal of allowances for working overtime and weekends, which will have a devastating effect on low-paid workers in areas such as social care and refuse collection, where anti-social hours are the norm. Many workers face losing a third of their salary, and with it their houses.
Overall the mood was defiant and determined. Caroline Johnson, a senior Birmingham Unison official, described 30 June as: "the first day of continuing action", and workers agreed that it was just the beginning.
There was strong support amongst pickets for the Socialist Party's call for a 24-hour public sector general strike in the autumn, which would draw in other unions like Unite, Unison and the GMB on a national scale.
The question of political representation must also be addressed. The Labour Party was notable by its absence from the picket lines and the demonstration, and Labour has shown no indication that it is prepared to fight the cuts in Birmingham.
It is likely to control the council after the elections next May, so it will be essential to build a socialist political alternative in the city to fight all cuts and show a socialist route out of the capitalist crisis.
Why not click here to join the Socialist Party, or click here to donate to the Socialist Party.
---
In The Socialist 6 July 2011:
---
30th June strike and after

What next to defeat the cuts?

Next time - strike together...

24-hour public sector general strike as next step to beat the Con-Dems

Standing up to a weak government

Labour - condemned for condemning strike

Solidarity from POA

We can win together

Walkout at Wormwood Scrubs prison

30 June pension strike reports
---
Socialist Party news and analysis

Leaked memo shows government lied over its homeless policies

Dilnot report: A disservice to disabled and older people

Durham Miners' Gala: Miliband pulls out

Stop the racist and divisive EDL

Time to defend abortion rights... again

News in brief
---
Socialist Party workplace news

Southampton council workers strike on same day as teachers, lecturers and civil servants

Birmingham - the fightback begins

Leeds Unison members decisively reject the council's final offer

Fawley refinery construction engineers summarily sacked

Fighting pension cuts and the anti-union laws

Workplace news in brief

Successful NSSN meeting in Coventry
---
International socialist news and analysis

East Belfast riots: Only united working class action can prevent further attacks

Kazakhstan: Striking oil workers attempt to break news blockade

Sabotage on ship to Gaza
---
Socialist Party reports and campaigns

All workers: unite to fight for decent jobs

High street job cuts: Jane Norman worker speaks out

Socialist Students meeting prepares for new term

Youth Fight for Jobs: campaign moving forward

Day-Mer festival support for 30 June pensions strike

Pride London
---
Socialist Party reviews

Review: A Common Treasury

Endgame by Rise Against
---
Socialist Party

Building the socialist alternative on 30 June

Socialist Party youth meeting: Successful and insightful
---
Home | The Socialist 6 July 2011 | Join the Socialist Party
---