Link to this page: https://www.socialistparty.org.uk/articles/12450
Posted on 28 July 2011 at 15:17 GMT
HONDA - REINSTATE PADDY BRENNAN!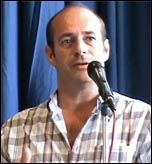 Paddy Brennan, photo Socialist Party
28 July The National Shop Stewards Network has just received word that Paddy Brennan, UNITE Convenor at the Swindon Honda plant has been suspended from work.
More details to follow when we get them, but Paddy's suspension is a provocative attack on a prominent trade union fighter and by extension an attack on the right to organise at Honda.
We demand Paddy's reinstatement and the NSSN pledges to do all it can in support of this.
Please text messages of support to Paddy on 07503 174 827. More updates to follow.
Why not click here to join the Socialist Party, or click here to donate to the Socialist Party.
---