Link to this page: https://www.socialistparty.org.uk/articles/12776
Posted on 14 September 2011 at 16:28 GMT
As Murdochgate scandal goes on - release Tommy Sheridan!
Philip Stott
What do you give a billionaire media mogul whose company is mired in scandal, illegality and corruption? Why, a 47% pay rise, that's what.
Rupert Murdoch's nice little earner of $33 million for 2010/11 included a $12.5 million bonus. Not bad for the boss of a company whose share price has collapsed and whose bid for BskyB had to be withdrawn when the Murdochgate scandal broke in July this year.
His son James, now accused of having delivered a pile of SHockingly Inaccurate Testimony to the House of Commons select committee, turned down his $6 million bonus. Poor old James has to make do with a $12 million annual salary instead.
Murdoch junior swore blind that he knew nothing about the widespread nature of phone hacking at the now-defunct News of the World (NoW).
Or having seen an email in 2008 that proved that the illegal actions of NoW went way beyond the risible "one rogue reporter" fig leaf that News International (NI) clung onto for years.
Tragically for Murdoch, the former editor of NoW Colin Myler and the paper's long term lawyer Tom Crone gave evidence last week to the select committee that they had both met James Murdoch and showed him the email in 2008.
The "For Neville" email contained transcripts of hacked messages from the mobile phone of Gordon Taylor - head of the football players union, the PFA.
Murdoch junior agreed to the £500,000 pay-off to Taylor to stop his legal action. In other words James must have had knowledge of the phone hacking operation.
Police involvement
Significantly, Myler and Crone claimed that the "For Neville" email was given to them by the Metropolitan police after the police seized thousands of documents from NoW's private investigator Glenn Mulcaire.
Mulcaire carried out a large amount of the phone hacking for the paper and was jailed in 2007.
Why did the Met police hand incriminating evidence back to the NoW that clearly showed illegal activities had take place? Why did the original investigation into phone hacking by the police conclude that this evidence and thousands of other documents did not prove widespread illegal activity? And why, when the police were asked to review all the evidence again in 2009, did it take just eight hours to conclude there was nothing to justify new prosecutions - when the Met had all the information in their possession, including about the hacking of Milly Dowler's phone and thousands of other cases?
Many have pointed to a culture of cover-up by the Met and collusion between the leading figures in the Met and News International.
The head of the original police investigation, Andy Hayman, ended up working for the Times, part of the NI empire.
Tommy Sheridan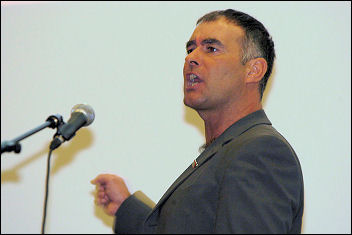 Tommy Sheridan speaking at Socialism 2006
Another former editor of NoW, Andy Coulson, is currently being investigated by Strathclyde police as part of a perjury investigation.
Coulson, NoW editor when Scottish socialist Tommy Sheridan won a defamation case against the paper in 2006, along with the Scottish NoW editor, Bob Bird and the Scottish paper's chief reporter, Douglas White are under investigation after giving evidence during the Tommy Sheridan perjury trial.
They variously denied in court knowing anything about phone hacking, payments to police officers and denied ordering the hacking of Tommy Sheridan's phone.
This is despite the fact that Tommy's mobile number, PIN number and home address were found in Mulcaire's documents.
Clive Goodman, the NoW former Royal Correspondent, however claimed hacking was widely discussed at editorial meetings when Coulson was editor.
Operation Rubicon was launched after Tommy Sheridan's solicitor and the Labour MP Tom Watson handed in a dossier which including the names of hundreds of people in Scotland believed to be victims of Mulcaire's and the NoW phone hacking operation.
It's been reported that there are now between 40 and 50 police officers involved in the Scottish investigation into hacking, possible police corruption and perjury.
It remains to be seen if charges are brought against Coulson - who was David Cameron's communications director when he gave his evidence in December 2010.
And what attitude the Scottish Crown office takes given their vendetta against Tommy Sheridan over the last five years.
What is clear is that Tommy Sheridan, currently in Castle Huntly open prison, should be released immediately.
As Tom Watson pointed out in the House of Commons in July, Tommy Sheridan's conviction "may well be unsound".
The full scale of the Murdochgate scandal, which has yet to fully emerge, involving top politicians, police officers and the legal establishment as well as the Murdoch empire,demands nothing less than a full and open public inquiry by elected and accountable representatives including from the trade union and workers' movement.
---
This version of this article was first posted on the Socialist Party website on 14 September 2011 and may vary slightly from the version subsequently printed in The Socialist.
Why not click here to join the Socialist Party, or click here to donate to the Socialist Party.
---