Link to this page: https://www.socialistparty.org.uk/issue/688/12932
From The Socialist newspaper, 5 October 2011
North-west construction electricians meet
Getting organised for action
Hugh Caffrey
Up to 100 construction electricians from across the north and north-west met in Manchester on 1 October to organise in defence of pay and conditions. Others came from the south coast and northern Scotland to contribute to this important meeting.
Seven employers are walking away from the Joint Industry Board (JIB) national agreement between big employers and the trade unions in the electrical construction industry. The seven are doing this in order to drastically worsen construction electricians' pay by up to 35%, a loss of £7,500 a year! Workers are determined to resist this - and the pay cuts, blacklisting and other attacks being made on them by the employers in and out of the JIB.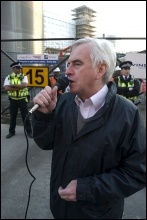 John McDonnell MP addresses the protest, photo Paul Mattsson
Speakers at Saturday's meeting outlined the current stage of the struggle with the mass protests at sites across England and Scotland, strikes at some sites and prospects of big strikes at several more. Numerous contributions from the floor debated how this can be developed to mass pickets and mass walkouts across all the sites.
A very democratic debate also heard from one of Unite's regional officials but was rightly dominated by the voices of workers. Confidence was voiced by many that this is a winnable fight, provided strike action is organised swiftly enough.
Workers were clear that Unite needs to move quickly to ballot, and that they won't stand for pointless delays. In a constructive and fraternal way, Unite's national construction official was strongly criticised for failing to seriously lead struggle while attacking good activists from behind the scenes.
The meeting concluded by electing a north-west steering committee to coordinate the campaign and agreeing that this will work as closely with Unite as possible.
Why not click here to join the Socialist Party, or click here to donate to the Socialist Party.
---
In The Socialist 5 October 2011:
---
Socialist Party news and analysis

As BAE threatens cuts... Fight for Jobs!

Miliband's fruitless dreams of a 'better capitalism'

Labour Party conference - No way forward given by 'reclaim Labour' speakers

Tory conference farce - Carry on cutting!

Fast news
---
Socialist Party reports and campaigns

Manchester: Thousands say no to cuts

Glasgow: Prepare for 30 November strike

London union leaders call for electoral challenge

Poplar and Liverpool: 'If you fight, you can win'
---
Socialist Party feature

Right to protest under attack
---
Socialist Party workplace news

North-west construction electricians meet

Construction electricians invade Kings Cross station

Fighting library closures
---
Socialist Party youth and students

Extract from Jarrow Marchers Blog: Day 1 & 2

Danger: young people's futures at risk

Campaigners learn the ropes

Students join the socialists as fury grows over cuts and fees
---
Socialist Party review

'Chav hate is class hate'
---
International socialist news and analysis

USA: Occupy Wall Street struggle spreads

Irish trade unionists meet to launch Activists Network

Chilean students in fifth month of protests
---
Socialist Party events

Join the fightback: come to Socialism 2011!
---
Home | The Socialist 5 October 2011 | Join the Socialist Party
---