Link to this page: https://www.socialistparty.org.uk/issue/689/12976
From The Socialist newspaper, 12 October 2011
Interview with a Jarrow marcher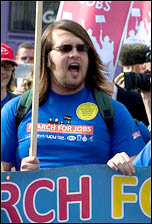 Jarrow marcher Matt Whale. Photo Paul Mattsson
Matt Whale, unemployed organiser for Youth Fight for Jobs (YFJ) spoke to the Socialist about the Jarrow march as it passes through Yorkshire. See below for how to join and support the march.
---
>
How's the Jarrow march going?
Brilliant! On Saturday 8 October we had two demos. Hull's second on the youth unemployment statistics and has been near the top for the past two years since YFJ was set up.
We thought it was vital we had a presence in the city. Plus BAE Systems proposed cuts of just under 1,000 jobs in Brough, just outside Hull, threatening the end of manufacturing industry there.
The private sector was supposed to pick up the slack of the public sector cuts - according to the Con-Dems - this is clearly not true.
Cameron says we're going to 'sell to the world' but that's not possible if they're cutting back on manufacturing.
We've got a very simple message and that's nationalise the BAE plant and bring it under democratic working class control so they can carry on building what they think's right.
When approached, the BAE workers completely backed the Jarrow march and agreed to organise a joint demo under the YFJ banner.
About 700-800 people turned out including BAE workers, Jarrow marchers, local authority workers and local people.
It was a great demo through the city with a lot of people applauding us and lots of press coverage.
There was also a demo of about 200 in Leeds which challenged the racist EDL. These racist bigots only want to divide working class communities along arbitrary racial and religious lines, at a time when we need to be more united them ever.
What's the Jarrow march about?
The 330-mile march was organised to highlight the issues facing young people. Youth unemployment is officially about to go over a million but if we include people, for example, who are on zero-hour contracts who sometimes get absolutely no hours in a week, then you can see that unemployment is absolutely horrendous for young people, as is underemployment.
Behind the official figures are also the numbers on apprenticeships that don't pay the minimum wage, people who don't know their rights who aren't getting overtime payments or who are working through breaks they're legally entitled to have.
We want massive investment in a programme of socially useful job creation. That would mean reversing all the cuts to youth services, creating green jobs and building houses.
That would also provide much-needed homes to address homelessness and over-crowding. You've got oversubscription in schools - why don't we have more teachers, why can't we create smaller classes? More doctors, more nurses, put the training in place for people to do the jobs that people want to do so they can actually feel 'socially useful'. Don't throw them on the scrapheap.
We want the re-instatement of EMA payments for all 16 to 19 year old students. To meet training needs we also need real apprenticeships on trade union-agreed rates of pay.
Higher education should be free, not a privilege for the rich or a source of crippling debt.
Another demand is an end to workfare schemes which are basically slave labour. If a job needs doing then a job should be paid for. It shouldn't be used to undercut the current workforce.
Can these demands be met?
We're under no illusions that we'll get to London and all of a sudden the Con-Dem government will reverse its policies and create jobs and become supporters of working class people.
What we want to do is become a rallying point for young people and the anti-cuts movement linking with the trade unions and those going into struggle in the coming weeks and months.
We want to have young people and workers united to fight back against this government.
We've been very successful in that already in the first week of the march. With AEI cables workers in Birtley and then with BAE in Brough, YFJ is taking a lead in uniting young people and workers in struggle and that's how we'll bring about our demands.
Is there support for your demands?
On the route all that I've heard so far is positive feedback from the public as we pass through the towns and cities, saying good on you for having a go and we support you 100%.
At an inspirational meeting in Darlington a public sector worker got up and said 'you're representing not only yourselves but also the working class'. It's those sorts of acts of solidarity that have really inspired the marchers so far.
But a Tory MP has had a go at the marchers, saying people are dropping out and you're not up for the task.
Of course the more marchers we have the better and we want more people to join us. I'd love to invite that Mr 'Goodwill', MP for Scarborough, down to do a leg of the march or even more.
Maybe he can help fund the march by taking some of the £145,000 of expenses he claimed in 2008 to actually fight for a future for young people.
And if 'not being up for it' means organising two demos over a weekend with around 1,000 workers and youth involved - then they've got us bang to rights! But the Tories have undoubtedly been briefed against us - it's their policies we're attacking.
Iain Duncan Smith, Tory work and pensions minister, who we're going to visit in his constituency on 4 November, is going on about making 'work pay'.
Well, if they want to make work pay that's brilliant - but where are the jobs? I don't know any unemployed person who doesn't want a job.
When I was unemployed for eight months it was really depressing not being able to find work.
Living in Hull where there are 83 people going for every job, that means there are 82 people who won't get the job.
Benefits are there as the bare minimum to allow people to survive. We don't want to see a return to Victorian times when there were people dying on the street because people couldn't afford to feed themselves.
What would you like to see the march achieve?
Well I'd like to see big demonstrations in every town and city we go through and a big demo at the end on 5 November in London.
The march is a good way of inspiring young people to fight back. We're informing people about the history of the original march, with the tagline 'no return to the 1930s'.
We're saying that prevention's better than the cure in this situation. We're also linking in with workers going into struggle.
I want to see YFJ speakers and representatives linking up with the trade unions to a) unionise young workers and b) to support them in the public sector general strike over pensions on 30 November.
And I want YFJ representatives speaking on every platform about the plight of young people, growing the campaign, growing the movement and eventually having a campaign that's capable of toppling this government.
As they see their lecturers and teachers go out on strike, fighting for their jobs and futures, I think last year's student movement will be re-ignited.
Whether it's in the same way as last year is debatable but students have a history of being one of the first groups to fight back.
As someone who was unemployed I was involved in the occupation at Hull University. I saw it as my future being affected as well as those at the university.
It's absolutely vital that young people are linked together in a common struggle because there is a common enemy - this system that bails out banks and chucks us on the scrapheap.
But all we hear about is the deficit. How can we afford this?
The banks got bailed out and the bankers got their bonuses but working class people face cuts. You've got unpaid tax of £120 billion a year according to the PCS union.
Only one year of collecting this would make the plans for four years of cuts unnecessary. So when we're told that our aims aren't achievable we know that's absolutely rubbish.
The truth is that the money's there in society - it's just in the hands of a few rather than in the hands in the many.
Support the fightback! March and donate
---
>
Join the march!
Young people and supporters are welcome to join the march for any amount of time between now and 5 November.
Public support has been massive but they still need financial support to cover the costs of the march. Can you or your trade union branch sponsor the march?
See the Jarrow blog for information, daily updates, details of where the march is going, events en route and how to donate.
5 November - national demonstration and rally
For jobs, education and a future
Assemble 12 noon at Embankment for the final leg of the Jarrow March
We will hand in a petition to Downing Street followed by a rally in Trafalgar Square
Speakers include:
Jarrow Marchers; Bob Crow, RMT general secretary; Matt Wrack, FBU, general secretary; Paul Murphy, MEP (Socialist Party Ireland); Lizi Gray, descendant of 1936 marcher; Stephen Hepburn, Jarrow MP; Young Deacon, rapper performing his track about the riots called 'Failed by the System'; Ed Marsh, NUS VP union development; Day-Mer Youth speaker
Why not click here to join the Socialist Party, or click here to donate to the Socialist Party.
---
In The Socialist 12 October 2011:
---
Socialist Party youth and students

Interview with a Jarrow marcher

Marching in the footsteps of history

Low pay, no way!

Protest, demonstrate, occupy
---
International socialist news and analysis

US: Occupy Wall Street - Demanding jobs not cuts
---
Socialist Party workplace news

Strike on 30 November - no secret talks

'We have not gone away' say Southampton council workers

Construction electricians

60 printers sacked as bosses make a million

Workplace news in brief
---
Socialist Party news and analysis

Sovereign debt crisis, recession... No way out under capitalism

Cameron's big 'them and us' society

Fox takes cronyism to new level

Wales Assembly budget: Labour piles on the misery

Kinnock's bigotry

Con-Dems' policies increase poverty

Fast news
---
Socialist Party reports and campaigns

NHS protesters occupy Westminster Bridge

Health campaigners take Ascot by storm

Coventry by-election helps build socialist alternative to cuts

London elections - more support for TU/anti-cuts stand
---
Socialist Party fundraising

Socialism 2011 finance appeal
---
Socialist history

Battle of Cable Street 1936 - When workers stopped the fascists
---
The Socialist - readers' comments

Portrait of a pension pilferer
---
Home | The Socialist 12 October 2011 | Join the Socialist Party
---