Link to this page: https://www.socialistparty.org.uk/issue/698/13327
From The Socialist newspaper, 14 December 2011
Unilever: the private sector can do it too
Striking to defend pensions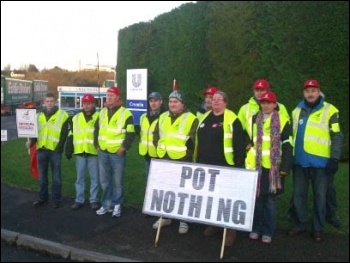 Unileverís Pot Noodle mine came to a grinding halt as the entire shop floor workforce at Unileverís Croespenmaen factory near Crumlin in Gwent walked out on strike, photo Socialist Party Wales
On 9 December, workers at FTSE 100 giant, Unilever, took strike action for the first time in their history against attacks on pensions. According to strikers in Leeds, the pension scheme is slightly in deficit, but Unilever could easily use its £6 billion in profits to plug the gap. The strike blows apart the Con-Dem government's lie that cutting public sector pensions will somehow help private sector workers.
James, an Usdaw member, whose wife is a senior teaching assistant and as a Unison member had been on strike on 30 November, said he was set to lose £6,500 off his pension. "I did a rough calculation; I could lose silly amounts over the course of my retirement, £300,000."
In response to the strike, Unilever bosses have spitefully taken away the usual staff Christmas parties, hampers and gifts.
The strikers understood that bosses weren't going to back down after just one day of strike action and were willing to take further action until they won. When Unilever workers do strike again they should coordinate their strike with the public sector to ensure it has the maximum effect, and to build unity between public and private sector workers in defence of pensions and against all the cuts.
Representatives from West Cheshire TUC joined Unite pickets at Unilever's IT facility in Ewloe, North Wales. A picket of around 20 received a good response from passing cars, distributed leaflets explaining their case and made a clear stand in defence of themselves and their fellow workers.
Unilever's Pot Noodle mine came to a grinding halt as the entire shop floor workforce at Unilever's Croespenmaen factory near Crumlin in Gwent walked out on strike.
There was a lot of support for the public sector workers' action last week in defence of their pension schemes and support for the idea of coordinating their action with public sector workers. If Unilever does not withdraw its attempt to close down the final salary pension scheme then further action is planned for January which could easily be coordinated with a public sector pensions strike.
There were three picket lines at the Unilever plants in Port Sunlight. Port Sunlight was built as a model village by the Lever brothers to house the workers at their soap factory. However the days of the 'liberal patrician' factory owner are long gone.
Discussions on the picket were warm and welcoming and the common struggle for decent pensions in the public and private sector was clearly recognised - a number of workers had visited a local PCS picket on N30. There was a determination not to lose this struggle, and recognition that further action was needed.
There were roughly 40 people on the picket line at Trafford Park. Sheena Mitchell, senior Unite steward said: "We were promised in 2008 that Unilever would keep our final salary pensions scheme with increased contributions. There is no need to do this. It's just pure corporate greed."
There were 60 or so pickets from Unite and GMB trade unions in Warrington. One of the union stewards spoke to the Socialist: "There's about 250 people at this site, union membership must be about 95%. There are about 2,500 out on strike across the country today."
In Burton-on-Trent Chris Parton, National Union of Teachers rep and Socialist Party member was well received when he visited the picket line and passed on a message of support from National Shop Stewards Network Staffordshire.
Ian Pattison, Andy Ford, Kenny Cunningham, Steve North, Dave Reid and Andy Bentley
Donate to the Socialist Party
Coronavirus crisis - Finance appeal
The coronavirus crisis has laid bare the class character of society in numerous ways. It is making clear to many that it is the working class that keeps society running, not the CEOs of major corporations.
The results of austerity have been graphically demonstrated as public services strain to cope with the crisis.
The government has now ripped up its 'austerity' mantra and turned to policies that not long ago were denounced as socialist. But after the corona crisis, it will try to make the working class pay for it, by trying to claw back what has been given.
The Socialist Party's material is more vital than ever, so we can continue to report from workers who are fighting for better health and safety measures, against layoffs, for adequate staffing levels, etc.
Our 'fighting coronavirus workers' charter', outlines a programme to combat the virus and protect workers' living conditions.
When the health crisis subsides, we must be ready for the stormy events ahead and the need to arm workers' movements with a socialist programme - one which puts the health and needs of humanity before the profits of a few.
Inevitably, during the crisis we have not been able to sell the Socialist and raise funds in the ways we normally would.
We therefore urgently appeal to all our viewers to donate to our special coronavirus appeal.
---
In The Socialist 14 December 2011:
---
Socialist Party feature

Tories speak for the rich - not for us
---
Socialist Party news and analysis

Hands off our NHS!

Unacceptable! Draconian sentences for Dundee 'Facebook riot' teenagers

Striking to defend pensions

No progress at climate conference

Them & Us

Why I joined the Socialist Party
---
Socialist Party editorial

Stand up to the Con-Dem government
---
Socialist Party reviews

Inside Job: Capitalism is a failed system: support the socialist fightback

TV review: Britain's great housing scandal exposed
---
Socialist Party workplace news

All out now to stop the sites!

Pensioners and workers - united fight needed

Occupy London tours Canary Wharf

Action after N30

Langdon school strike

Public sector pensions - where now?

Tax workers on strike

Workplace news in brief
---
International socialist news and analysis

"Putin is a thief", "Putin is a thief"

Kazakhstan - 20 years of authoritarianism!
---
Readers' Comments

Cameron's drugs problems

Attacks on Tupe rights hit hard

Building bosses and their blacklist
---
Home | The Socialist 14 December 2011 | Join the Socialist Party
---