Link to this page: https://www.socialistparty.org.uk/issue/703/13656
From The Socialist newspaper, 1 February 2012
Coventry: Re-elect Dave Nellist
In the 3 May local elections Coventry Socialist Party councillor Dave Nellist will be seeking re-election.
Few people have won as much support and respect among working class people in Coventry than Dave and the Socialist Party. This respect arises from the decades of work and struggle both have conducted throughout the city; work and struggle that has intensified over the last 12 months as the temperature of class struggle has increased.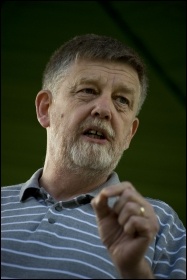 Socialist Party councillor Dave Nellist on the Youth Fight for Jobs Jarrow March 2011 launch demonstration in Jarrow, photo Paul Mattsson (Click to enlarge)
Dave is the sole voice on Coventry council for the ordinary people of Coventry and the only vote of opposition to the Con-Dem government and Labour council's draconian attacks on jobs and services.
At the 30 November pensions 3,000-strong Coventry strike rally, there were huge cheers for Dave's speech of support and solidarity but heckles from hundreds of council workers as the Labour council leader attempted to convince workers he was on their side.
This year Dave has already forced the council back on a whole range of issues: forcing the council to drop and refund the doubled bill it had dumped on some town centre residents for their parking scheme, and forcing the council to host a meeting of city trade union youth, campaigns, and students to discuss a strategy to campaign against the tripling of students fees, axing of EMA and to fight for jobs for the city's young people.
The battle to get Dave re-elected has started, with multiple weekly canvassing sessions taking place. There are mass canvasses of St Michael's ward organised on Sunday 19 February, 18 March, 1 April, 15 April, 29 April.
Contact lennyshailduffy@gmail.com if you would like to help.
Why not click here to join the Socialist Party, or click here to donate to the Socialist Party.
---
In The Socialist 1 February 2012:
---
Socialist Party news and analysis

Bankers bonus scandal - Fight this profit-mad system

Trade unionists and socialists prepare for May elections

What is the point of Labour MPs?

Dead end in Davos

Them & Us
---
Socialist Party reports and campaigns

Don't let the racist EDL divide us

Disabled protesters demand scrapping of 'welfare' bill

Haringey takes action against academies

Coventry: Re-elect Dave Nellist
---
Socialist Party youth and students

NUS: name the day for student walkout

Save Derbyshire youth services!

Only one in six 'vacancies' real

Tough conditions for agency workers

South East Wales youth plan new campaigns
---
International socialist news and analysis

EU summit - no capitalist solutions to the spiralling eurozone crisis

Interview: the Tunisian revolution one year on
---
Socialist Party workplace news

Pensions battle: Unions must campaign for coordinated strike action in March

London Docklands transport workers win Olympics deal

Unison pensions cowardice

Remploy workers fight privatisation

Jet tanker drivers continue strike action

Workplace news in brief
---
The Socialist - readers' comments

Debate: Should socialists support the HS2 rail line?

Are the Greens a real alternative?

Smacking not the answer

Obituary: Gwenda Beishon
---
Home | The Socialist 1 February 2012 | Join the Socialist Party
---