Link to this page: https://www.socialistparty.org.uk/articles/13811
Posted on 14 February 2012 at 15:01 GMT
Building the battle for pensions
John McInally, national vice-president PCS civil servants' union, personal capacity
PCS's national executive committee has voted unanimously to continue the campaign to fight against the coalition government's pension 'reforms'.
The National Union of Teachers (NUT) has also voted to continue the campaign. This means opposition to the government's plans will continue in two of the four pension sector schemes, civil service and education, giving us a fighting chance to force the government to retreat or at least win substantial concessions.
The government wants us to pay more, get less and work longer and intends to impose what is effectively a tax on public sector workers - any money saved goes straight into Treasury coffers to pay the deficit rather than improve the pension schemes.
This attack is part of the coalition's cuts and privatisation programme which represents a staggering transfer of wealth and power from the majority to the tiny big business and banking elite who caused the economic crisis in the first place.
The explicitly stated aim of these 'reforms' is the privatisation of large swathes of the public sector by making pensions 'affordable' by ruthlessly cutting workers' terms and conditions.
Regrettably some union leaderships, along with the TUC have, as the government demanded, agreed that the so-called Heads of Agreement was a basis for settling the dispute.
This is despite the fact it gave no concessions whatsoever on the three core issues of paying more, getting less and working longer.
In fact the minor concessions these 'leaders' say constitute the basis for a settlement were all on the table before 30 November.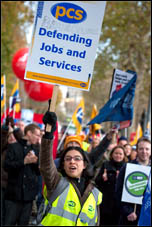 N30 - Millions strike back at Con-Dem government on 30 November 2011, photo Paul Mattsson
Accepting and trying to sell this 'deal' to members is a catastrophic error of judgement that can only encourage further attacks on the public sector and working people generally.
PCS will be consulting its members in an indicative ballot on a campaign of action to continue the dispute and win concessions on the core issues.
Unions not prepared to settle have met in the past few weeks and the PCS proposals are an effective strategy to build the kind of coordinated campaign, including industrial action, to attempt to build the type of pressure to win concessions.
The campaign would involve coordinated action with other civil service and education unions, starting with a nationally coordinated strike on 28 March, followed by further national strikes and action in departmental groups and sectors, coordinated with other unions.
The campaign would also involve building political pressure by protests, regional and local demonstrations, lobbying of MPs and continuing to expose the brutal nature of these attacks on workers' rights.
Other unions including the NUT, Northern Ireland Public Sector Alliance (NIPSA) Unite and the University and College Union (UCU) are part of an alliance that could see up to three quarters of a million workers taking action to fight for justice on pensions. The firefighters' union FBU is also now looking to ballot its members.
In the private sector, unscrupulous employers have been give a clear signal by Cameron to step up attacks on pension schemes not already stolen or destroyed over the past few decades.
But resistance is building there as well with Unilever workers striking to defend their rights, workers at Ford and Shell are in the firing line too.
The potential to coordinate these disputes means that the smug boast of Tory minister Francis Maude that "strikes don't work" may well come back to haunt him sooner than he ever thought possible.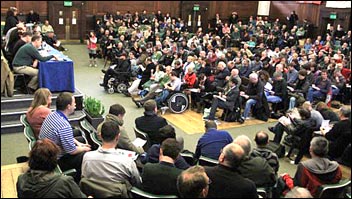 PCS left Unity meeting 7.1.12: Organising to step up the pensions struggle , photo Senan
PCS is to ballot its members on whether to reject the government's offer and support the campaign of action.
NUT is doing the same in a 'survey' of members. The ballots will start in a few week's time and end in mid-March. Voting will be by post, phone and internet.
There are live statutory ballots that would have allowed our national executives to call further action without further consultation.
But to have done so, given the significant change of circumstances, particularly the fact that the leadership of the largest public sector union, Unison, has caved in to the threats of Maude and Lib Dem treasury minister Danny Alexander would have been wrong.
Members are asking the obvious questions, who will be with us if we are to fight on, could we win on our own and, can we win with a reduced alliance? PCS has managed to campaign consistently against a cuts and privatisation programme that started under the last Labour government.
We have done this by applying the most rigorous standards of democratic accountability, consulting activists and members at every crucial stage of any dispute.
PCS believes we must enlist the support of all our members to win concessions on pensions and continue the wider battle against the cuts.
The coalition of eleven unions prepared to fight on clearly represents a reduction in numbers from the two million who struck on 30 November.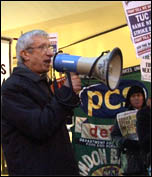 John McInally, vice-president, PCS, addresses hundreds of rank and file union members who protested on the lobby of the TUC's Public Services Liaison Group called by the National Shop Stewards Network, photo Socialist Party
It will be necessary to explain honestly to members that while concessions are most definitely possible with less we will need to do more - that means we must consult on what is effectively a deepening of the industrial action campaign to build the kind of pressure necessary to win concessions.
It is also the case that while workers on 30 November saw the massive potential strength of the trade union movement, over 100,000 became members, the shameful and treacherous role played by some union leaders and the TUC to settle without concessions has been a major setback.
The ballot is therefore not just about getting endorsement for the campaign but about explaining what has happened, why we should not concede on pensions because it will give the green light for even worse outrages.
Finally it is because we can, even with a reduced coalition, win concessions from a government that is in real difficulty. This consultation is about mobilising activists and members.
PCS will continue to participate in talks with the government after the coalition's attempt to exclude us from them was faced down.
The government is increasingly being exposed. Their revolting hate campaign against welfare claimants and disabled people in trying to push through welfare 'reforms' that will be devastating for low-paid and even middle income people is under enormous scrutiny. So too is their attempt to completely privatise the health service.
Resistance to these barbarians is growing. The pensions attack is part of a corrupt profit-first people-last ideological assault by the business elite's biddable politicians. 30 November showed that the majority of people in Britain support those prepared to resist.
Continuing the campaign on pensions can win the support of members in PCS and others in the civil service and education unions and others too in the public and private sectors.
---
This version of this article was first posted on the Socialist Party website on 14 February 2012 and may vary slightly from the version subsequently printed in The Socialist.
Why not click here to join the Socialist Party, or click here to donate to the Socialist Party.
---