Link to this page: https://www.socialistparty.org.uk/issue/705/13818
From The Socialist newspaper, 15 February 2012
Students to walk out 14 March
Young Socialist Party members prepare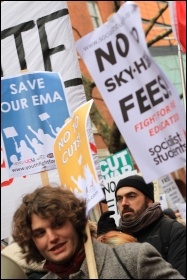 Young people march for a future: Youth Fight for Jobs and Socialist Students on the 29 January London demonstration against education cuts, photo Senan (Click to enlarge)
Paul Callanan, National organiser Youth Fight for Jobs and Education
On Saturday 11 February the National Union of Students (NUS) announced the date for a walk out against education cuts. On the same day 80 young people met on the first day of the Socialist Party's youth weekend. The discussion focussed on how to build for that walkout and how to take forward the struggle for a decent future for young people.
This move by the NUS is a historic step - never in its 90 year history has the NUS called a national walkout. It is now the job of every university and college activist to make sure that the action is a big, militant show of anger. But will the NUS build to make this a success? The movement of protests, occupations and strikes in late 2010 was built from outside of the official structure of the NUS.
Calling a walkout is a positive move however which gives activists the chance to take action with the authority of NUS behind us.
Youth Fight for Jobs and Education will now campaign for local student unions to mobilise for the day and completely shut down education. The day of action needs to be the start of building a mass and democratic student movement.
To aid this the demands of the walkout should make a broad appeal to all students and young people and call for a genuinely fair education system. That would be education as a right, not a privilege to be enjoyed only by those who can afford it.
NUS needs to demand not just lower fees but for them to be scrapped altogether. We call for grant funded higher education. Students in universities also need to build links with those in further education colleges and schools to demand the bringing back and expansion of EMA.
The youth weekend reinforced the determination of Socialist Party activists to fight for a future for young people. We will build for the student walkout alongside building strong local Youth Fight for Jobs campaigns.
There was also discussion on the need to link the struggles of young people to those of workers in the trade unions. All agreed that one of our tasks is to mobilise young people to protest alongside workers on the day of the next pensions strike in order to build a mass movement that can stop the coalition in its tracks and bring down this rotten system.
---
>
Socialist Students petition in support of walk-out Wednesday, March 14th
Socialist Students leaflet: WALK-OUT MARCH 14
Why not click here to join the Socialist Party, or click here to donate to the Socialist Party.
---
In The Socialist 15 February 2012:
---
Fighting the cuts

Fight Austerity

Building the battle for pensions

Update: pensions battle - Build for the biggest possible action on 28 March

Students to walk out 14 March
---
International socialist news and analysis

Greece erupts as government and 'Troika' impose new savage cuts

Syria: Anti-regime protesters facing ferocious repression

Kazakhstan: Workers' leaders under threat of abduction or arrest
---
Socialist Party review

Another attempt to assassinate the legacy of Leon Trotsky?
---
NHS campaigning

Private hands off our NHS!

We can save our NHS

Llanelli marches to save hospital
---
Socialist Party news and analysis

More murky doings in Murdochland

Them & Us
---
Socialist history

The battle of Saltley Gates
---
Socialist Party workplace news

Stagecoach South Yorkshire - management getting desperate

Workplace news in brief
---
Readers' comments

Should socialists support the Green Party?
---
Socialist Party reports and campaigns

Socialist councillor leads fight to restore EMA

Racism in football back in the headlines

TUSC
---
Home | The Socialist 15 February 2012 | Join the Socialist Party
---