Link to this page: https://www.socialistparty.org.uk/articles/14072
Posted on 1 March 2012 at 13:31 GMT
Compulsion in 'work experience' scheme dropped
Now ditch the rest of workfare!
Iain Dalton
After a summit of panicked business leaders worried about becoming the next focus for protest over their participation in government backed slave-labour workfare schemes, the government has announced it has dropped threats to stop benefits if people pull out part way through their 'work experience'.
This is another nail in the coffin of workfare, but unfortunately 'work experience' is only one scheme amongst a number. The threat of sanctions has yet to be removed in other workfare schemes.
Just hours following this retreat by the government, Boots announced its withdrawal from another component of the government's schemes, the compulsory 'work programme'.
This shows the very real fear now held by these multimillion pound companies that they will become the next target of protest against slave labour. Pressure is now mounting on the government to drop 'workfare' altogether.
The past few weeks have seen a number of companies pull out of or suspend/review their involvement with these schemes as the protests organised by Youth Fight for Jobs (YFJ) and others have panicked them. During the last week HMV and Burger King have announced they are dropping out.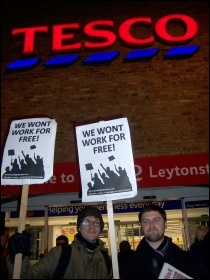 Protesting against slave labour schemes outside Tesco in Leytonstone, London, Feb 2012, photo Suzanne Beishon (Click to enlarge)
However, despite the government now making concessions to make these schemes more palatable, they still involve unpaid 'slave labour' and continue to threaten the terms and conditions of existing staff.
The Department for Work and Pensions' (DWP) own document on the Work Programme had a paragraph mysteriously removed which stressed that work placements should be mandatory to avoid National Minimum Wage obligations.
Also the Guardian featured quotes from the DWP's social security advisory committee in an article on 24th February.
These stated that "Many retail jobs required staff to work for 16 hours each week, with overtime payable for any hours worked beyond that.
"Work experience allowed for 25 hours work activity so overtime to permanent staff was being reduced or removed" and that "There was also evidence to suggest that work experience placements were being taken on to cover Christmas vacancies".
In YFJ we support the call of retail workers' union Usdaw for the removal of any compulsion from the schemes and for participants to be given the same terms, pay and conditions of existing staff.
We would add that there should be guaranteed jobs at the end and that those on the placements should be able to join a trade union.
As well as work within the trade union movement we need to continue an active campaign of supporting protests outside stores, aiming to build a mass campaign to end workfare and fight for decent, well-paid, permanent jobs for all.
Lack of jobs
The main argument that the government has attempted to marshal in its defence is that this is the only way young people can gain experience of working to make themselves employable.
But this belies the real issue of why young people can't find work. The reality is that, with only around half a million vacancies and over two and a half million unemployed, capitalism simply isn't creating enough jobs for people.
Whilst the government has been claiming a 50% success rate for the scheme, in reality this is the number of people who are not claiming Job Seekers Allowance by the end of 13 weeks, which could be for a multitude of reasons including going into education or even dropping out entirely.
Looking at figures presented by companies they are far below the government's 50% claim; Tesco gave jobs to 300 out of 1,400 participants (21%), Holland and Barrett to 50 out of 250 participants (20%), and Greggs to 14 out of 40 participants (35%).
Rather than creating jobs, the government is effectively subsidising these companies, both by giving them some free workers for four or eight weeks at a time, and by subsidising the training of their workforce.
Real job creation
Instead of further bailouts for the 1%, the Socialist Party and Youth Fight for Jobs argue for a programme of job creation. Why not tackle both the huge housing shortages and soaring rents by implementing a crash council house building programme? Why not cancel the exorbitant Private Finance Initiative contracts and use the resulting money to hire and train up more doctors and nurses to stop the closures of A&E wards? Why not collect the £120 billion in unpaid taxes by the super rich and use the money to reinstate the Education Maintenance Allowance and scrap university tuition fees?
But Grayling, IDS, Clegg and the other defenders of these schemes put the interests of the banks, big business and the profits of the ruling class before the needs of the 99%.
Instead of their failed system we need one where the key resources are publicly owned and production is planned democratically in order to meet the needs of the majority, not the greed of a tiny minority. Instead of crumbling capitalism, we need socialism.
---
>
Say no to slave labour - YFJ organising for Workfare Day of Action
Paul Callanan, national organiser of Youth fight for Jobs said:
"Youth Fight for Jobs welcomes the removal of the threat of sanctions to those involved in the government's work experience programme.
"This shows how workfare protests, such as those organised by Youth Fight for Jobs, combined with the strength of public outrage, have forced the government into retreat on 'workfare' slave labour.
"However, we point out that the scheme still involves the unemployed being used as a pool of free labour.
"This represents a massive subsidy to the profits of big business at the expense of the unemployed. Now it's time for the government to drop the scheme altogether and instead invest money in the creation of decent, socially useful jobs for the 2.5 million currently out of work".
Youth Fight for Jobs is keeping up the pressure by building for a day of action on workfare to take place on Saturday 3rd March.
In London a protest will take place in Brixton at 12 noon outside Brixton Job centre. YFJ activists are also calling for a mass turnout at BHS on Oxford Street.
Paul Callanan is available for interview. Call 020 8558 7947 or 077 1335 5616
Why not click here to join the Socialist Party, or click here to donate to the Socialist Party.
---