Link to this page: https://www.socialistparty.org.uk/issue/712/14263
From The Socialist newspaper, 4 April 2012
TUSC: Standing in defence of jobs and services
Tony Mulhearn in Liverpool Mayor election challenge
Hugh Caffrey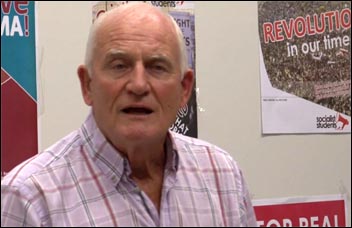 Tony Mulhearn, challenges for Liverpool Mayor, photo Socialist Party
Tony4Mayor has shaken up Liverpool's mayoral race after only a few days! Our campaign is making headway in the media, gaining great support in the trade unions and from individuals.
Tony Mulhearn is challenging Labour council leader and candidate Joe Anderson to a public debate about the real issues - the cuts, a future for young people, education, job creation, the NHS... We already have endorsements from Liverpool Against the Cuts, from socialist film-maker Ken Loach, and numerous local activists.
This alone vindicates our decision to stand, enlivening an otherwise dull coronation of Anderson. Tony is triggering a real debate, providing a voice for the '99%' of society. Our campaign is the socialist and working class alternative to Anderson's developers-dominated establishment candidacy, and to the assorted lesser imitators and 'personalities'.
The Trade Unionist and Socialist Coalition (TUSC) is also contesting around a third of the council seats, to provide the necessary support for a TUSC elected mayor.
Big-name speakers are set to attend a Tony4Mayor rally on Thursday 26 April, starting 7.30pm at the Adelphi Liner hotel on Lime Street.
RMT transport union leader Bob Crow is set to join Chris Baugh, PCS civil servants union assistant general secretary, on the platform, alongside Tony. Newly elected MP for Bradford West, George Galloway, has been invited.
Tony has already been invited to a dizzying array of debates and discussions, mostly open to the public, ranging from the local unions to the Chambers of Commerce to a university based thinktank!
Perhaps most importantly, the campaign is touring workplaces and community centres across the city. Many local events are being organised.
Six-point policy programme:
Save our children's centres! Stop the cuts
Bring back EMA for all 6th form and college students
Reverse the council-made cuts, rebuild our services
End and reverse privatisation and "outsourcing"
Defend our NHS! Fight the Tories' plans to destroy it
End the marketisation of education
For more information about Tony4Mayor or TUSC candidate: ring 07411 362 448, email tony4mayor@ymail.com, or see the blog at http://tony4mayor.wordpress.com/ Follow us on Twitter at tony4mayor1 and add us on Facebook at "Tonyfor Mayor"
Why not click here to join the Socialist Party, or click here to donate to the Socialist Party.
---
In The Socialist 4 April 2012:
---
Election Challenges

Kick out the cuts coalition

George Galloway's stunning Bradford West victory

Greater London Assembly election

Tony Mulhearn in Liverpool Mayor election challenge

Young people stand for TUSC

Wales: Challenging the establishment parties

Southampton TUSC: Labour resigned to austerity
---
Socialist Party news and analysis

Save the NHS now!

Pensions: National action needed

Tanker drivers' and Tory scaremongering

Them & Us
---
Socialist Party reports and campaigns

Unison members fighting back

Notts teachers fight five-term year

US embassy protest remembers Trayvon Martin

Tamil Solidarity 20 April Day of Action

Pro-choice London protest

Workplace In brief
---
Socialist Party feature

After the Riots
---
Socialist Party historical analysis

100 years since Titanic tragedy
---
International socialist news and analysis

Spain: Huge general strike as government enters deep crisis
---
Readers' comments

Oppose the Con-Dems' snoopers charter

Supporting my sons on £184 a week

Tory MPs and church attack gay marriage
---
Home | The Socialist 4 April 2012 | Join the Socialist Party
---