Link to this page: https://www.socialistparty.org.uk/issue/713/14317
From The Socialist newspaper, 11 April 2012
Bus workers prepare to fight for Olympic payment
A London bus worker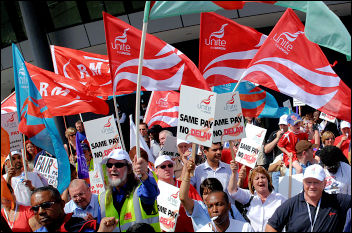 Bus workers demonstrate over pay, photo Paul Mattsson
More than nine out of ten London bus workers in Unite voted yes in a consultative ballot for action last month. The union has called for a £500 payment to recognise and reward bus workers for the huge increase in workloads during the Olympics. But neither Transport for London (TfL) nor any of the 15 bus operating companies have engaged in discussions over the payment. Unite regional secretary Peter Kavanagh said: "Every other transport worker in London is getting a payment." He warned bus operators' refusal to talk "is a massive error of judgement".
TfL and the operators clearly reckon bus workers will be a soft touch compared with tube workers and even those on Docklands Light Railway. This calculation is based on the relatively low level of union militancy since privatisation of London Buses in 1994-5.
Reflecting changes in the capital's population since then, new workers, in particular from Africa including Arab countries, and Eastern Europe in recent years have joined the bus industry. These are often workers with young families prepared to keep their heads down and work long hours of overtime just to get by. But when bus workers see they are getting unfair treatment, there comes a point when everyone says "enough is enough".
Workers on London Buses are the poor relations to tube workers who enjoy better pay and conditions. Up to the 1980s, things were better on the buses. If you failed your probation as a bus driver, they'd make you a conductor (if you don't know what a conductor is, ask your mum and dad!).
If you failed your probation as a bus conductor then, London Transport would stick you on the underground because nobody wanted to do it. We did better because the union was strong. London bus workers had a militant tradition.
But reps and garage union officers became too close to management and their little perks. This also reflected the prevailing atmosphere in British unions at the time. Privatisation followed cuts in pay of around a third in the early 1990s. The trick was to offer one-off payments of thousands of pounds in return for a pay cut. Some good union members understood the long-term consequences for the union. They fought bitterly as far as they could, but in the end - unless they left - what could they do? They were betrayed, like their workmates, by self-seeking "leaders".
Some of those leaders appear to have done very well for themselves. One bagged himself a senior management position and we can only speculate exactly what some of the others got out of it.
Today, London's 28,000 bus workers are potentially a huge force. Around 24,000 are members of Unite. Passengers usually don't even notice us. But they would if we weren't there! That's not to say we should be at odds with bus users. Better conditions for us mean a better service for passengers.
Why not click here to join the Socialist Party, or click here to donate to the Socialist Party.
---
In The Socialist 11 April 2012:
---
Vote TUSC in May

On 3 May, use your vote to: Rage against austerity!

London Mayor election - Boris versus Ken

Plymouth's 'them & us' elections

A packed launch meeting for Tony4Mayor campaign in Liverpool

Wales can't afford to wait: fight back now!
---
Socialist Party news and analysis

Ireland: Mass movement against household tax and austerity

Working Tax Credit cut

Them & Us
---
Socialist Party feature

WANTED - decent affordable housing!
---
Socialist Party workplace news

NUT teachers' conference

Bus workers prepare to fight for Olympic payment

Job cuts at Debenhams

Unison Service Group Executive elections
---
Socialist Party youth and students

Living to work, not working to live

Clegg's 'youth contract' won't create real, long-term jobs

DWP tells young people to bail out big business

Next threat to under-25s: Housing Benefit

Class Actions
---
Socialist Party reports and campaigns

East London and the Olympics

Kill the act before it kills the NHS
---
Readers' comments

Surviving the Titanic

When bosses say "we don't need you today"
---
Home | The Socialist 11 April 2012 | Join the Socialist Party
---