Link to this page: https://www.socialistparty.org.uk/issue/719/14551
From The Socialist newspaper, 23 May 2012
Hospital jobs scandal - Action now to save the NHS!
Lies about protecting the NHS helped the Tories get into government. Now the Con-Dems' destruction of the health service could trigger their downfall. Among health workers and the general public a seething anger is boiling up. Michael Griffiths writes about yet another attempt to make public service workers and users pay for the capitalist crisis.
Most NHS Trusts, like ours in Wakefield, are seeking to make more job cuts. The Royal College of Nursing has calculated that 61,000 jobs, including those of nurses, are under threat. 26,000 have gone in the last two years. Trained staff are unable to get a job, while those with a job are overworked and under huge pressure.
Now unemployed workers are being offered unpaid 'work experience' in hospitals. A pilot scheme at Sandwell and West Birmingham hospital trust has already taken place.
After a very short training programme, six unemployed people worked unpaid for eight weeks, helping to feed patients and to clean wards.
This is a warning to the health unions as the trust is planning to extend the scheme.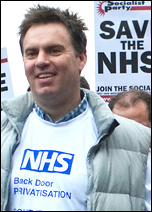 March to save the NHS, 17 May 2011 , photo Paul Mattsson
Last year, Sandwell general hospital was one of the 20 hospitals condemned by the Care Quality Commission for their treatment and care of older patients. During a spot check, an incontinent patient was found to have remained unwashed for 90 minutes, despite calling for help.
So there is clearly a staff shortage - which the trust management seems to want to solve by taking on people to provide essential care for patients, but through working for their dole. What a scandal in the 21st century! This is the thin end of a very dangerous wedge.
The policies of this government have already led to hundreds of thousands of public and private sector job losses with hundreds of thousands more in the pipeline. Workers everywhere now face attempts to crush their pay, terms and conditions and job security.
The trade union movement should be organising the unemployed into the unions. These sham schemes should be actively resisted with a fight for investment in real jobs, real training and decent, trade union recognised pay rates and conditions for all workers.
But health workers are fighting back against these attacks. GMB members in the NHS have just voted by 96.5% to reject the proposed changes to their pension scheme. Unite workers have also rejected these attacks and joined the strike on 10 May.
Now is the time to coordinate a vigorous campaign, including strike action and a trade union demo before the summer, to defend the NHS, defend health workers and throw out plans to extend the 'look after patients for your dole money' scheme.
Donate to the Socialist Party
Coronavirus crisis - Finance appeal
The coronavirus crisis has laid bare the class character of society in numerous ways. It is making clear to many that it is the working class that keeps society running, not the CEOs of major corporations.
The results of austerity have been graphically demonstrated as public services strain to cope with the crisis.
The government has now ripped up its 'austerity' mantra and turned to policies that not long ago were denounced as socialist. But after the corona crisis, it will try to make the working class pay for it, by trying to claw back what has been given.
The Socialist Party's material is more vital than ever, so we can continue to report from workers who are fighting for better health and safety measures, against layoffs, for adequate staffing levels, etc.
Our 'fighting coronavirus workers' charter', outlines a programme to combat the virus and protect workers' living conditions.
When the health crisis subsides, we must be ready for the stormy events ahead and the need to arm workers' movements with a socialist programme - one which puts the health and needs of humanity before the profits of a few.
Inevitably, during the crisis we have not been able to sell the Socialist and raise funds in the ways we normally would.
We therefore urgently appeal to all our viewers to donate to our special coronavirus appeal.
---
In The Socialist 23 May 2012:
---
Fighting the cuts

Hospital jobs scandal - Action now to save the NHS!

Con-Dems' hypocrisy over children's care

Our education under attack

Council workers in Cheshire strike against attacks on pay
---
Socialist Party news and analysis

We stand 100% with the Greek workers

Rochdale: far right attempts to exploit tragedy of abuse

Them & Us
---
International socialist news and analysis

Ireland: 31 May referendum

Eurovision hosts are top of the charts for repression
---
Socialist Party reports and campaigns

Back to work? How the system fails the unemployed

Mullivaikal 2012 - Solidarity with the Tamil people

Lincolnshire academies in crisis

Profit hungry 'Big Oil' backs climate change deniers

The housing crisis - action needed now

Youth Fight for Jobs Northern Ireland launched in Belfast

Building the electoral alternative in Brent

Stockland Green march for jobs

More attacks on right to campaign
---
Socialist Party workplace news

Interview with RMT assistant general secretary candidate

AEI Cables: "Thrown out in disgraceful circumstances"

Leadership shows weakness at CWU conference

Workplace news in brief

National Shop Stewards Network
---
Home | The Socialist 23 May 2012 | Join the Socialist Party
---