Link to this page: https://www.socialistparty.org.uk/issue/728/14950
From The Socialist newspaper, 25 July 2012
Kazakhstan - Workers struggle against bloody, corrupt regime
Campaign Kazakhstan protest outside the Olympics 2012 British Business Embassy, 26 July 2012
Recently 400 socialists from across Europe and all around the world met in Belgium at the Summer School of the CWI. Ben Robinson reports from a well-attended commission on Kazakhstan and the struggles of the workers' movement there.
Despite massive repression in Kazakhstan, the ground is prepared for mass revolt against the bloody, corrupt regime of President Nursultan Nazarbayev. To the fore of this movement are the young Kazakh workers who now make up the majority of the labour in Kazakhstan's heavy industry.
Wages had been kept at the same level by employers for several years, pushing workers into poverty. A wave of suicides swept through the poor, with many deeply in debt. Every month, according to sources that support the Nazarbayev regime, ten suicides in the capital are linked to debts, while hundreds of people apply for psychiatric help.
While nurses live in poverty, corrupt bureaucrats purchase holiday villas in Europe. The regime is planning to raise the retirement age to 68, which is higher than the life expectancy in Kazakhstan.
The government pumps out propaganda, employing former Labour prime minister Tony Blair to advise and to represent them. But working people often tell each other that they wish they lived in the country that state TV reports on!
This has created huge dissatisfaction. The overwhelming majority of the population want to see Nazarbayev gone. Twenty years of capitalism has forced a harsh understanding - either the system forces living conditions to the level of Somalia or workers change the system.
Workers' offensive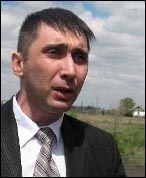 Vadim Kuramshin, a prison rights campaigner in Kazakhstan, photo CWI
But the working class is on the offensive, scoring spectacular victories against the bosses and placing demands on the Kazakh regime.
A battle against housing repossession won $4.5 billion from the government. Workers have saved factories from closure and organised militant strike action. Recently, in Kazakhmys, a copper-mining company, a 100% pay rise was won - hundreds occupied the mine while thousands took part in solidarity action outside. In the same city, workers in the energy arm of Kazakhmys took strike action and won a 80% pay rise. Significantly, alongside the demands for higher pay, workers are fighting for the renationalisation of industries.
Social and industrial struggles are linking up. Those involved in the housing campaign travelled 1,500 km to support the struggle against a factory closure.
In these waves of struggle, CWI members play a key role. Through Socialist Movement Kazakhstan, and the new trade union Zhanartu, the CWI is able to help these struggles organise and bring them together against the Nazarbayev regime.
This has terrified the government and led to cracks in the regime. Recent clashes at the Kazakh-Chinese border now appear to be part of a dispute between different wings of the oligarchy. It is possible that Nazarbayev could be removed after decades in power.
Nazarbayev has responded through increased repression. 16 December 2011 was a turning point for the struggle. After seven months of strike action, oil workers organised a mass rally to provide a peaceful outlet for the huge anger building up. At this rally, the organisers had previously agreed a central demand; to broaden and deepen the fight, calling for a general strike against the Nazarbayev regime.
Drowned in blood
This protest, however, was drowned in blood by the state, and the entire region was shut down. It is believed that up to 100 people died, although in an attempt to downplay the massacre the media and Kazakh ruling class claim only 17.
Through the Socialist Movement Kazakhstan, despite the regime's efforts, news of the massacre got out to the wider world. Campaign Kazakhstan organised immediate protests at embassies internationally, including Germany, Britain, Belgium and Poland. Although it is clear that the Kazakh state had prepared to go much further in putting down the strike, protests and international condemnation halted their actions.
Instead, the regime is dragging oil workers' leaders and supporters through the courts, organising a succession of show trials. To quote one defendant: "At the national security office, I was told to incriminate 15 others. I refused. They started to beat me, I was suffocated six times, threatened with rape and that photographs [of this crime would be] put on the internet. The commander put a loaded gun to my head several times and I was told I would be fed to the dogs."
The vicious sentences imposed were met with bottles and shoes thrown in the court room.
Activists from the opposition party Alga were also rounded up. Opposition parties in Kazakhstan can represent the whim or personal interests of one or another oligarch. Their party 'activists' are paid to be so and many have no real commitment. When some of them have been arrested, they have turned to becoming state witnesses against their own leadership. This sort of thing has led to a collapse internally in the Alga party.
The regime used the trials and massacre as a threat to all those involved in struggle. Vadim Kuramshin, a human rights activist, has been arrested and jailed again, and is currently being dragged through a show trial.
Famous theatre director, Bolat Atabayev, was arrested and released, after coming under huge pressure to support the regime's case against the oil workers. The government is now attempting to effectively outlaw trade union activity, to drive workers' struggles even further underground.
But the effects of this repression are wearing off. The Kazakhmys copper workers' struggle signalled a new preparedness to fight back. Despite the personal risk, victorious energy workers filmed and circulated a video explaining the role that Zhanartu played in helping their struggle.
Struggle
The show trials could trigger further struggle. Yet more Zhanaozen oil workers trials are planned soon, but these could trigger mass protest, with political strike action at its heart.
A huge political vacuum exists in Kazakhstan. The official opposition parties, sponsored by oligarchs opposed to Nazarbayev, are in a state of collapse. The working class is currently the decisive political force but there is no mass party which unites them.
Socialist Movement Kazakhstan is campaigning for a new mass workers' party, and for a revolutionary constituent assembly where the workers and oppressed of Kazakhstan can come together and democratically decide how the country is organised.
But other forces are attempting to fill this space. Right-wing political Islamic groups, including those led by Nazarbayev's relatives, are trying to make gains. A majority of workers and oppressed are from a Sunni Muslim background but there are also significant religious minorities, including Russian Orthodox Christians.
If the workers' movement is not sufficiently prepared, there is a danger that right-wing political Islam could make gains and that wings of the oligarchy could attempt to channel the existing huge anger in society along these lines.
Working with others in Campaign Kazakhstan, the CWI in many countries is stepping up support and protest action. This solidarity and financial support is vital. Time is running out for the Nazarbayev regime.
Members of the CWI, of the Socialist Movement Kazakhstan and Zhanartu are determined that the workers and poor will win a generalised struggle and that a government of workers and poor people will be established. They are confident that on this basis, the ideas of genuine socialism will spread once again across Central Asia and beyond. The crisis of capitalism worldwide is ploughing up fertile ground.
"Today, the division [between owners and workers] has become obvious. The owners number no more than 100 people... [Kazakhstan's industrial economy] has produced a united multi-ethnic group - a highly organised working class based in big corporations. From the end of 2011, [this has] defined political and social life.
"Our economy is held up by several supports. These are the powerful raw material production enterprises. If it enters somebody's head to completely mobilise their power, a crippling blow can be inflicted on the government and the state... [but] there is no direct contact between the working class and the political forces in Kazakhstan.
"But there are potential leaders - there are the Kazakhstan socialists, who have been working for many years on a professional basis, and now their time is coming."
These are not the words of a member of the Socialist Party, or the Committee for a Workers' International, the world socialist organisation to which it's affiliated, but unbelievably of former Kazakhstan prime minister Akeshan Kashegeldeen, interviewed in the Kazakhstan paper, 'Novaya Gazeta'.
---
>
Campaign Kazakhstan
Campaign Kazakhstan plays a vital role in supporting movements in the country for democracy, human and trade union rights. Since its launch last year, it has succeeded in gaining support from prominent figures and trade unions.
Campaign Kazakhstan has two main roles. The first is to raise the profile of the struggle in Kazakhstan. Lobbies of the embassies, and of companies linked to the Kazakh regime, have a real effect on a regime committing atrocities against its population, and more protests are planned.
The campaign in Britain also recently hosted a visit of Esenbek Ukteshbaev, leader of the independent Kazakhstan trade union, Zhanartu. He spoke at the transport union RMT conference and the National Shop Stewards Network (NSSN) conference, as well as addressing a Socialist Party meeting at the Unison conference and meeting with leading figures in the civil service union PCS.
International
Internationally the campaign is involved in organising visits by trade unionists and MEPs to Kazakhstan to report back on the situation.
The other role of the campaign is to offer practical solidarity, supporting those such as Vadim Kuramshin, the families of jailed Zhanaozen strikers and others. To carry out all of these activities the campaign urgently needs funds; donations from trade unions and branches. Several branches have already donated to the campaign, but more are needed.
Please raise this urgent issue today!
Make cheques payable to Campaign Kazakhstan and send to PO BOX 66682, London, E11 9ER. For more information and model motions, contact campaignkazakhstan.org campaignkazakhstan@gmail.com 07969 119 216
Campaign Kazakhstan sponsors include: Bob Crow, RMT general secretary, Martin Powell-Davies, NUT NEC, Jeremy Corbyn, MP, Paul Callanan, Youth Fight for Jobs national organiser, John Meale MP, Dave Nellist, former MP, Mick Whale, Hull NUT branch secretary, Andrey Hunko, MP for Die Linke, Germany, Paul Murphy, Member of European Parliament, Socialist Party, Themis Kotsifakis, general secretary of OLME, Greek secondary school teachers' union, Clare Daly, TD (MP) for Socialist Party, Ireland, Inge Hoeger, MP for Die Linke, Germany, Joe Higgins, TD for Socialist Party, Ireland, CGT PŰle emploi Lorraine, France.
Johan Rivas, Sindicato del Sector Pķblico de Salud, Caracas, Venezuela, TU Senan, Tamil Solidarity, Antongiulio Mannoni, Secretary of CGIL (Italian Trade Union Confederation), city of Genoa, Padraig Mulholland, President Northern Ireland Public Service Alliance, Patrick Zoomermeijer, Leader Socialist Party councillors Zaanstad, Netherlands, Simon Aulepp, chairman of teachers' union GEW, Kassel, Germany, Stephen Jolly, Councillor Socialist Party, Yarra, Australia, Jonas Bršnnberg, councillor Ršttvisepartiet Socialisterna, LuleŚ, Sweden, Alfia Nakipbekova, musician, Holger Burner, musician, Julien Daigneault, Alternative Socialiste, Quebec, Canada, Roberto Ciulli, Director of Theater an der Ruhr.
---
>
Urgent action needed
Vadim Kuramshin threatens hunger strike protest
Campaign Kazakhstan reporters
Vadim Kuramshin, a prison rights campaigner arrested six months ago on trumped-up charges, has declared that if the trial against him is not resumed within ten days he will start a hunger strike.
He has informed Samat Tolesbayu, the judge of the Zhambulskaya oblast interregional court responsible for presiding over his trial, that a hunger strike would be a protest against the attempts to drag out the hearing and against his rights being restricted during the jury trial. Vadim stated that the evidence presented during his trial has revealed a number of crimes perpetrated by government officials.
We ask all supporters of Campaign Kazakhstan to protest personally against the unjust imprisonment of Vadim Kuramshin. Vadim is one of the best known activists in Kazakhstan and has been working with the Socialist Movement of Kazakhstan for many years. He faces a long prison sentence.
See: http://campaignkazakhstan.org for a model letter to make an email protest.
These protests have an enormous effect in improving his prison conditions and can eventually free him.
Please send urgent protests to: Head of Regional Court, hc-1@h.sud.kz Special Regional Court for Criminal Cases: hc-16@h.sud.kz And to the Kazakhstan embassy in London: Ambassador Kairat Abusseitov, 33 Thurloe Square, London, SW7 2SD. london@kazembassy.org.uk
Please send copies of the protests to kazakhstansolidarity@gmail.com and campaignkazakhstan@gmail.com
Why not click here to join the Socialist Party, or click here to donate to the Socialist Party.
---
In The Socialist 25 July 2012:
---
Socialist Party news and analysis

On your marks.... Get set.... Fight back!

Outsourcing fails again. For publicly owned and run services!

£13 trillion hidden from tax by super-rich

Not-guilty verdict in Ian Tomlinson case

Olympic Watch

Them & Us
---
International socialist news and analysis

Kazakhstan - Workers struggle against bloody, corrupt regime

Spain's austerity government is facing revolt from below

Miners light up Madrid and show the way to struggle!
---
Socialist history

1972: dockers face down the Tory government
---
Socialist Party reports and campaigns

Austerity Games highlights plight of young people

Save our jobs: We need a 24-hour general strike

Newcastle pride

Pre-emptive arrests: "straight out of 1984"
---
Stop NHS cuts & privatisation

Kick private profiteers out of the NHS

Virgin vultures swoop on vulnerable people's services

Leicester: Not one cut in the NHS

Kirkby campaigners get support

Olympic protest as South London Healthcare trust forced into administration
---
Socialist Party workplace news

Olympic victory for London bus workers

Solidarity with PCS members fighting to defend services

RMT demo in Portsmouth against Condor's 'sweatships'

Remploy strike a big success

Workplace news in brief
---
Socialist Party review

TV review: "What have the Olympics done for me?"
---
Socialist Party appeal & news

Save our server!

Summer printing schedule

Socialist Party Summer Camp
---
Home | The Socialist 25 July 2012 | Join the Socialist Party
---