Link to this page: https://www.socialistparty.org.uk/issue/733/15213
From The Socialist newspaper, 12 September 2012
Nationalise the banks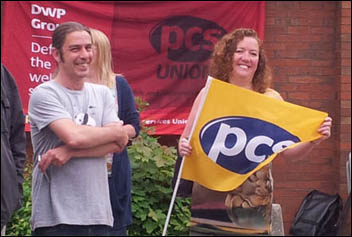 DWP group president Fran Heathcote (with flag) at Leeds Remploy picket line, 26.7.12 , photo K Williams
This is an extract of the speech given at the TUC congress by Fran Heathcote, group president of PCS in the Department for Work and Pensions, in support of a motion from the Fire Brigades Union on nationalising the banks.
PCS welcomes this motion from the FBU.
Much of the banking sector was nationalised by Labour in 2007-08 - not in the interests of working and middle class people but to prop up the broken financial system that was brought to the verge of disaster. To date this has cost £500 billion in total. But what have we got to show for it?
I live in the North East and Northern Rock was taken over in 2007 after selling dodgy sub-prime mortgages in the scandal that triggered the credit crunch. I'm sure we can all remember the queues of people trying to get their savings out. But last November, four years after being bailed out, the profitable half of it was sold to Virgin for £747 million - less than half of what the taxpayer injected into it when it was split in 2010.
80% of RBS has been nationalised yet it is being investigated as part of the Libor scandal which fixed interest rates between banks. The Libor also affected the mortgages and loans of ordinary people and penalised them. Small business people have been swindled, with one person reportedly paying back extra £70,000 on her loan because of the illegally fixed interest rate.
Incidentally, these are the people who can be won behind the union movement, when we take joint action and show that we're the most powerful force that can resist the Con-Dems and their rich friends.
Even Liberal Democrat peer Lord Oakeshott said this week: "It's time we used the stick on the banks we own and nationalise RBS instead of force feeding them carrots." Millions of our members are struggling to pay their mortgages or ripped off by the banks and small businesses who can't get credit wouldn't think that this is a radical motion.
If the banks were nationalised and democratically run, taken out of the control of the greedy fat cats, it wouldn't just open up the door to cheap mortgages and loans.
It could be the platform for a totally different type of society that represented the 99% of us who would benefit from the type of socially useful investment on a massive scale that could ensure decent jobs, housing and public services for all. This is our alternative to Cameron's austerity.
Donate to the Socialist Party
Coronavirus crisis - Finance appeal
The coronavirus crisis has laid bare the class character of society in numerous ways. It is making clear to many that it is the working class that keeps society running, not the CEOs of major corporations.
The results of austerity have been graphically demonstrated as public services strain to cope with the crisis.
The government has now ripped up its 'austerity' mantra and turned to policies that not long ago were denounced as socialist. But after the corona crisis, it will try to make the working class pay for it, by trying to claw back what has been given.
The Socialist Party's material is more vital than ever, so we can continue to report from workers who are fighting for better health and safety measures, against layoffs, for adequate staffing levels, etc.
Our 'fighting coronavirus workers' charter', outlines a programme to combat the virus and protect workers' living conditions.
When the health crisis subsides, we must be ready for the stormy events ahead and the need to arm workers' movements with a socialist programme - one which puts the health and needs of humanity before the profits of a few.
Inevitably, during the crisis we have not been able to sell the Socialist and raise funds in the ways we normally would.
We therefore urgently appeal to all our viewers to donate to our special coronavirus appeal.
---
In The Socialist 12 September 2012:
---
Fight against austerity

Build a 24-hour general strike

TUC passes general strike motion

NSSN lobby demands a 24-hour general strike

Teachers must unite against Tories
---
Socialist Party news and analysis

Nationalise the banks

Cabinet reshuffle

Con-Dem housing measures - in 'the thick of it'?

After the Paralympics... Stop the Con-Dems' assault on disabled

Cable attacks health and safety

'Red tape' bonfire puts workers at more risk

More bad news from media mogul Murdoch
---
International socialist news and analysis

Quebec Solidaire's electoral gains show potential for left

Honduras: Privatised cities in the global economy
---
Socialist Party feature: TUSC

We need a political voice to fight austerity
---
Socialist Party youth and students

Socialist students: Fighting for education

Bristol YFJ: "We're not lazy - we're fighting back"

Global youth unemployment rises

Youth Fight for Jobs in action! Coming events
---
Socialist Party workplace news

Workers' unity against brutal bosses at Cranswick Foods

East Coast train cleaners on strike

RMT assistant secretary arrested on picket line
---
Fighting NHS cuts

NHS under attack - Stop the closures, stop the cuts

Bromsgrove meeting opposes A&E closure

Demo against heart unit closure in Leicester
---
Socialist Party reports and campaigns

Sheffield Socialist Party pickets strike-breaking facility

Brent Labour: Making families homeless

Young tenants to lobby Leeds council over housing crisis
---
Reviews and comments

The Reunion rewrites history: the Poll Tax

The shame of sexism in sport

How we stopped the racist EDL
---
Home | The Socialist 12 September 2012 | Join the Socialist Party
---