Link to this page: https://www.socialistparty.org.uk/issue/736/15355
From The Socialist newspaper, 3 October 2012
Building the fightback in the universities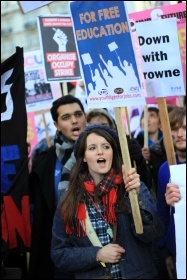 Massive student demo in London called by the NUS expresses anger against cuts, photo T.U. Senan (Click to enlarge)
As students arrive at their university campuses this year they are being met by the most vicious assault on the right to an education seen in generations.
But there is also a new mood of defiance growing on the campuses. Over the past two weeks Socialist Students has been at the heart of preparing students for a long, hot autumn of protest.
We've had great support for our campaigns calling for a general strike and in solidarity with international students at London Met.
We have held successful meetings at universities and colleges across the country which have met with a great response. Meetings have taken place in places such as Leeds, University of East London, Newcastle and Cardiff where the meeting was so packed we had to have an overflow room!
Below is a small flavour of what's been happening.
Sheffield
Sheffield Socialist Students got off to a flying start this year. All the students who were involved last year have been keen to build on campus.
Our first meeting of the year attracted 23 people on 'Capitalism is crisis and the case for socialism'.
Ten of these were new to Socialist Students. Our second meeting was just as big, with many of the same new faces, giving us hope that Socialist Students will continue to be the most effective political campaigning society at University of Sheffield.
Despite only being registered as a society this year, Sheffield Hallam University Socialist Students have also started as they mean to go on.
The society held campaign stalls throughout freshers week and the first meeting was attended by eleven students.
Both Socialist Students groups in Sheffield plan to push ahead with our involvement in the Youth Fight for Jobs campaign to bring back EMA student payments and for a big student turnout to the TUC demonstration on 20 October.
Chaz Lockett, Sheffield Socialist Students
Queen Mary
Losing library staff through forced redundancy, tuition fees sky-rocketing to £9,000 a year, security cover reduced to three staff on campus for the night shift...
It's not really any wonder we've had such a positive reception at the beginning of this academic year - there really is an appetite for change!
Over 100 students gave their details over the course of the freshers fair. One student told us Socialist Students seemed to have 'a lot more going on' than other political societies as we're the only group with a whole society meeting every week, two active campaigns, a calendar bursting with socials and film screenings, not to mention the demos and meetings that are being held off-campus.
Our first meeting of the new academic year - titled 'What is socialism?' -was attended by 15 people and had some fantastic discussion.
There was also a great debate at this month's teetotal social, The Unbullingdon Club, which we centred on the new Rape Is No Joke campaign. Everyone contributed and we hope this grows more popular over the coming months!
Ellen Kenyon Peers, Queen Mary Socialist Students
Birmingham
Socialist Students took part in all three freshers fairs in Birmingham.
At Birmingham City University, we had an official stall and huge interest. We got 120 contact details from students keen to get involved.
This is hardly surprising, with the backdrop of the tuition fees increase as well as cuts of 80% made to the teaching budget.
Covering the freshers at Aston was the most troublesome as security stopped us from leafleting anywhere on campus.
This shows some student unions see themselves as money-making organisations rather than bodies which fight for students' interests.
Despite these setbacks, students came to our informal meeting on the day, as well as many more who provided their contact details for the mailing list.
At the University of Birmingham hundreds of leaflets were snapped up by interested students.
Safina Bi, Birmingham Socialist Students
Why not click here to join the Socialist Party, or click here to donate to the Socialist Party.
---
In The Socialist 3 October 2012:
---
Education news & analysis

Tory education policy: 'This is just about making cuts isn't it?'

Building the fightback in the universities

Suspended student union president continues fight for reinstatement

NUT activists prepare for action

Barnfield College, Luton: Kick private profit out of education

Partial victory for international students at London Metropolitan

No to slave labour in universities
---
International socialist news and analysis

Europe: Class struggle returns with a bang

South Africa: Solidarity with miners

Algerian war of independence 1954-1962
---
Socialist Party NHS campaigning

Action against Profit From Illness!

South West NHS workers want action against 'pay cartel'

Save Greater Manchester mental healthcare

Cut the Con-Dems - not our NHS!
---
Socialist Party workplace news

Bin workers calling indefinite strike brought results

Day of Action to save HMRC nurseries

Crossrail flashmob blocks London's Oxford Street

Arts and culture workers need to fight back
---
Socialist Party reports and campaigns

The fight of all our lives - For a 24-hour general strike

Councillors must resist all Tory cuts

Thousands march for an independent Scotland

March for Jobs in Scotland

Rape is No Joke campaign discussed
---
Socialist Party news and analysis

Scotland: Lamont throws Labour Party into crisis

Sickened by Labour conference? Build the anti-cuts alternative!

Council tax benefit - new and not improved

Squatting conviction paves way for rise in homelessness

Them & Us
---
Home | The Socialist 3 October 2012 | Join the Socialist Party
---