Link to this page: https://www.socialistparty.org.uk/issue/737/15428
From The Socialist newspaper, 10 October 2012
TV review : Masters of Money: Karl Marx
Andy Beadle and Steve Glennon
BBC Two: Masters of Money: BBC Economics Editor Stephanie Flanders examines one of the most revolutionary and controversial thinkers of all: Karl Marx, photo BBC
Stephanie Flanders concluded her BBC TV series Masters of Money by looking at Karl Marx, "capitalism's severest critic". Often "refuted", his ideas just won't go away!
The deep crisis of recent years and their lack of answers has led some economists to read for themselves what he really said.
Former International Monetary Fund chief economist and now a University of Chicago professor, Raghuram Rajan, said Marx was right on a number of dimensions including social inequality.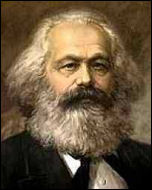 The senior economic advisor at UBS, George Magnus, said: "Anyone from Chelsea or Chelmsford who thinks Marx is only about communism is in for a shock because it is what Marx said about capitalism that rings so true today."
Flanders commented: "Marx said capitalism is inherently unstable and would lurch from crisis to crisis and society would become increasingly unequal".
Marx saw capitalism as fundamentally flawed: the problem wasn't how to improve it but to replace it with a new type of society.
He saw how different forms of society - like slavery and feudalism - had been overthrown when they no longer enabled economic progress. Capitalism isn't eternal either.
The programme showed Marx developed a comprehensive analysis of the shortcomings of the profit system while it was still in its infancy. But it repeatedly claimed he said little about what could replace it.
In fact Marx spent much of his time trying to build and unite the workers' movement. He followed international developments and commented on strategy and tactics.
In this programme, Marx's followers were shown to be academics: Martin Jacques, former editor of Marxism Today, professor David Harvey, City University of New York, Tariq Ali, New Left Review, and New Labour MP Tristram Hunt.
Comments also came from former Tory chancellor Nigel Lawson and Bank of England Governor Mervyn King.
But nothing from "the 99%": those who suffer the personal consequences of debt, poverty and unemployment, who are increasingly moving into struggle, as Marx predicted.
Why not click here to join the Socialist Party, or click here to donate to the Socialist Party.
---
In The Socialist 10 October 2012:
---
Socialist Party news and analysis

Tories promise more pain... Kick out the 'nasty party'!

Labour Party conference - not fighting austerity

Arguing the case for a 24-hour general strike

Birmingham Tory conference demo

'Millions crying out for leadership and for an alternative'

Anti-austerity candidates selected for November contests

No welfare cuts

Health workers must fight attacks on jobs and pay

Politicians line up to attack abortion rights

The hidden homeless - "Sofa surfing is my lot"

Them & Us
---
Transport feature

Send the transport privatisers packing
---
International socialist news and analysis

Venezuela presidential election

Greece: escalating the action against austerity

South Africa: 'What are we doing about this government that is killing us?'
---
Socialist Party reports and campaigns

Why we're marching on 20 October

More success for Socialist Students

Save East Midlands ambulances

Campaign Kazakhstan: A musical and political evening

Youth Fight for Jobs and Education fortnight of action 13-27 October

Dewsbury fights health service cuts

Waltham Forest: Parents and staff unite against school sell-off

Sunderland anti-fascists stand up against divisive EDL
---
Socialist Party workplace news

South Wales bus workers receive strong support for strike

Fighting the construction industry blacklist

Workplace nurseries saved in HMRC

Leeds solidarity with Crossrail battle

Mid Yorkshire Health admin staff ballot for strike

Bin workers' strike threat

Workplace news in brief
---
Marxism

TV review : Masters of Money - Karl Marx

Marx was right!
---
Home | The Socialist 10 October 2012 | Join the Socialist Party
---