Link to this page: https://www.socialistparty.org.uk/issue/741/15642
From The Socialist newspaper, 7 November 2012
Heseltine's economy report is no solution
Alex Davidson, Manchester Central TUSC candidate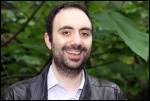 Alex Davidson, Manchester Central TUSC candidate 15 November 2012, photo Senan
The end of October saw the publication of a report by former Tory minister Michael Heseltine on the economy.
Heseltine is infamous throughout the labour movement for his role in the 1980s Thatcher government. He oversaw an assault on social housing when environment minister, and was the man responsible for the final massacre of the coal industry as president of the Board of Trade in the early.
Heseltine's recent report stated that the government "does not have a strategy for growth and wealth creation", reflecting a growing panic among the ruling class.
The recent, heavily doctored 'growth' figures confirm that the government is desperately casting around for some 'good news'.
Heseltine's report recommends that the government uses £49 billion to "stimulate growth in the regions". He also recommends that the government act as a stimulator for growth.
This echos much of what Chancellor George Osborne himself said about the "march of the makers" to replace lost jobs in the public sector.
In reality, manufacturing has continued its long-term decline throughout the Con-Dems' two years in power.
Areas like Manchester have never recovered from the deindustrialisation carried out by Thatcher and Heseltine's government.
The current government has no commitment to saving skilled manufacturing jobs, as shown by their attitude to mass layoffs proposed by Ford in Southampton and Dagenham.
Disgracefully, the Heseltine report was embraced by the Trades Union Congress and the New Labour front bench.
If New Labour was serious about tackling the economic crisis, they would adopt the policy that has been embraced by unions like the Fire Brigades Union: nationalisation of the banks and the use of those resources to fund a meaningful programme of public works, such as the building of social housing and the upgrading of transport infrastructure.
But Labour will not put forward anything like this. That is why I am standing in the Manchester Central byelection.
As a Trade Unionist and Socialist Coalition candidate, I am supported by trade union militants who recognise that the working class needs their own party with a socialist programme - not one that embraces an anti-working class Tory Lord.
Why not click here to join the Socialist Party, or click here to donate to the Socialist Party.
---
In The Socialist 7 November 2012:
---
Home | The Socialist 7 November 2012 | Join the Socialist Party
---