Link to this page: https://www.socialistparty.org.uk/articles/15822
Posted on 10 December 2012 at 15:23 GMT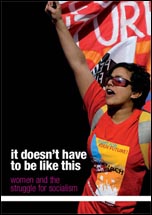 Socialist Women meetings plan campaigning for next year
On 5 and 6 January a Socialist Party national women's meeting will take place in London (email sarahwrack@socialistparty.org.uk for details and to book your place). In the lead up to this two regions of the Socialist Party organised similar meetings.
Wales
The Socialist Party in Wales is attracting strong and determined women into our ranks - trade unionists and students alike - on the basis of our clear socialist programme.
This was clear at our recent Socialist Women's meeting on Tuesday 4 December in Cardiff city centre.
Under the title 'the socialist fightback against sexism', we discussed a broad range of related topics, including abortion rights, the sex trade's exploitation of women, the 'Rape is No Joke' campaign, the long campaigning record of the Campaign Against Domestic Violence, and a Marxist explanation of the historical oppression of women.
We noted that all of these are symptomatic of the inequality at the heart of capitalism and that only a struggle for a socialist world could truly lay the basis for our liberation.
In past decades working class women in their trade unions and both the labour and feminist movements did win very important social gains.
But these are now under massive attack from the government's on-going austerity policies and the neoliberal agenda of New Labour before it.
As Marxists we recognise that working women suffer from 'double oppression' as a result of capitalist exploitation.
Cuts to the NHS, education, social care and childcare hit women particularly hard because they tend to be the primary care givers in society.
It is in the interests of all workers to unite to oppose the divisive tools of sexism, racism and homophobia.
2013
We are determined to actively campaign both on abortion rights and against domestic violence in the new year.
Shortly before the meeting we had organised the Cardiff Reclaim the Night protest against violence against women following the shameful decision of the National Union of Students Wales and Cardiff Feminist Network to cancel it.
Our plans don't stop here as we are also keen to produce campaigning material on a wide range of issues affecting women - from the lack of affordable high quality childcare to the lack of provision for women and children fleeing domestic violence.
Socialist Women in England and Wales stand in solidarity with the pro-choice campaign that our sister section in Ireland is playing a leading role in.
We have supported a whole host of international campaigns, from the 'Slutwalk' movement to solidarity with the jailed Pussy Riot protesters in Russia.
Some of us will be participating in the national Socialist Women's meeting in London in January and we will contribute our ideas and experiences at this important meeting, as well as organising report back meetings to all of the Socialist Party branches in our areas.
Sara Mayo
---
>
East Midlands
I wasn't sure what to expect as I sat in a room full of women at the Socialist Party's east midlands women's meeting on Sunday 1 September.
I was there more out of solidarity with my fellow branch members than feeling any pressing need to discuss women's issues.
I was just hoping it would not turn into a day of anti-men rants, hand-holding and commiseration over how hard it is to be a woman in a man's world. I couldn't have been more wrong.
The day kicked off with a discussion on how the cuts are affecting women. Women, on the whole, suffer more as a result of the cuts than men.
Not only are the lowest paid jobs those with the highest percentage of female workers (the four Cs: care, cleaning, catering and cash registers) but now jobs in education and the NHS, roles traditionally filled by women, are facing the brunt of the attacks from the Con-Dem government.
This is forcing many women either completely out of work or into part-time/unstable employment, losing the economic independence previous generations fought so hard for.
This leaves some women at an ever higher risk of being trapped by domestic violence, with no access to an income they control, and public funding of women's refuges and other vital support services being axed.
Women are under serious threat of being forced back into conditions not seen since before World War Two.
Right to choose
The second discussion revolved around abortion, an issue in the headlines recently in light of the horrific case of Savita Halappanavar in Ireland, as well as the outrageous comments made by Tory health minister Jeremy Hunt who supports the reduction of the 24 week limit on abortions to just 12 weeks.
A fantastic introduction by Holly of the Northampton branch opened up a very comprehensive and wide-ranging discussion.
Comrades shared intensely personal stories of their own experiences, not in an attempt to curry sympathy, but in order to expose and highlight the reality of the control of women's bodies, and consequently their lives, by this corrupt capitalist system.
Is it a 'woman's right to choose' if the choice is made for her, whether by the two doctors who must legally give their consent, or by her economic circumstances meaning she doesn't feel she is in a position to raise a child? Any attack on abortion rights would see more women pushed into poverty or worse, risking death with back-alley abortions out of desperation.
The meeting wrapped up with two workshops - one on action being taken within the Leicester Socialist Party branch to encourage and support its women members, and the other on how to write for the Socialist.
It's important that these issues are not just discussed by women. We need to take the discussions into our branches.
When I went into that room I was ignorant of the issues affecting women. It is important to remember that just because you're female doesn't mean you automatically represent womankind - just look at Margaret Thatcher, whose savage attacks on the working class only served to subjugate women further.
At the end of the meeting I looked around and realised that I was not in a room full of women. I was in a room full of comrades.
Tessa Warrington
---
This version of this article was first posted on the Socialist Party website on 10 December 2012 and may vary slightly from the version subsequently printed in The Socialist.
Why not click here to join the Socialist Party, or click here to donate to the Socialist Party.
---