Link to this page: https://www.socialistparty.org.uk/issue/751/16078
From The Socialist newspaper, 6 February 2013
Organised fightback needed to save council services
Nick Chaffey, Socialist Party Southern regional secretary
"Multiple failures" is how the government's own financial watchdog, the National Audit Office, has described the crisis facing council budgets across the country.
It is estimated that by March 2015 councils will have had £9 billion cut from their budgets by the Con-Dem government of millionaires. The 'posh boys' are seeking to further enrich their friends in big business through mass privatisation of our services.
At the sharp end the poorest and most vulnerable are being asked to pay more through cuts. With a staggering 200,000 council jobs lost since 2010, leaving remaining workers with a huge increase in workloads and having seen a three year pay freeze, there is huge anger at the failure of the government's austerity agenda and the prospect of further cuts in jobs and pay.
For working class people, the answer is clear - these cuts are unacceptable. When a lead has been shown by the trade unions, the response has been immense - millions of workers took strike action against attacks on public sector pensions in 2011. And industrial struggle is not the only weapon available to workers. There is an increasing struggle taking place to force action from inside the council chambers around the country.
Pressure on Labour
Labour MP David Blunkett has warned of disorder or disillusionment in the face of the cuts. This reflects the hapless position of the Labour Party leadership when what is urgently required is courageous leadership to channel the anger in an effective national campaign to halt the government's plans and protect jobs and services.
Labour council leaders from Liverpool, Newcastle, Birmingham, Nottingham, Sheffield, Leeds and Manchester wrote to the government warning that vital services will no longer be protected. Even Tory councils have joined in, quailing in the face of the anger their party's cuts have invoked.
While just a few councillors have been prepared to take a stand, they are a beacon to those who want to fight and a painful embarrassment to those Labour councillors who wring their hands but 'reluctantly' carry out the Con-Dem cuts.
Every attempt is being made by Labour and their allies in the unions to wipe an alternative to cuts from the political map.
But who can doubt that the resources exist to fund local council services when a handful of bankers in the city of London were rewarded with bonuses in 2011 of £13 billion? This is more than the council cuts nationwide over five years.
The potential exists to channel the growing anger into a movement that could halt the government's cuts. This would mean councils refusing to implement the Con-Dem cuts and putting forward 'needs budgets' to meet the demands of the local community.
Such budgets could be put together by council unions, the wider trade unions and local communities to create jobs, build affordable council housing and provide services for the young and old.
Excuses
Labour hides behind claims that such a stand is 'illegal' and Eric Pickles, minister for local government, will send in commissioners to implement the cuts. In fact changes to legislation make it easier for councillors to take a stand. Councillors can no longer be surcharged unless they are found guilty of financial crime for personal gain.
Huge support for defying the cuts, with mass demonstrations backed up by strike action, would make it incredibly difficult for Pickles to remove democratically elected councillors. And a movement on this scale would be able to stand again and replace those who were removed if needed.
Across the country this month, council budgets will be set. Labour councils are set to do the Con-Dems' dirty work again. But in Southampton, Hull and Stoke, cracks have begun to appear, with individual councillors refusing to vote for cuts. Under extreme pressure, facing mass opposition, how many other councillors may seek to join the fightback?
This could take place side by side with an increase in industrial struggle too. With the wider attacks on the NHS and benefits, the battle of local authorities could be a means of uniting opposition to all cuts and mobilising the trade unions for national coordinated action in the form of a 24-hour general strike.
Alternative
If any Labour council utilised the powers at its disposal to protect jobs and services, it would gain the backing of millions of working people, desperate to score a blow against austerity. If a future Labour government committed to restoring reserves and borrowing by councils which averted cuts, the destruction of local authorities could be stopped.
But given that Labour has now fully embraced capitalism and stands in the bosses' interests, such a stand is very unlikely.
Like the Unison members in Stoke who have suspended their payments to Labour, trade union members entering the fray will look beyond the excuses of Labour councillors and seek out a road to fight and a political voice for that struggle. The Socialist Party is prepared to stand shoulder to shoulder with all who do and will argue for any alternative to Labour to adopt a socialist programme.
Trade unionists, campaigners and socialists have to stand against councillors who are not willing to stand up to the Tories. And those councillors who are, face being gagged and expelled from the Labour Party.
Such developments raise the urgent task to unite all those opposed to cuts to offer a clear political alternative to austerity. The continued development of the Trade Unionist and Socialist Coalition is an important step towards this.
---
>
Southampton: "People will look for ways to fight back"
Rebel councillors speak out: watch video interview with the Southampton Two at www.tusc.org.uk
Interview: Southampton rebel councillors
How will the council budget cuts affect your area?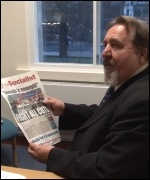 Don Thomas, Southampton rebel councillor, reading The Socialist, photo Socialist Party
Don Thomas (DT): The very people who put Labour in power will feel the biggest impact of the cuts - the young, unemployed, workers and the elderly. It is an absolute betrayal. We have not reneged on our promise; we said we would stand up and fight. We've done that from day one and will continue to do so.
Keith Morrell (KM): We stand full square with Unite and Unison in fighting job cuts. Council staff fought a magnificent battle against the previous Tory administration's attack on their pay and conditions. But over 500 council jobs will have gone since Labour took over last May.
Now it's young people who have taken up the fight with a determined campaign across the city against the proposed axing of the entire youth service. That alone is proof that if this Labour council followed their example and launched a campaign against the Con-Dem government, they would have no problem in mobilising massive support.
What are you proposing as an alternative to the cuts?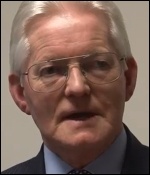 Keith Morrell, Southampton rebel councillor, photo Socialist Party
DT: Buy some time by refusing to carry out Con-Dem cuts and protecting all jobs and services, and then explain to council staff and service users that a campaign can develop across the country which would force the Con-Dems back and restore funding to local government.
KM: The administration should instruct officers to explore every available option - use reserves, borrowing powers, free up revenue by capitalising expenditure. No stone should be left unturned to keep services going.
Labour councillors say they have no choice. What do you say to them?
DT: People have been bludgeoned by the press and the government into thinking that there is no alternative. It is the biggest lie of all that they have no choice. They do! Don't vote for cuts!
Where will the money come from to fund local authorities?
KM: The government's austerity programme of debt and deficit reduction is a smokescreen for an attack on working class living standards in the interests of profit.
The loopholes in the law that big business exploits to avoid paying tax on their profits should be closed up - billions would flow into the exchequer if that was done.
What is your message locally and nationally to those facing cuts?
DT: Don't get angry, get active. We need to bring together all those affected by the cuts. We have strength in unity.
KM: We have had tremendous support since July when we first voted in full council against cuts in local services. Ordinary people in their hundreds have contacted us. We seem to have released a pent-up frustration in ordinary people that they weren't being listened to. At national level we've had backing from the RMT union and from Len McCluskey, general secretary of Unite, personally.
It's early days, and there's a lot more work to be done, but we know that as the cuts begin to take their toll, people will look for ways to fight back.
Working people, and organised labour in the form of the trade unions, need to find a political voice that the Labour Party is failing to provide.
Budget demo
1pm, Wednesday 13 February
Civic Centre, Southampton
---
>
Since announcing its draft budget in November, opposition has grown to Southampton Labour council's cuts proposals, especially among youth workers who face the complete decimation of the service they provide.
While protests and campaigning have forced the council to save a small number of clubs, £16 million of jobs and services will still be cut. This has angered the two main unions representing council workers - they have both publicly criticised the Labour council.
It is essential that the unions now exert maximum pressure and call on Labour councillors to refuse to implement the Con-Dem cuts.
But where councillors carry on voting through cuts workers, campaigners and service users must prepare to stand 'no cuts' candidates against them.
---
>
"Why do they like picking on young people?"
Southampton City Council has announced plans to close all youth support and play services next year.
By stopping crucial preventative interventions now, the burden on more expensive services will increase because of anti-social behaviour and youth crime, more difficult access to training for unemployed young people and increased social exclusion of vulnerable groups.
Youth workers in Southampton are being advised by managers to place themselves on the redeployment register before the cuts have even been agreed. That means they could be redeployed and leave the service within weeks, causing it to collapse.
One youth worker, known as "Legend" by local kids, said: "I feel torn as I don't want to give up my senior club and my teen parents work. I feel like I am betraying young people by filling in the redeployment form. To be honest it brought me to tears. I do know that whatever happens, I will still fight for youth support work."
Consultation
Revised proposals suggest that the city council will pay the rent and utility bills of three clubs for one year only but have not released anything to suggest that staff will be saved which is like keeping open a school but not supplying teachers!
A consultation put together by youth support workers has revealed young people's thoughts and feelings regarding the proposals.
When asked their thoughts on the council's proposals, responses included: "Why do they like picking on young people? We have nothing on this estate" "Maybe we could close the civic centre!" "No one really cares about young people, especially the decision makers."
On the effect of the closures for young people in the areas: "There will be lots of criminal damage." "There will be more arguments at home!" "We will get criminal records and won't be able to get a job"
A Southampton Unison steward
---
>
Young people fight for their youth clubs
Southampton's young people are gaining confidence after a series of protests in the run up to the setting of the council's budget. We have chanted in the public gallery, lobbied councillors and presented our case in the council chamber.
The deputation to the council was made up of seven people passionate about their youth service.
Shamefully three cabinet members, including the council leader and the cabinet member for children's services, were absent - showing a complete disregard for those affected by these cuts.
Afterwards Jamie Mayer who uses Woolston youth club said: "I think it is going to be really difficult for the local youths that go to the club. The youth workers have been really helpful to me, they have been amazing".
Youth Fight for Jobs is determined not to be beaten. We know that on 13 February when the budget is voted on, all councillors will have the opportunity to vote for the proposals put forward by the two rebel councillors. Even after this date it is not over. We will do whatever it takes to save our services!
Josh Asker, Southampton Youth Fight for Jobs
---
>
Stand Up for the South Coast
In late November, Stand Up for the South Coast, a coalition of trade union activists, socialists and those on the left was formed.
Stand Up for the South Coast decided at its first public meeting that there was a need for a coordinated effort against the social cancer cuts being proposed by the Etonian elite and a mobilisation of grass root activists in the south was essential.
The group embarked on its first demonstration in Southampton on Saturday 26 January. About 70 people congregated in the city centre.
The event received attention from local press. Outside the shopping centre activists handed out leaflets explaining the effect of cuts.
The action was joined by Keith Morrell, who has been labelled a 'rebel councillor' for representing the people in his ward and fighting for lifeline services in the community along with fellow councillor Don Thomas.
Stand Up for the South Coast will next visit Portsmouth on Saturday 23 February.
Daz Procter, RMT council of executives
Why not click here to join the Socialist Party, or click here to donate to the Socialist Party.
---
In The Socialist 6 February 2013:
---
Socialist Party NHS campaigning

Fight to save NHS

Revolt against pay cuts strengthened at Mid-Yorkshire NHS

Lewisham hospital protests continue

Whipps Cross workers prepare for fight against jobs and pay cuts

Scrap PFI, not our hospitals
---
Socialist Party news and analysis

Cracks in the coalition - we must take advantage of the divided enemy

As Gove attacks teachers: NUT leaders - delay no longer

Childcare plans spell disaster

Them & Us
---
Socialist Party feature

Organised fightback needed to save council services
---
Socialist Party reviews and comments

Cut tax dodging not benefits

Film review: Steven Spielberg's Lincoln
---
Socialist Party reports and campaigns

Brutal cuts announced in Cardiff

Derby Labour councillors 'oppose' cuts - then vote for them

Tamil Solidarity looks at 65 years of 'independence' in Sri Lanka

Support the Socialist with a May Day greeting

Socialist Party regional conferences
---
Socialist Party workplace news

Workers tell Bromley council: We won't sign up to your plans

Labour cuts better than Tory ones?

Attempts to force Unison branches to affiliate to Labour

London mayor pressing ahead with fire service cuts

Workplace news in brief
---
International socialist news and analysis

South Africa: Battle for control of mining sector
---
Home | The Socialist 6 February 2013 | Join the Socialist Party
Subscribe | Donate | PDF | ebook
---