Link to this page: https://www.socialistparty.org.uk/articles/16261
Posted on 6 March 2013 at 16:14 GMT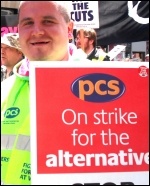 Newcastle: 30 June 2012 coordinated strike action by the PCS, NUT, ATL and UCU, photo Elaine Brunskill
PCS calls national strike on Budget Day
A series of walkouts and protests by almost a quarter of a million civil and public servants will start with a strike on budget day on 20 March, the Public and Commercial Services union (PCS) has announced today.
This will be followed by other national and sector-specific strikes and industrial action as the union steps up its opposition to cuts to pay, pensions and working conditions.
The union has asked for talks on the key issues affecting the lives of civil servants and the services they are able to provide to the public, but the government has refused to negotiate.
Meeting today (6th March) the union's national executive committee (NEC) agreed:
Three-month programme of action to start with an all-day strike on 20 March to coincide with the chancellor George Osborne's budget
Further national all-member and sector-specific strikes of varying durations, with dates to be announced at a later date
Other forms of disruptive industrial action short of a strike both nationally and in employer groups
Strike days to be interspersed with protests and campaigning activities around specific themes, with details to be announced at a later date
The union will continue to seek the widest possible coordination with other unions on pay and pensions.
Senior representatives and officials will meet weekly during the campaign to track progress and decide tactics.
Any decisions on a second phase will be taken after the union's annual conference in mid-May.
PCS general secretary Mark Serwotka said:
"This is not a one-day protest, this is the start of a rolling programme of walkouts and disruptive action to put pressure on a government that is refusing to talk to us.
"Civil and public servants are working harder than ever to provide the services we all rely on but, instead of rewarding them, the government is imposing cuts to their pay, raiding their pensions and trying to rip up their basic working conditions.
"We warned more than two years ago that austerity wouldn't work and we were right. There is an alternative to cutting the living standards of hard-working public servants and our campaign is designed to make the case loud and clear."
A PCS press release
---
>
John McInally, vice-president of the PCS, spoke to the Socialist:
What are the issues you were balloting over?
First of all, the issue of pay. Civil service pay has fallen, along with other public sector workers, by about 20% since the economic crisis began.
What we're asking for is a minimum £1,200 a year or 5% pay rise, which won't make us any better off, all it'll do is claw back some of what we've lost over the past five years.
We're also demanding that the living wage is applied throughout the civil service and in this day and age it's ridiculous that we don't have equal pay across the civil service.
On the question of pensions, we're opposed to the contributions rise in April.
What the government is also doing is launching an attack on terms and conditions. There's absolutely no need for it.
It's politically motivated. All the attacks are politically motivated but the real purpose of attacks on terms and conditions is about setting the scene for mass privatisation in the civil service. We're going to do everything we can to defend those terms and conditions.
And on the question of jobs, we've lost 62,000 jobs since this government came to power. We're losing something like 4,000 jobs a month.
We're opposed to all job cuts, but we're especially opposed to any compulsory redundancies.
What does the ballot result show about the mood of PCS members?
We thought the ballot result was very good. Our members have been under attack for a long time under the current and previous government.
So from that point of view the fact that our members are determined to fight back shows their genuine anger.
They feel they're not valued in any way, shape or form by the government. I think what gets to members is the mean-mindedness of taking away basic conditions.
The government always makes comparisons to the private sector but the reality is that a lot of areas of the private sector have better conditions than the civil service.
And if you look at the pay a lot of our members receive its scandalously low. The ballot shows they're determined not to let the government get away with it.
What are the union's plans?
What the union's executive has decided today is to start the campaign on budget day on 20 March with a one day strike.
That will be followed by disruptive action of shorter duration, hitting the employer on a regular basis, with the intention of causing as much disruption as we possibly can. Individual department groups in some cases have their own disputes as well.
What we're planning to do over the course of three months is keep the pressure on, have shorter walkouts which are very quickly organised, work-to-rules which would vary according to what's appropriate to each department.
We will apply pressure to get the employer around the negotiating table. It is a scandal that the government is refusing to talk to us.
So we're going to be writing to them telling them that we've had a vote for action so they now need to sit down and discuss these things.
Over the past six months in particular we've had a whole series of group disputes in areas like DWP, HMRC, Department of Transport, where we've threatened or taken action and managed to get concessions from the employer.
We don't think it's a strong government. We think it's being held together by no opposition in parliament.
We're doing our best to stand up for our members. We know our members will respond. We recently wrote to other unions and we're going to write to them again telling them that we're preparing for action and if other unions joined in, we'd be more than happy to coordinate.
---
This version of this article was first posted on the Socialist Party website on 6 March 2013 and may vary slightly from the version subsequently printed in The Socialist.
Why not click here to join the Socialist Party, or click here to donate to the Socialist Party.
---