Link to this page: https://www.socialistparty.org.uk/issue/755/16270
From The Socialist newspaper, 7 March 2013
Editorial of the Socialist
TUC must name the day for 24-hour strike
Over a quarter of a million civil service union PCS members will walk out on 20 March, the day Chancellor George Osborne stands up to deliver yet another cuts budget.
This strike is the next step of PCS's battle to defend its hard-won terms and conditions from attack as well as to fight to break the five-year public sector pay freeze. It could and should also herald the next phase in the general struggle against the Con-Dems' austerity offensive. PCS has clearly called for coordinated action and it is urgent that the TUC sets the date for a 24-hour general strike.
The PCS has won its industrial action ballot - 61% for strike and 80% for action short of a strike on a 28% turnout. While the Tories and even pessimists within the union movement might try to denigrate the figures, it shows a clear majority for strike action. As Mark Serwotka, general secretary of the PCS, put it: "it is not voting in the ballot that matters, it is voting with your feet."
In local ballots and disputes across the country, votes for strike action show that where a strong lead is given, workers want the opportunity to fight.
PCS, with Socialist Party members playing leading roles, has been to the forefront in resisting Cameron and Clegg's cuts. The high point was undoubtedly the strikes in 2011. Later sold out by right-wing trade union leaders, they were nonetheless a defiant reaction to the first year's imposition of increased pension contributions - effectively a pay cut on the top of the pay freeze. Since then, PCS has taken action across many of the civil service departments, from the Home Office, DfT to DWP and HMRC, winning major concessions and even victories over the government.
The second dose of increased pension contributions will be applied after the budget and yet another next year, which will include millions of local government workers for the first time.
For many of these workers already suffering from the pay freeze and many in fact having lost thousands from changes to their contracts, the 'deal' done after N30 will be a distant memory.
That two-year delay was the main thing that Unison general secretary Dave Prentis used to justify the pensions sell-out, yet the pay offer to council workers of 1% plus strings, in real terms a pay cut of up to 2%, shows that all public sector workers are fundamentally in the same position as PCS members.
Already it has been estimated that real earnings are on average 16% below pre-crisis levels, falling every month for the last three years. All this without the new raft of welfare cuts. 60% of welfare recipients are working, including 300,000 nurses, 150,000 teachers and 40,000 soldiers. A million workers now depend on housing benefit, a figure that has doubled in this period. On top of this, up to half a million public sector workers have lost their jobs through cuts.
Budget day walkout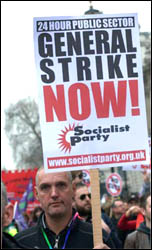 24 Hour Public Sector General Strike Now - Socialist Party placard, photo Paul Mattsson
The walkout on budget day will be happening just as the TUC considers the submissions of unions in response to the POA general strike motion which was passed at TUC Congress last September.
The Socialist Party, the National Shop Stewards Network (NSSN) and others in the unions have acted to popularise a 24-hour general strike against austerity. The NSSN lobbied TUC congress, along with up to 1,000 union and anti-cuts activists.
At a time of further devastating cuts to council services and jobs, the NHS and welfare, thousands of union reps and shop stewards will be asking: "General strike to fight austerity - what's there to think about?" They are speaking for millions of working class people who would give full backing to a 24-hour general strike.
The N30 strike was supported by a clear majority in Britain. This rose to over 80% approval among the young, who face a nightmare future of zero-hour contracts, unaffordable housing and sky-high tuition fees.
Even the police voted by an 81% majority for the right to strike. It may have been ruled out because 'only' 42% voted - far bigger than the 15% turnout in the Police Commissioners' election last year - but it will terrify this Tory-led government.
Militant unions like PCS, RMT and POA have called on the TUC to investigate whether a 24-hour general strike could be carried out legally. In addition, PCS has called on all unions to look to coordinate strike ballots and thereby disputes in the public and private sector in mass joint strike action.
This could be done throughout the public sector on pay alone which then could be spread to the private sector.
In the private sector there seems to be local strikes and protests almost weekly - even if they are ignored in the big business-owned media - and some have won victories. Just in the last few weeks, workers have won major gains if not outright victories in Grangemouth with the oil tanker drivers, in Greencore in Hull and construction workers forcing Urenco and Jacobs to adhere to national agreements in Capenhurst.
The NUT has a national dispute on pay, pensions and working conditions. Unfortunately the leadership has not yet set a date for strike action. Given the enormous attacks on teachers it is urgent that they do so.
An indication of the mood of teachers is shown by Lewisham NUT which recently unanimously passed amendments to NUT conference resolutions calling for national strike action on 1 May and 27 June as part of a rolling programme of action.
Those union leaderships in favour of determined coordinated action against the cuts should meet soon to discuss how they can drive this process forward.
By supplementing their walkout on 20 March with lunchtime protests, including outside Parliament at the same time as Osborne speaks, with an appeal to all other unions, trades councils and anti-cuts campaigns to join them, the sights of workers inside and outside the PCS could be raised about what is possible right now. It would also put huge pressure on the other trade union leaders. It is time to strike together. The TUC must name the day.
---
>
---
>
National Shop Stewards Network (NSSN)
Come to the 7th annual national NSSN conference
Saturday 29 June, 11am-5pm
Camden Centre, Judd Street, London WC1H 9JE
Speakers include Mark Serwotka, PCS general secretary, Billy Hayes CWU general secretary and Steve Gillan, POA general secretary.
Send your name, union and contact details to:
Send your fee of £6 per person, payable to National Shop Stewards Network, to PO Box 54498, London E10 9DE
Why not click here to join the Socialist Party, or click here to donate to the Socialist Party.
---
In The Socialist 7 March 2013:
---
Socialist Party news and analysis

Scrap the bedroom tax

TUC must name the day for 24-hour strike

PCS calls national strike on Budget Day

Socialist Party Congress 2013

Forbes Rich List exposes obscene inequality

Them & Us
---
Socialist Party feature

Stop violence against women
---
International socialist news and analysis

Hugo Chavez dies but the struggle continues

Italy: Voters reject austerity
---
Socialist Party reports and campaigns

Stop cuts and privatisation, to save our NHS!

Eastleigh: growing revulsion at main parties

Anti-cuts protester arrested for using right to free speech

Hull, Warrington, Bristol and Bradford
---
Socialist Party workplace news

Security workers on London Overground strike against 'slave conditions'

Workplace news in brief
---
Socialist Party review

TV review: Britain on Benefits
---
Home | The Socialist 7 March 2013 | Join the Socialist Party
Subscribe | Donate | PDF | ebook
---