Link to this page: https://www.socialistparty.org.uk/articles/16290
Posted on 11 March 2013 at 14:52 GMT
Sold-out non-sexist comedy night in London
The 'Rape is No Joke' campaign was launched in London on International Women's Day, Friday 8th March, with 'No Laughing Matter' - a night of comedy without misogyny.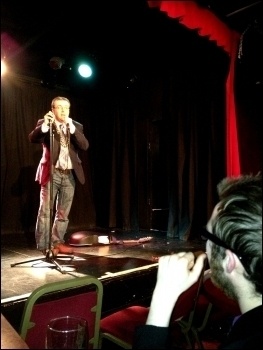 'Rape is No Joke' campaign comedy night, Anti-Durhing Battalion. London 8.3.13, photo by Suzanne Beishon (Click to enlarge)

.
To a sold-out audience, an exciting mix of comedians showed that you can put on a night of progressive comedy and combat the increase in mainstream reactionary comedy.
Helen Pattison, a speaker from Rape is No Joke, opened the night by describing what it is like being a young woman growing up in Britain today facing sexism daily.
She outlined that Socialist Students had launched Rape is No Joke to respond to the increasing anger of young women against sexism in society.
She pointed out that jokes are not the biggest issue faced by women, but they represent an increasing trend of trivialising sexism and rape and this campaign is there to be a part of tackling that culture.
Joe Wells compered the event with sets from Lily Levin, Flood Sketch Group, Bianca Arlette, Chris Coltrane and Anti-Duhring Battalion. Over £200 was raised for the campaign.
In the run-up to the Rape is No Joke comedy night, London Socialist Party branches hosted a week of very successful International Women's Day meetings on a variety of issues like 'Was Marx a feminist?', a film showing of 'Made in Dagenham', the 1888 matchgirls' strike and Rosa Luxemburg.
Suzanne Beishon
---
This version of this article was first posted on the Socialist Party website on 11 March 2013 and may vary slightly from the version subsequently printed in The Socialist.
Why not click here to join the Socialist Party, or click here to donate to the Socialist Party.
---