Link to this page: https://www.socialistparty.org.uk/articles/16449
Posted on 3 April 2013 at 15:59 GMT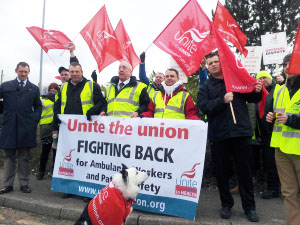 Outside Yorkshire Ambulance Services trust HQ in Wakefield, photo I Dalton
Unite members strike against derecognition and downgrading
Unite members across Yorkshire took strike action on Tuesday 2nd April against the de-recognition of Unite at Yorkshire Ambulance Service and attempts to introduce Emergency Care Assistants (ECAs) into the service with only six weeks training compared to the two years paramedics receive.
The introduction of ECAs is part of a five year workforce review aimed at making savings of £46 million, despite the Trust having a surplus last year.
As Debbie Wilkinson, Unite Yorkshire Ambulance Service branch secretary, explained: "We're not out to demonise ECAs, we just think they should be given the full training and pay that they and this job deserves.
"As I said on the radio earlier, people think that when they call an ambulance then it's two paramedics that arrive who can operate independently, but that won't be the case anymore as the ECA will have to be supervised by a paramedic."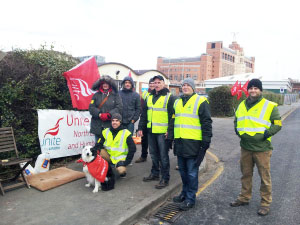 Unite pickets at Leeds ambulance station, photo by I Dalton
It was in opposing these attacks on patient care that led to Unite being suspended, whilst Unison (the larger union in Yorkshire Ambulance Service) that supported these attacks remains recognised (see http://www.uyab.co.uk/latest-news/latest-news/update-march2013 for Unison's position).
While formally Unison has called for re-recognition of Unite, it has failed to mount a serious campaign, unlike how GMB and Unite responded when they refused to negotiate with Plymouth City Council in 2011 when Unison was derecognised there.
Unison has instead run a heavily biased consultation via the Trust's internal email system, where to accept the Trust's proposals was a simple click, but to reject them you had to load up another page.
This was enough for some Unison members to join Unite and more joined yesterday so as not to cross the picket lines.
Pickets took place across 17 sites in Yorkshire with particular impact in Hull and on the East Coast.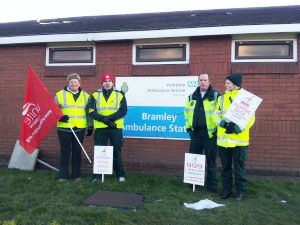 Unite pickets at Bramley ambulance station, photo I Dalton
At Bramley, a manager was posted to the picket line, presumably to keep an eye on the pickets. Picket lines also sent delegations to protest outside the Trust headquarters in Wakefield which was buzzing with photographers, camera operators and journalists reporting on the story.
Iain Dalton, Leeds Socialist Party
Doncaster
At Bentley station (in Doncaster), Mark and Phil, both former Assistant Practitioners (AP) but now downbanded to Emergency Care Assistants, were joined on the picket line by another Mark, a paramedic.
They said that their roles had been reduced to "drivers and bag carriers" and that at accidents they would not be allowed to use skills that they have to help people.
Caroline and Alan came off night shift to picket from 6am at Doncaster station. They were joined by two Unison members on their snap break who were thinking of joining Unite.
Caroline said that she felt "de-banded, de-skilled and demoralised" by these cuts which Alan said would cost staff £2,000 to £4,000 a year in pay.
Alistair Tice
Sign their e-petition here - http://www.change.org/en-GB/petitions/yorkshire-ambulance-service-nhs-trust-immediate-rerecognition-of-unite-and-renegotiate-the-imposed-workforce-plan
Why not click here to join the Socialist Party, or click here to donate to the Socialist Party.
---