Link to this page: https://www.socialistparty.org.uk/issue/760/16474
From The Socialist newspaper, 10 April 2013
Thatcher's death: readers respond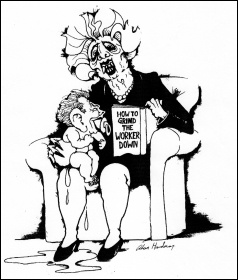 Former British Prime Minister Margaret Thatcher teaches Labour Party leader Neil Kinnock how to grind the working class down, cartoon Alan Hardman (Click to enlarge)
The real tragedy is that while she may be dead herself her ideas are still alive and well in the form of the Con-Dem coalition and New Labour.
She was a determined fighter for her class, the 1% of very wealthy people at the top of society.
The Socialist Party wants to build a movement that does the same for the 99%, working class people.
We want to build a mass movement that will take the wealth from the super-rich and that dismantles the project she embarked upon.
Dave Nellist, Labour Coventry South East MP 1983-92 and Socialist Party councillor 1998-2012, quoted in the Coventry Observer
---
>
The eulogising of Thatcher by the mainstream media is taking mendacious sycophancy to a whole new level.
She unleashed the crazed policy of transferring wealth from the working class and the neediest in society to her already obscenely rich friends, fattening her own bank balance in the process.
Her policy of privatising energy, rail, water, etc, has proved catastrophic for the vast majority of consumers.
We are lumbered with the economics of bedlam where the tax payer provides lavish public subsidy to the privatised rail companies who then pass any profit on to their shareholders.
She claimed to act for the individual; in reality she was the champion of power and privilege. She may have left the stage but, like a Frankenstein monster, her legacy lives on.
We must continue to campaign for its defeat.
Tony Mulhearn, Liverpool 47 Labour councillor 1983-87
---
>
I was a committed socialist before I left school in 1970. For me Thatcher, like many before her, was a representative of the capitalist class and therefore the enemy of my class.
But I would like to thank Thatcher for just one thing. Before the miners' strike of 1984 I was a revolutionary isolated without a party.
But as a result of my active support for the miners' strike I was introduced to and joined the Militant - the Socialist Party's predecessor.
Despite the defeat of the miner's heroic struggle, I take tremendous pride in knowing that as a member of Militant I played a small part in beating the 'Iron Lady' and her hated government twice - through Liverpool's socialist council victory in the 1980s and the campaign of mass non-payment of the poll tax.
Thatcher is now dead but Thatcherism will live on until a third and crucial victory is won - over the rest of her class who aim to drive us back to the 1930s.
Andy Bentley, Stoke
---
>
I sold the Socialist at the Manchester United/City derby, shouting "celebrate the end of Thatcher, buy this week's Socialist". There were one or two rude remarks, and an ex-squaddie told me I was a moron, but loads of grins, laughs, punching the air, singing "the wicked witch is dead!" Comments included:
"I went through the 80s miners' support groups and all that. This is a great day."
"My dad said 'Thatcher's dead', he was bouncing!"
"You should have put 'Thatcher's dead' on the front!"
"We'll be having a party on Friday."
I sold 13 copies. Unlucky for some, eh?
Paul Gerrard
---
>
Where there was harmony she created disharmony, everything she did caused division. She pitted class against class, worker against worker and Britain against Ireland.
She changed the British economy from manufacturing based to service based, not because it was a sensible thing to do, but out of sheer prejudice.
She transformed Britain from a nation which she claimed could be ransomed by the trade union leaders into a nation that could be ransomed by the bankers.
Andy Hamilton
---
>
In 1984 mines that were profitable were being closed. Thatcher was out to destroy the NUM; it was a political attack. She described striking miners who were trying to save jobs as the "enemy within".
We striking miners were subjected to police violence and arbitrary arrests. It was like being in a police state in Nottinghamshire.
A former Nottinghamshire NUM member
---
>
Four weeks ago I had a joke with a friend about the death of Thatcher and said that I would buy her a pair of maracas to use at the party I would hold for the celebration that was to be had. I ordered them the day before Thatcher died.
Now I am ordering bongo drums for Iain Duncan Smith and a second hand violin for Cameron. Ideas for purchases to bring about the demise of Hunt, Osborne et al would be very well received.
Sally Griffiths
---
>
I grew up in Clydebank. My earliest political memory is a quote from my great aunt and uncle (I was only seven when Thatcher came to power in 1979).
Faced with the destruction of the local shipbuilding industry and the Singer sewing machine factory, of mass unemployment and "business parks" which only employed a handful of the people who used to work in the once-bustling docks and factories.
They said that Thatcher would soon be out because the unions would call a general strike. If only they were right!
I will be celebrating today, but more than ever we still need to fight all those, from the Tories or from New Labour, who have carried on her legacy of cuts and unemployment, of attacking public services and the welfare state.
Andrew Walton, Leicester Socialist Party
---
>
I work for a Citizens Advice Bureau. Every day, we have to deal with the fallout from the Thatcher years - whether from Thatcher herself, the neo-Thatcherite Tony Blair or the present government.
All I can say is that everyone here is rejoicing. We are planning the equivalent of a minute's silence - five minutes of cheering. Clients are coming in overjoyed at the news.
We have already had two elderly clients saying they can now die happy - they were only hanging on for her to go! One question is whether Mark Thatcher will be liable for bedroom tax now there is a spare room in his house.
Merseyside CAB employee
---
>
I will have a quiet drink tonight and celebrate some of the best news I have had for nearly 30 years.
This day will always be known and celebrated as Thatcher's Day, when the person who put Britain up for sale and destroyed our manufacturing base... did the decent thing and died.
Ex-miner, Rotherham
---
>
For many older workers and especially trade unionists, the death of Margaret Thatcher brings to an end a period of bitterness.
She is remembered for her assault on the trade unions and in particular the mineworkers.
This led to a huge setback for the trade union movement that we have barely recovered from.
Whole mining communities were laid waste. Many mineworkers never worked again and the misery continues today.
Who can forget those marches where the slogan 'Margaret Thatcher milk snatcher', rang out. Thatcher will never be forgotten or forgiven.
We face today a similar situation where a vicious Tory government is again launching a massive attack on the weakest and most vulnerable in society. The Labour Party offers no resistance.
We can only erase the memory of Thatcher by erasing the rottenness of capitalism - that means starting by building for a 24-hour general strike.
Terry Pearce
---
>
Chair, Bracknell Branch Unite (personal capacity)
So Thatcher's dead... let us now bury her ideas of selfishness and greed and her acolytes in the dustbin of history.
The political and capitalist class will weep including Blair, Brown and Miliband... let us build a new mass workers' party for the workers, of the workers and by the workers.
Let us organise to undo all the carnage she and her followers have wrought... build a society for the needs of the billions and not the greed of the billionaires.
Wally Kennedy
---
>
Iron Rations
Rust finally stopped your mouth.
But your pieces are buried
in our streets, offices and playgrounds,
coiling like barbed wire, cutting
like knives, and their poison
has a half-life of forever.
Joel Lane
Why not click here to join the Socialist Party, or click here to donate to the Socialist Party.
---
In The Socialist 10 April 2013:
---
Thatcher's death

Now let's bury Thatcher's legacy

Thatcher: a class warrior for capitalism

Thatcher's death: readers respond 1

Thatcher death: readers respond 2
---
Socialist Party news and analysis

Halt the Thatcherite onslaught - TUC must call a 24-hour general strike!

Con-Dems' latest cruel cut: Disability Living Allowance

HBOS scandal is just the tip of the iceberg

Tories and press use Philpott case to attack 'welfare culture'
---
Socialist Party reports and campaigns

Trade Unionist and Socialist Coalition (TUSC)

Warrington: Suspended for fighting the cuts

Doncaster: 60 at Mary4Mayor rally

Greater Manchester: Stop extermination of our NHS

Cheltenham marches against A&E cuts

'Forced out of work, forced out of Spain'
---
The bedroom tax

Beat the rotten bedroom tax

Bedroom tax: Can't pay - determined to stay!
---
International socialist news and analysis

Fears of a nuclear conflict on the Korean peninsula increase
---
Socialist Party workplace news

PCS plans more action

Pickets discuss coordinated strikes

Fight the attacks on NHS working conditions

Unison NEC elections: Vote for a fighting democratic union

PCS elections: vote Democracy Alliance/Left Unity
---
Socialist Party review

Hillsborough - never forgotten
---
Home | The Socialist 10 April 2013 | Join the Socialist Party
Subscribe | Donate | PDF | ebook
---