Link to this page: https://www.socialistparty.org.uk/issue/760/16480
From The Socialist newspaper, 10 April 2013
Beat the rotten bedroom tax
Before it destroys lives
Sarah Sachs-Eldridge
Millionaire, mansion-owning Con-Dem ministers have deemed an estimated 660,000 council and Housing Association households that claim housing benefit to be 'under-occupying' their homes.
Since 1 April those working age households can be docked 14% of their eligible rent for one room and 25% for two rooms deemed to be 'spare'.
In some areas this will mean well over £1,000 a year stolen from their housing benefit.
Yet again the government is hitting the most vulnerable. 63% of affected households have one or more disabled person living in them.
Pensioners are not eligible now but will be from October 2013. 40% of affected households include children.
These households face catastrophic reductions in their living standards - many already report they are eating fewer meals, can't heat their homes adequately and that the huge stress is aggravating existing disabilities and illnesses.
A report in the Sunday People gave a taste of what this will mean: "An estimated 17,000 registered blind [people] face a forced move."
One blind woman explains how she will be affected: "If I had to move I'd face weeks in isolation, unable to step outside the front door because it's too dangerous.
"It's a long process to learn a new area. I'd have to wait for a trained guide to teach me the roads."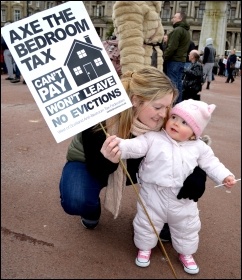 Glasgow demonstration against the bedroom tax and austerity 30 March 2013 , photo Jim Halfpenny (Click to enlarge)
Funding cuts mean there is a long waiting list for trainers who can help by plotting routes from blind people's homes to shops and bus routes.
This woman is contemplating absorbing the extra rent into her meagre income - adding another candidate to the queues in Foodbank Britain.
But the bedroom tax can be beaten. The death of Thatcher has reminded us of the battle against the hated poll tax that saw the tax defeated by a mass movement and eventually removed Thatcher from power.
While there are differences with Thatcher's poll tax, her descendents' bedroom tax is rapidly becoming a focus for workers' anger over wider austerity: council tax benefit cuts, housing benefit changes, and all the myriad forms of misery we face.
All anti-cuts campaigners, trade unionists and socialists should get behind the anti-bedroom tax movement as part of the campaign to defeat austerity.
The Socialist Party says:
Scrap the bedroom tax!
No evictions! Call on council and housing associations to refuse to evict all tenants that fall into rent arrears as a result of austerity cuts. Organise local campaigns to defend our homes
Stand against councillors who try to evict us. Build a new mass workers' party that draws together workers, young people and activists from workplaces and anti-cuts campaigns, to provide a fighting, political alternative to the pro-cuts parties
Cap rents and build homes. Invest in a major programme of council house building and refurbishment to provide affordable homes for all and decent jobs
End low pay! If workers are paid a genuinely living wage they would not need to claim housing benefit
Fight all the cuts. Trade unions must build for a 24-hour general strike as the next major step in the campaign against all the cuts
See also:
Come to a local meeting where we can discuss how to stop the bedroom tax:
www.socialistparty.org.uk/whatson 020 8988 8777
Why not click here to join the Socialist Party, or click here to donate to the Socialist Party.
---
In The Socialist 10 April 2013:
---
Thatcher's death

Now let's bury Thatcher's legacy

Thatcher: a class warrior for capitalism

Thatcher's death: readers respond 1

Thatcher death: readers respond 2
---
Socialist Party news and analysis

Halt the Thatcherite onslaught - TUC must call a 24-hour general strike!

Con-Dems' latest cruel cut: Disability Living Allowance

HBOS scandal is just the tip of the iceberg

Tories and press use Philpott case to attack 'welfare culture'
---
Socialist Party reports and campaigns

Trade Unionist and Socialist Coalition (TUSC)

Warrington: Suspended for fighting the cuts

Doncaster: 60 at Mary4Mayor rally

Greater Manchester: Stop extermination of our NHS

Cheltenham marches against A&E cuts

'Forced out of work, forced out of Spain'
---
The bedroom tax

Beat the rotten bedroom tax

Bedroom tax: Can't pay - determined to stay!
---
International socialist news and analysis

Fears of a nuclear conflict on the Korean peninsula increase
---
Socialist Party workplace news

PCS plans more action

Pickets discuss coordinated strikes

Fight the attacks on NHS working conditions

Unison NEC elections: Vote for a fighting democratic union

PCS elections: vote Democracy Alliance/Left Unity
---
Socialist Party review

Hillsborough - never forgotten
---
Home | The Socialist 10 April 2013 | Join the Socialist Party
Subscribe | Donate | PDF | ebook
---