Link to this page: https://www.socialistparty.org.uk/issue/761/16508
From The Socialist newspaper, 17 April 2013
Doncaster: fighting for a working class mayor on a workers' wage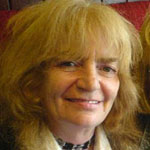 Mary Jackson, photo by Mary4Mayor
A campaigner's diary: Week three in Mary Jackson's campaign as trade Unionist and Socialist Coaltion candidate for Doncaster mayor, by Alistair Tice
Monday 8 April: "The day Thatcher died!" Doncaster has 225,000 voters concentrated in the town and several outlying ex-mining villages. We're in Thorne - everybody knows Mary, lived here for 40 years. The campaign stall is a poster and leaflet distribution centre! Message from supporter Shaun: "Done six hours leafleting in Moorends, need more leaflets".
A box of 4,000 dropped off with young Rob, working nights, for a couple of hours flyering each morning after work.
Later, having a celebratory drink. Jim Board, Doncaster Unison branch secretary (personal capacity), says he wants 3,000 leaflets to distribute, via left-wing stewards, to council workers. Problem: we're running out of our 15,000 leaflets. Good problem!
Tuesday: Mexborough, ex-pit village - lots of Thatcher reaction, people happy, have a spring in their step. Jackie, Paddy and Nigel, all met on stall last week, come to collect anti-bedroom tax (BRT) meeting and Mary4Mayor leaflets.
Wednesday: Conisbrough - where Steve lives. BRT meeting arranged. Loran from 'Eagle and Child' pub wants leaflets when done. Another woman has appealed the decision. Has applied for Discretionary Housing Payment, but still isn't paying: "we need another poll tax campaign".
Mary at Chamber of Commerce evening debate, meets the other candidates: two businessmen, a business consultant Labour candidate Ross "did I mention I'm a chartered accountant" Jones (only 100 times!) and a National Front fascist: "Why do we want an airport, we don't want anyone to come in to Doncaster?" and "Why have we got so many vulnerable adults, we didn't used to have so many? I'll tell you why, it's because they are inoculating our babies with monkey genes"! So scary, you couldn't make it up.
Thursday: Bentley. John and Alan already visited supporters with posters, stall well worthwhile. Walking back to car, see poster up in house window, always good to see. Drive past Ed Miliband's office - closed as usual. Mary drops 20 posters off for Armthorpe. Receive 'text to join' from Bentley post code but mobile number not recognised, so check register to get address, John will visit.
Friday: Donny town centre - chance encounter with a French TV crew who interview Mary about Thatcher's legacy. After stall, joined by anti-cuts campaigners Louise and Lois, for an al fresco planning meeting. They want to leaflet Hyde Park estate.
Saturday: We join the "no state funeral for Thatcher" protest. A couple tell me they have a Thatcher picture under their doormat so they trample on her everyday.
Sunday: teams out in Mexborough and Bentley (still can't track that 'text to join' contact down!)
Mary texts: "Woman from Bentley phoned, her neighbour had brought her our leaflets. She said if I could talk to everyone individually I would definitely get in."
Been a buzz about this week...
---
>
Pre-election rally: Monday 29 April, 7.30pm
Doncaster Trades and Labour Club, Frenchgate Centre, DN1 1LL
Speakers will include Mary Jackson and former MP Dave Nellist
---
>
"I wish I could remember a time when I was politically represented but I don't think it exists. It saddens me that this country seems to have accepted its fate, voting Conservative or Labour because they are sick of the lies of the other, refusing to accept what we already know: they are one and the same.
There seems to be a lack of hope that anything can change, that we can make a difference. When I first began to look into the Socialist Party's ideals I think the most prominent feeling was relief at the fact that there is a real choice. For the first time here's a party I can vote for rather than voting against another. I am glad that there is a party that seems to be founded on the basic idea of human decency and that I would be proud to be a part of."
Jasmine Bennett
---
>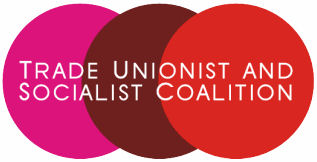 The Trade Unionist and Socialist Coalition (TUSC) is standing 121 candidates, in 20 of the 35 councils with elections this year. TUSC candidates oppose all cuts and privatisation. TUSC involves the RMT transport workers' union, leading members of other trade unions including the PCS, NUT and POA, and socialist groups including the Socialist Party.
See www.tusc.org.uk for the full list of candidates
Why not click here to join the Socialist Party, or click here to donate to the Socialist Party.
---
In The Socialist 17 April 2013:
---
Socialist Party news and analysis

NUS conference votes against free education and EMA

Class survey diverts focus away from power of working class to change society

Widespread caste discrimination ignored in the UK
---
Socialist Party reports and campaigns

Doncaster: fighting for a working class mayor on a workers' wage

Maltby pit closure: TUSC councillor speaks out

Ineffectual Ed visits South West

Warrington council rebel builds fight against cuts

Meeting and exhibition marking 30 years since the election of Liverpool's socialist council

Letters to The Socialist
---
Socialist Party feature

We can beat bedroom tax
---
Thatcher funeral

Thatcher's funeral costs: Insulting the lives she ruined

Thatcher... and us

Support the paper that beat Thatcher - twice!
---
Socialist Party NHS campaign

NHS cost-cutting is damaging patient care

New phase of campaign against Dewsbury NHS cuts

Welsh NHS cuts - no change of heart from Labour
---
Socialist Party workplace feature

Time to name the day for a 24-hour general strike

We say to the TUC: Time to fight back
---
International socialist news and analysis

Brutal Saudi regime supported by UK government
---
Socialist Party workplace news

Unison health conference: Time to fight back against attacks

Unison elections: Vote for Socialist Party and Reclaim the Union candidates

Thera workers on strike

In Brief
---
Home | The Socialist 17 April 2013 | Join the Socialist Party
Subscribe | Donate | PDF | ebook
---