Link to this page: https://www.socialistparty.org.uk/issue/761/16516
From The Socialist newspaper, 17 April 2013
Meeting and exhibition marking 30 years since the election of Liverpool's socialist council
Saturday 27 April, 10.30am
Adelphi Hotel, Lime Street, Liverpool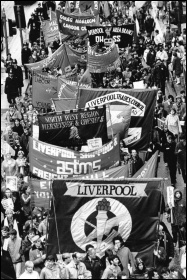 The campaign built by Liverpool city council in 1983-87 to win extra funding inspired thousands of workers, photo Dave Sinclair (Click to enlarge)
Speakers include: Unite general secretary Len McCluskey, PCS president Janice Godrich, Socialist Party general secretary Peter Taaffe, Liverpool Labour Party president (1980-85) and 'Liverpool 47' surcharged councillor Tony Mulhearn, former Labour MP Tony Benn and 'Liverpool 47' surcharged councillor Felicity Dowling.
The exhibition can be viewed from 9.30am. The exhibition will move to Jack Jones House in Liverpool from 28 April until 14 May.
---
>
Liverpool: A City That Dared To Fight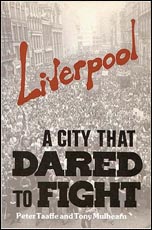 Liverpool - A city that Dared to Fight
£14.95 from Socialist Books
Why not click here to join the Socialist Party, or click here to donate to the Socialist Party.
---
In The Socialist 17 April 2013:
---
Socialist Party news and analysis

NUS conference votes against free education and EMA

Class survey diverts focus away from power of working class to change society

Widespread caste discrimination ignored in the UK
---
Socialist Party reports and campaigns

Doncaster: fighting for a working class mayor on a workers' wage

Maltby pit closure: TUSC councillor speaks out

Ineffectual Ed visits South West

Warrington council rebel builds fight against cuts

Meeting and exhibition marking 30 years since the election of Liverpool's socialist council

Letters to The Socialist
---
Socialist Party feature

We can beat bedroom tax
---
Thatcher funeral

Thatcher's funeral costs: Insulting the lives she ruined

Thatcher... and us

Support the paper that beat Thatcher - twice!
---
Socialist Party NHS campaign

NHS cost-cutting is damaging patient care

New phase of campaign against Dewsbury NHS cuts

Welsh NHS cuts - no change of heart from Labour
---
Socialist Party workplace feature

Time to name the day for a 24-hour general strike

We say to the TUC: Time to fight back
---
International socialist news and analysis

Brutal Saudi regime supported by UK government
---
Socialist Party workplace news

Unison health conference: Time to fight back against attacks

Unison elections: Vote for Socialist Party and Reclaim the Union candidates

Thera workers on strike

In Brief
---
Home | The Socialist 17 April 2013 | Join the Socialist Party
Subscribe | Donate | PDF | ebook
---