Link to this page: https://www.socialistparty.org.uk/issue/761/16526
From The Socialist newspaper, 17 April 2013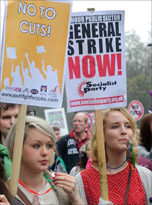 We say to the TUC:
Time to fight back - Time for a 24-hour general strike
Linda Taaffe, National Shop Stewards Network (NSSN) national secretary
The beginning of this month marked a step change in Con-Dem attacks on all workers. Class war has been ratcheted up, with the charge cynically led by Tory minister Iain Duncan Smith, on £134,000 a year and living in a rent-free mansion.
New coalition welfare rules mean the poorest face swingeing cuts; disabled people are penalised even more; and to top it all, cuts to housing benefit for the "crime" of having a so-called spare bedroom have kicked in.
Meetings and protests against the cuts and more particularly the 'bedroom tax' have been getting off the ground all over the country. It feels a bit like the early days of the anti-poll tax campaign.
Reminiscent also of the poll tax struggle, the biggest protest so far has taken place in Scotland, where on 30 March 5,000 marched in Glasgow, and a further 2,000 in Edinburgh demanding "bin the bedroom tax". The fighting spirit of all the angry demonstrators was not in any doubt.
But we have to ask - where is the fighting spirit of the leaders of our most powerful defence organisations, the trade unions? What plans are they making? We have heard media reports of churches and voluntary bodies coming out against the changes, pleading the case not to penalise the poor.
We have heard Labour front benchers criticise the changes, but at the same time remain wedded to free market policies, steadfastly refusing to commit to reversing Tory cuts if they come to power.
In a meeting at the end of the Glasgow demo Rob Williams, NSSN chair, got a huge cheer when he demanded that the trade union leaders start organising now for a 24-hour general strike where everyone, both in the public and private sector can join together with community campaigners, the unemployed, students, disabled and pensioners in a day of mass action to demand these changes are immediately withdrawn.
The government has done so many U-turns on various issues we have almost stopped counting! They could be beaten on this.
The anti-poll tax struggle played a significant role in melting the iron lady Margaret Thatcher. The TUC and millions of workers could crumple these paper tigers Cameron and Clegg.
---
>
Come to the NSSN lobby of the TUC general council on Wednesday 24 April
From 8.30am onwards, outside Congress House, Great Russell Street, London WC1B 3LS.
---
>
NSSN 7th national annual conference
11am-5pm, Saturday 29 June, Camden Centre, Judd Street, London, WC1H 9JE.
Speakers confirmed: union general secretaries: Mark Serwotka PCS, Billy Hayes CWU and Steve Gillan POA.
Why not click here to join the Socialist Party, or click here to donate to the Socialist Party.
---
In The Socialist 17 April 2013:
---
Socialist Party news and analysis

NUS conference votes against free education and EMA

Class survey diverts focus away from power of working class to change society

Widespread caste discrimination ignored in the UK
---
Socialist Party reports and campaigns

Doncaster: fighting for a working class mayor on a workers' wage

Maltby pit closure: TUSC councillor speaks out

Ineffectual Ed visits South West

Warrington council rebel builds fight against cuts

Meeting and exhibition marking 30 years since the election of Liverpool's socialist council

Letters to The Socialist
---
Socialist Party feature

We can beat bedroom tax
---
Thatcher funeral

Thatcher's funeral costs: Insulting the lives she ruined

Thatcher... and us

Support the paper that beat Thatcher - twice!
---
Socialist Party NHS campaign

NHS cost-cutting is damaging patient care

New phase of campaign against Dewsbury NHS cuts

Welsh NHS cuts - no change of heart from Labour
---
Socialist Party workplace feature

Time to name the day for a 24-hour general strike

We say to the TUC: Time to fight back
---
International socialist news and analysis

Brutal Saudi regime supported by UK government
---
Socialist Party workplace news

Unison health conference: Time to fight back against attacks

Unison elections: Vote for Socialist Party and Reclaim the Union candidates

Thera workers on strike

In Brief
---
Home | The Socialist 17 April 2013 | Join the Socialist Party
Subscribe | Donate | PDF | ebook
---