Link to this page: https://www.socialistparty.org.uk/issue/769/16881
From The Socialist newspaper, 12 June 2013
Falkirk West: Labour bureaucracy blocks left Unite union candidate
Kevin Parslow, Unite 1/1228 branch secretary (personal capacity)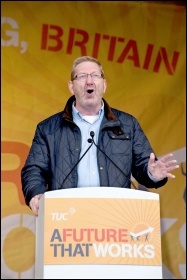 Len McCluskey of Unite speaking at the 20 October 2012 TUC demo against austerity , photo Paul Mattsson (Click to enlarge)
New Labour has suspended its parliamentary selection process in Scottish constituency Falkirk West for the byelection to replace disgraced MP Eric Joyce.
An investigation into alleged 'irregularities' is being organised by party officials. This follows allegations against Unite the Union of recruiting members to the constituency.
Unite has the aim of getting more working class candidates selected and elected as MPs and councillors.
For Falkirk West, Unite member Karie Murphy was touted as a candidate. While Murphy's record is open to criticism, Unite should have a say in the selection process.
Unite is New Labour's biggest affiliate, paying over £3 million a year in affiliation fees. Its political strategy is to try and transform New Labour back to its roots and strengthen party democracy.
The Socialist has always said that, for this strategy to stand any chance, Unite would have to go into New Labour with a full programme against all cuts and privatisation, and for socialist economic policies. It would be no good replacing Blairite right wingers with trade union backed ones.
Expulsions
However, the limits to this strategy have become apparent. A handful of Labour councillors, largely Unite members and including the two brave Southampton councillors, have voted against cuts and found themselves suspended or expelled from Labour groups.
Right-wing leaders, locally and nationally, do not tolerate challenges to the pro-capitalist policies of New Labour.
Many years ago now, the Labour right wing brought in the 'one member one vote' (OMOV) selection processes for parliamentary candidates, replacing selection by the constituency parties' general committees (GC).
This was because the right believed the GCs were dominated by the left and trade union delegates, so OMOV would make the selection of right-wing candidates more likely. The right wanted a party that was safe for big business.
Of course, the right have always feared a mass membership party that was based on fighting for socialist policies.
They feared the influence of socialist and Marxist ideas in the 1970s and 1980s. They launched an offensive against the Socialist's predecessor, Militant, which led to expulsions from Labour, including of two Marxist MPs, Terry Fields and Dave Nellist.
This was with the ambition of neutering Labour's fighting wing. Militant warned that this would lead to the defeat of the whole left in Labour.
The right allowed moribund parties to develop. What attraction was there for the failed policies of Labour governments? Where socialists ran local parties, mass membership campaigns were launched.
There was something for working class people to join and fight alongside. And it was electorally popular too, as the success of the Liverpool council between 1983 and 1987 proved.
The irony now is that Unite has recruited to Labour in Falkirk West, and the Labour officials and Blairites are up in arms! The same arguments that were used against Militant 30 years ago are now deployed against the biggest trade union in the country!
The outcome of Falkirk West is unclear but the conclusions for trade unionists are not. New Labour will protect its right-wing policies against the organised working class.
Trade unions will have to come to the conclusion that Labour is no longer the party it formed in 1900 and that a genuine mass working class party has to be built.
Lambeth councillor Kingsley Abrams has lost his appeal to rejoin the Labour group in the borough.
Kingsley was originally suspended for abstaining in the council in 2010 on a vote to implement cuts. Since then, he has continued to oppose cuts with the backing of his trade union, Unite, of which he is an executive council member.
Continued suspension will mean he will be ineligible to stand for reselection as a Labour candidate for the 2014 borough elections.
Local supporters and Unite activists will no doubt be considering the options that Kingsley could take as part of an anti-cuts platform in Lambeth.
Why not click here to join the Socialist Party, or click here to donate to the Socialist Party.
---
In The Socialist 12 June 2013:
---
G8 Summit protest

No to G8 austerity

Big brother is watching you
---
National Shop Stewards Network

Build for mass anti-cuts action
---
Socialist Party editorial

Labour crosses the Rubicon - again
---
Socialist Party news and analysis

How students beat unfair attendance policy

Far-right EDL march in Sheffield: class-based response needed

After Woolwich killing: Time for unions to lead anti-racist fight

Them & Us
---
Socialist Party reports and campaigns

Falkirk West: Labour bureaucracy blocks left Unite union candidate

Brighton: Green council continues to carry out Con-Dem cuts

Southamption byelection: On the TUSC Against Cuts campaign trail

Historic event as Tamils and trade unions forge vital links
---
Socialist Party workplace news

Mid Yorks health workers win important concessions

College lecturers strike against redundancies

MoJ privatisation victory + rolling strikes across civil service

Scotland: Council workers strike ballot

Teachers vote for action on workload and pensions

Workplace news in brief
---
International socialist news and analysis

Syria threatens sectarian middle east war

Fightback continues in Turkey
---
Unison conference

Unison conference - time to reclaim the union

Unison NEC elections - Socialist Party position strengthened
---
Socialist Party review

Panorama: Blacklist Britain
---
Home | The Socialist 12 June 2013 | Join the Socialist Party
Subscribe | Donate | PDF | ebook
---