Link to this page: https://www.socialistparty.org.uk/issue/771/16999
From The Socialist newspaper, 26 June 2013
Conference anger with Unison leadership, and Labour
Rob Williams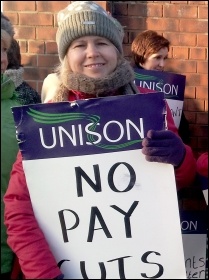 Unison NHS workers took strike action against huge cuts in the Mid-Yorkshire Trust hospitals, photo Iain Dalton (Click to enlarge)
There were definite signs at the recent Unison conference of a step change in delegates' views. This mood followed on from the local government conference that preceded it (see last week's Socialist, issue 770) where there was real anger at the leadership's role in scuppering a fight on pay.
Incredibly, the leadership offered their support for Scottish members, who have campaigned to secure a strike ballot.
But this hypocrisy, plus the attempt to divert delegates' attention through a Service Group Executive motion calling for a fight over pay... in 2014(!) actually caused a reaction in the conference, with Socialist Party members getting a huge reception for exposing and opposing the leadership's role.
Anger at Labour
This mood, plus anger and frustration against Labour, transferred into the main conference. This was because of the role of Labour councillors passing on the brutal Con-Dem cuts and Miliband and Balls' confirmation that they will continue Cameron's austerity offensive.
In fact, one Scottish delegate announced from the rostrum that he was ripping up his membership card after being a Labour Party member for 25 years!
General secretary Dave Prentis was forced to acknowledge this mood in his conference address. He had to skirt over his role in the pay fiasco, well aware that he used last year's speech to advocate a pay struggle in order to strangle the pensions dispute.
But given the scale of the cuts, with over 400,000 council jobs lost and pay around 15% lower in real terms than in 2009, it was clearly more difficult to pull the wool over delegates' eyes.
Sensing the need to put on a radical sheen, he called on the TUC to declare the lobby of Tory Party conference in Manchester on 29 September a national demonstration to save the NHS. "If they won't do it, Unison and Unite will."
However, he was admonished by TUC general secretary Frances O'Grady the next day, who confirmed that the TUC had already called it.
This demonstration has the potential to be very big if the unions work to build it but Socialist Party delegates got a great response for saying that such a march shouldn't be an end in itself but has to be the platform for mass coordinated strike action, up to and including a 24-hour general strike.
Over 50 delegates attended the Socialist Party conference meeting on this theme, at a venue some distance from the conference venue, with ten delegates signing up to join the Party over the week.
Socialist Party general secretary Peter Taaffe and Kevin Bennett, Warrington Labour councillor suspended for his anti-cuts stance, spoke.
This year was also significant for the return to conference of Glenn Kelly and Brian Debus, from the 'Unison 4' witch-hunted Socialist Party members.
Both had a great reception when they spoke, with Glenn getting a standing ovation when he tackled the leadership for their role on pay.
In what has become an annual event, Glenn and fellow Socialist Party member Adrian O'Malley from the Mid-Yorkshire NHS workers' strike were among the platform speakers in a Reclaim the Union meeting of over 90 delegates.
As a further show of support for the Socialist Party, around 220 copies of the Socialist paper were sold to delegates as well as 21 of the Southampton Socialist Party 'Don't vote for cuts - councillors have a choice' pamphlets.
---
>
Don't Vote for Cuts - Councillors have a choice
How Southampton fought back against Con-Dem cuts and built support for a socialist alternative to austerity. Just £2 including p&p
Available from Socialist Books, PO Box 24697, London E11 1YD
Ring 020 8988 8789 to pay by card
Please make cheques payable to Socialist Books
Why not click here to join the Socialist Party, or click here to donate to the Socialist Party.
---
In The Socialist 26 June 2013:
---
Socialist Party news and analysis

Police dirty tricks - a threat to democratic rights

Teachers strike to defend education

Cuts until 2020? We need councils that fight for us!

Jack Straw forced to retract lies about Militant

People's Assembly: Thousands opposing cuts... but leaders sidestep strategy for victory

Farage's tax scandal hypocrisy

Them & Us
---
International socialist news and analysis

Brazil: A victory for the mass struggle
---
Socialist Party workplace news

Conference anger with Unison leadership, and Labour

Action needed to stop Royal Mail sell-off

RMT: Fighting casualisation

PCS: members discuss next anti-cuts action

2012 London bus strike victory showed potential for militant union fightback

Having a fine time? Not if you're a courier driver

Workplace news in brief
---
Socialist Party reports and campaigns

Labour council introduces zero-hour contracts

How mental health carers and service users took on Salford council

Bristol council opposes 'bedroom tax' evictions

Lessons for today from an anti-poll tax bailiff buster
---
Socialist Party review

Deadly long distance weapons of war
---
Home | The Socialist 26 June 2013 | Join the Socialist Party
Subscribe | Donate | PDF | ebook
---