Link to this page: https://www.socialistparty.org.uk/issue/773/17080
From The Socialist newspaper, 10 July 2013
Strong support for fighting socialist alternative in CWU
Gary Clark, CWU assistant branch secretary, Scotland No.2 branch, recently stood for election as Scottish regional secretary of the Communication Workers Union (CWU). He received a tremendous result: 816 against the incumbent's 981, which is a 45% vote for a fighting socialist leadership. Gary, a member of the Socialist Party Scotland, the Socialist Party's sister party, explains the campaign and the reasons for his excellent result.
The existing regional secretary, John Brown, has been in the job for the last ten years. He has been unchallenged over this period. But he is clearly viewed as pro-New Labour and someone who would not wish to challenge the union's affiliation to Labour, no matter what was happening to our members and no matter what policies the Labour Party took up.
Against this background my branch, Scotland No.2, took the decision to stand myself as a clear socialist and a fighter on behalf of the membership against him.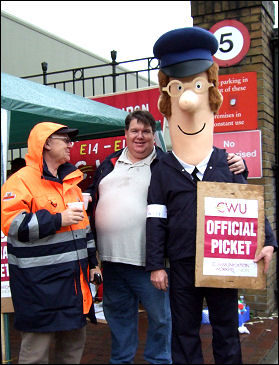 Postman Pat joins the CWU picket line in East London, photo Naomi Byron
We wanted to put forward a programme to defeat Royal Mail privatisation and defend our members' terms and conditions.
From the very start of the election it was clear that the right wing was going to do anything to stop me getting elected.
We even got a leak that some within the CWU national office were trying to block my nomination because I was not a Labour Party member.
Almost every branch in Scotland, except two small postal branches, put forward recommendations for John Brown, so we knew this was always going to be a difficult election for us.
But we were confident that our message of fighting back would get an echo among our members. For the first time the election was based on one member, one vote. Previously it was on a branch ballot, where a branch would cast a block vote on behalf of its members.
I took a week's leave to do a speaking tour around the offices in my branch area. (CWU rules state you can only canvass within your own branch).
And my election statement went out to all members.
Just before the end of the election we got word that the right wing had put complaints to the CWU national office about my campaign. That gave me confidence that they were on the back foot.
The result is a warning shot that our members are looking for a change.
That will not stop now the election is over.
Why not click here to join the Socialist Party, or click here to donate to the Socialist Party.
---
In The Socialist 10 July 2013:
---
Socialist Party news and analysis

Miliband dances to Tory tune

Unite meets roadblock in New Labour

Stop Gove's school profits plans

Them & Us
---
Socialist Party workplace news

Strong support for fighting socialist alternative in CWU

Lobby the TUC for 24-hour strike!

PCS Young Members Network forum

Werrington Royal Mail dispute

The costs of privatisation - to the workforce

Workplace news in brief
---
International socialist news and analysis

Egypt: Morsi removed - polarisation grows

Portugal's government on the ropes again
---
Socialist Party reports and campaigns

Are you sick of... Low pay?... Zero hour contracts?... Job insecurity?... bullying bosses?...

Lifting the lid on the bedroom tax horror

Birmingham Labour councillors' promises

Trade Unionist and Socialist Coalition

Rebel councillor faces further suspension

Fund the fight for a socialist alternative to capitalist austerity
---
Readers' comments

Privileged perks for Kate and Wills... Maternity cuts for us!

Unite and Labour - it's time for a rethink!

Inside the banking system
---
Socialist Party feature

Piper Alpha: The price of profit -167 workers' lives
---
Socialist Party review

Review - The Pitmen Painters
---
Home | The Socialist 10 July 2013 | Join the Socialist Party
Subscribe | Donate | PDF | ebook
---