Link to this page: https://www.socialistparty.org.uk/issue/773/17081
From The Socialist newspaper, 10 July 2013
Lobby the TUC for 24-hour strike!
Terry Pearce, Chair, Bracknell Unite, personal capacity.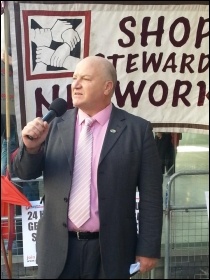 Bob Crow speaking at the NSSN's lobby of the TUC, 24.4.13, photo by N Cafferky, photo N Cafferky (Click to enlarge)
At a well-attended July branch meeting, Bracknell Unite supported the National Shop Stewards Network's (NSSN) call for a lobby of the TUC at Bournemouth on 8 September.
The lobby is called in support of the call for the TUC to name the date for a general strike as agreed at last year's TUC.
Bracknell Unite has consistently supported the NSSN and sent four delegates to this year's annual conference. We have been long-time supporters of the 24-hour general strike demand.
Our branch has a long history of struggle. We were an important part of the two-year struggle to save Heatherwood Hospital in Bracknell as well as being involved with local anti-cuts group Defend Our Community Services.
Therefore we understand the need to fight austerity and the policies of this anti-working class Coalition.
We support both pensioners and youth by affiliating to Youth Fight for Jobs and the National Pensioners Convention - we must build unity in all sections of the working class.
We hope to send a contingent to Bournemouth on 8 September and urge all Unite branches to follow suit.
We will be circulating details of the lobby to all 500 members of our branch. Day after day we see this government attacking our members, we are now saying enough is enough, we call on the TUC to name the date for a 24-hour general strike.
Lobby TUC conference in Bournemouth.
NSSN rally on 8 September followed by a lobby of Congress.
Speakers confirmed so far: RMT general secretary Bob Crow; Mark Serwotka, PCS general secretary; and POA general secretary Steve Gillan
12.30-3pm Hardy Suite, Hermitage Hotel, Exeter Rd, Bournemouth (opposite Bournemouth International Centre - TUC conference venue) - book a seat on transport from your area: email info@shopstewards.net
For more information and a model resolution on the lobby see: www.shopstewards.net
Build the TUC national demonstration outside Tory Party conference in Manchester on 29 September. March behind the NSSN banner: 24-hour general strike to stop the Tory cuts
Why not click here to join the Socialist Party, or click here to donate to the Socialist Party.
---
In The Socialist 10 July 2013:
---
Socialist Party news and analysis

Miliband dances to Tory tune

Unite meets roadblock in New Labour

Stop Gove's school profits plans

Them & Us
---
Socialist Party workplace news

Strong support for fighting socialist alternative in CWU

Lobby the TUC for 24-hour strike!

PCS Young Members Network forum

Werrington Royal Mail dispute

The costs of privatisation - to the workforce

Workplace news in brief
---
International socialist news and analysis

Egypt: Morsi removed - polarisation grows

Portugal's government on the ropes again
---
Socialist Party reports and campaigns

Are you sick of... Low pay?... Zero hour contracts?... Job insecurity?... bullying bosses?...

Lifting the lid on the bedroom tax horror

Birmingham Labour councillors' promises

Trade Unionist and Socialist Coalition

Rebel councillor faces further suspension

Fund the fight for a socialist alternative to capitalist austerity
---
Readers' comments

Privileged perks for Kate and Wills... Maternity cuts for us!

Unite and Labour - it's time for a rethink!

Inside the banking system
---
Socialist Party feature

Piper Alpha: The price of profit -167 workers' lives
---
Socialist Party review

Review - The Pitmen Painters
---
Home | The Socialist 10 July 2013 | Join the Socialist Party
Subscribe | Donate | PDF | ebook
---