Link to this page: https://www.socialistparty.org.uk/issue/773/17082
From The Socialist newspaper, 10 July 2013
PCS Young Members Network forum
Ian Pattison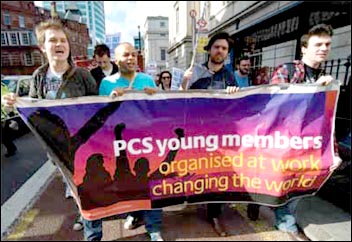 PCS Young members network lobby the TUC, photo Paul Mattsson
I was lucky enough to represent Youth Fight for Jobs by speaking at the civil service union PCS Young Members Network (YMN) annual forum. The PCS YMN is an inspiration to other trade union youth networks.
The PCS has been at the forefront of the battle against Con-Dem austerity. It has been key to building united industrial action, and it has organised countless strikes.
The PCS identified mass coordinated strike action as a way to build for a 24-hour general strike when it was discussed at the TUC.
And Tory Cabinet Minister Francis Maude has singled out PCS in his attacks on trade unions.
I was joined in the youth debate by Martin Mulligan from the RMT Young Members Network. Socialist Party members Lizi Gray (Newcastle Slutwalk) and Lee Vernon also joined me on the panel.
Lee was elected chair of the PCS YMN for the next year, alongside another Left Unity (PCS's broad left) member, who was elected vice-chair.
Fifteen people came to the Left Unity fringe meeting, many at their first YMN and Left Unity meeting, including trade unionists from outside of PCS who promised to develop a network like Left Unity within their own trade unions.
There was a lot of enthusiasm for the new Youth Fight for Jobs initiative 'Sick Of Your Boss?', especially how it can be used in PCS-organised workplaces to reach new young (and angry) workers.
Why not click here to join the Socialist Party, or click here to donate to the Socialist Party.
---
In The Socialist 10 July 2013:
---
Socialist Party news and analysis

Miliband dances to Tory tune

Unite meets roadblock in New Labour

Stop Gove's school profits plans

Them & Us
---
Socialist Party workplace news

Strong support for fighting socialist alternative in CWU

Lobby the TUC for 24-hour strike!

PCS Young Members Network forum

Werrington Royal Mail dispute

The costs of privatisation - to the workforce

Workplace news in brief
---
International socialist news and analysis

Egypt: Morsi removed - polarisation grows

Portugal's government on the ropes again
---
Socialist Party reports and campaigns

Are you sick of... Low pay?... Zero hour contracts?... Job insecurity?... bullying bosses?...

Lifting the lid on the bedroom tax horror

Birmingham Labour councillors' promises

Trade Unionist and Socialist Coalition

Rebel councillor faces further suspension

Fund the fight for a socialist alternative to capitalist austerity
---
Readers' comments

Privileged perks for Kate and Wills... Maternity cuts for us!

Unite and Labour - it's time for a rethink!

Inside the banking system
---
Socialist Party feature

Piper Alpha: The price of profit -167 workers' lives
---
Socialist Party review

Review - The Pitmen Painters
---
Home | The Socialist 10 July 2013 | Join the Socialist Party
Subscribe | Donate | PDF | ebook
---