Link to this page: https://www.socialistparty.org.uk/articles/17150
Posted on 25 July 2013 at 14:47 GMT
One Housing support workers - more determined than ever!
Paula Mitchell, London Socialist Party
Highly skilled and dedicated workers looking after some of the most vulnerable people in society have undertaken a second three-day strike against massive pay cuts.
Following a three year pay freeze, One Housing Group bosses decided to slash wages by up to £8,000 a year.
As the workers say: "if we sign the new contracts they will cut our wages next February. If we refuse to sign, they will cut our wages now".
At the Ponders End picket line, Unite members explained: "Even more people are out this time than last time because management have been so intransigent.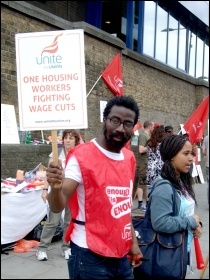 One Housing Group workers, members of Unite, on a second three-day strike against massive pay cuts, photo Naomi Byron (Click to enlarge)
"Everyone's even angrier because of the bonuses. The volunteers are not coming in. Effectively we've brought the service to a closure."
One said: "I feel sorry for my clients but it's got to the stage where we have no choice".
One Housing management have decided to pay a £750 bonus to all staff apart from the care and support staff! There have even been protests from managers about the gross unfairness of this move.
Management agree that OHG is in good financial shape. They are making huge surpluses and the CEO has awarded himself a £31,000 pay increase.
Management brazenly say that they are not cutting pay because there is no money; they are cutting pay so they can undercut other service providers bidding for contracts.
Workers are determined to fight this disgraceful race to the bottom. They want to stop the pay cuts. They want to be treated with dignity, decency, respect and equality.
---
>
Send messages of support and find out how to donate to the hardship fund: unite.le1111@gmail.com
Make a donation to the hardship fund to Unite branch 1/1111 Account no. 0040639 sort code 08-60-01
Or by cheque payable to unite branch 1/1111 and send c/o Nicky Marcus, Housing Workers Regional Officer, Unite the Union, 128 Theobolds Road, London WC1X 8TN
---
This version of this article was first posted on the Socialist Party website on 25 July 2013 and may vary slightly from the version subsequently printed in The Socialist.
Why not click here to join the Socialist Party, or click here to donate to the Socialist Party.
---