Link to this page: https://www.socialistparty.org.uk/issue/775/17175
From The Socialist newspaper, 31 July 2013
Strike to stop Royal Mail sell-off
Gary Clark, Assistant branch secretary, Scotland No.2 branch CWU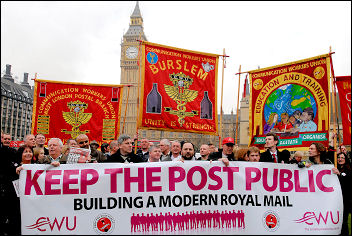 Communication Workers Union, CWU, lobby of parliament over the privatisation of Royal Mail postal services Feb 09, photo Paul Mattsson
CWU members in Royal Mail are meeting on 31 July and 1 August to discuss defending the service against privatisation.
In a recent consultative ballot there was a 96% vote against the government's plans to float Royal Mail on the stockmarket within nine months.
The CWU has announced that it will have no choice but to proceed with an industrial action ballot if it can't get a watertight national agreement on protection of its existing national agreements.
We should go further than this. No matter what the law says we should take industrial action against privatisation.
As the law stands just now you can only take action if there is a trade dispute and the question of who owns the company would not be seen as a legitimate trade dispute under the current anti-trade union legislation.
But we should make it clear we will be fighting privatisation by any means necessary, up to and including strike action.
Our fight cannot be taken in isolation from the pay talks and other talks around pensions as well as the future of Royal Mail.
The union proposed a two-year deal which was followed up with a counter proposal of a three-year deal by the management.
This is because they want to clear up all issues and have a period of settling-in for a newly privatised service without any major industrial relation issues. We should oppose any pay deals longer than two years.
Why not click here to join the Socialist Party, or click here to donate to the Socialist Party.
---
In The Socialist 31 July 2013:
---
Socialist Party NHS news and analysis

NHS: cuts ration care

National Health Service in crisis!
---
Socialist Party news and analysis

Miliband's 'Clause Four moment'

Unite "at a turning point"

Benefits shock: London family on state handouts avoids the benefit cap and bedroom tax

Them & Us
---
Climate change

Climate change accelerates... but capitalism sets the agenda
---
International socialist news and analysis

The capitalist world in turmoil

Tunisia: Political assassination provokes renewed workers' struggles

Neither the military nor Morsi... for a workers' government
---
Socialist Party reports and campaigns

Anti-bedroom tax campaigning

Lambeth byelection: TUSC beats Ukip and Tories

Zero hours contract scandal

Atos misery: scrap work capability assessments!

Tamil Solidarity links with RMT

Building the Socialist Party

The Socialist summer schedule
---
Socialist Party workplace news

Strike to stop Royal Mail sell-off

Two weeks of strike action by Churchill cleaners

One Housing support workers - more determined than ever!

Workplace In brief
---
Socialist Party review

Book review: Karl Marx - How to change the world
---
Home | The Socialist 31 July 2013 | Join the Socialist Party
Subscribe | Donate | PDF | ebook
---