Link to this page: https://www.socialistparty.org.uk/articles/17183
Posted on 5 August 2013 at 16:15 GMT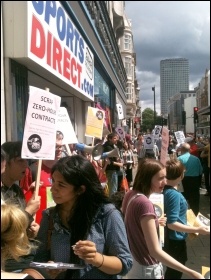 Youth Fight for Jobs protesting outside Sports Direct against zero-hour contracts on 3 August 2013, photo by Ian Pattison (Click to enlarge)
'Sports Direct hear us say, zero-hours - no way!'
Helen Pattison, London Youth Fight for Jobs
Fifty protesters gathered outside the Oxford Street branch of Sports Direct in central London on Saturday 3 August to demand an end to zero-hour contracts.
Sports Direct employs 90% of its workers on zero-hour contracts.
Young people who worked on similar contracts took the megaphone to relay their experiences of the contracts which offer no guarantee of work or pay. Many employers also get away with not paying holiday or sick pay to zero-hour staff.
We heard how the contracts were used to oust staff trying to legally organise in trade unions and those who stood up to demand decent conditions at work.
The protest occupied the shop for a brief time to try and speak to the staff but also put pressure on the shop to give its staff decent contracts.
Ultimately now it is the role of the trade unions to organise these staff and carry on the fight for decent contracts and an end to zero-hour.
Since the protest, a poll by the Chartered Institute of Personnel and Development (CIPD) has shown that over one million workers are on zero-hour terms, rather than the Office for National statistics estimate of 250,000.
The CIPD poll shows that the scale of zero-hour job insecurity goes much wider, but also shows the potential of trade unions to organise workers against their zero-hour contract misery.
---
>
Leeds
Iain Dalton reports on the Leeds protest against zero-hour contracts outside Sports Direct on Monday 5 August:
"We were inundated by people passing by wanting to support us, sign our petition and take leaflets. I spent almost the entire protest doing interviews with the local press, both newspaper and radio stations.
"Many people passing by had seen YFJ activist Helen Pattison on Sky News earlier that day and were keen to talk about how we could secure decent jobs with a living wage, with several people wanting to get involved with the campaign.
"The previous day we had taken the same petition to Leeds Pride and had a similarly warm response."
Why not click here to join the Socialist Party, or click here to donate to the Socialist Party.
---