Link to this page: https://www.socialistparty.org.uk/issue/776/17232
From The Socialist newspaper, 14 August 2013
Seattle: Socialist challenge to corporate Democrats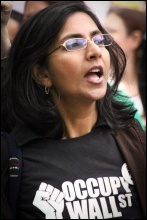 Kshama Sawant, photo Socialist Alternative
On 6 August, Socialist Alternative candidate Kshama Sawant won 35% (42,908 votes) of the vote in the primary election to contest a seat on the city council in Seattle, north west USA.
US primary elections narrow the field of candidates before an election for office. Kshama will now contest the city council election in November (the first socialist candidate to do so in 22 years!) against the right wing Democrat incumbent, Richard Conlin.
Last year, Kshama - who was an activist in the Occupy Seattle anti-capitalist movement - stood as a Socialist Alternative candidate against Democratic House Speaker Frank Chopp, and won 29% of the vote.
Over 20,000 people voted for a socialist because, as Kshama said, "they're fed up with inequality and relentless cuts to social services".
Seattle voters in the recent election have sent a clear message to an out-of-touch political establishment that they are fed up with 'business as usual', and are looking for an alternative to corporate-pandering politicians like Richard Conlin.
Kshama, who was recently written off by The Seattle Times as "too hard left for Seattle", has pledged, if elected, to "take only the average worker's salary" - around $40,000 - not the $120,000 of a council member's annual pay. "It's a scandal that city councillors are paid that much", she said.
A majority of primary voters voted against 16-year Seattle City Council incumbent, Democrat Richard Conlin, who despite a massive fund-raising advantage and media publicity, received only 49%.
Kshama and a second challenger to Conlin, Brian Carver, won the majority of the vote in the city council Position 2 race.
"Working people in Seattle have a clear political choice for a change. If you want to fight for an alternative to the status quo, join us in the struggle for a citywide $15 an hour minimum wage, a major expansion of public transit by taxing Seattle's millionaires, increased investment in affordable housing, and implementing rent control," said Kshama.
She has earned the endorsements of The Stranger newspaper, four labour unions, and prominent community activists such as Real Change founder Tim Harris.
Unlike Conlin, Kshama refuses to accept corporate donations. Her grassroots campaign has raised $25,000, predominantly in the form of small donations of $25 or less, and has mobilised over 125 volunteers.
"We will make history by raising a grassroots army of over 300 volunteers, and run one of the biggest door knocking campaigns this city has seen to defeat Richard Conlin," she declared.
"Conlin has made clear where he stands, with corporations and the elite. By not representing the majority of struggling working people in this city, he has made himself obsolete."
Socialist Alternative, USA, reporters
Why not click here to join the Socialist Party, or click here to donate to the Socialist Party.
---
In The Socialist 14 August 2013:
---
Socialist Party campaigns

Zero tolerance for zero-hours!

End zero-hour contracts now!
---
Socialist Party editorial

A tale of two Britains
---
Socialist Party news and analysis

Beware a recovery!

Met finally apologise for G20 death

London Olympics legacy - one year on

Football and big business: time to reclaim the game

Socialist Party subs appeal

Them & Us
---
Socialist Party events

Come to the Socialist Party Summer Camp
---
Socialist Party NHS campaign

Hunt attacks NHS staff and patients

Save Our Hospital!

Protest at the Tory Conference in Manchester
---
International socialist news and analysis

Tunisia: Mobilise to bring down the government

South Africa: Limpopo WASP launch

Seattle: Socialist challenge to corporate Democrats
---
Socialist Party workplace news

Defend the Four: Tribunal compensation award to Unison activists

Postal workers ballot for action

On your bike, Serco

Swansea council pay attacks angers workers
---
Anti-Bedroom Tax

Winning a reprieve from the bedroom tax
---
Trade Unionist and Socialist Coalition

Building TUSC in Caerphilly
---
Socialist Party comments and reviews

Reflections and sycophancy: Kinnock versus the socialist Liverpool council

The Mill: A change from the usual TV

Successes, failures and stalemates: A week in the life of a trade union rep
---
Home | The Socialist 14 August 2013 | Join the Socialist Party
Subscribe | Donate | PDF | ebook
---