Link to this page: https://www.socialistparty.org.uk/issue/776/17244
From The Socialist newspaper, 14 August 2013
Beware a recovery!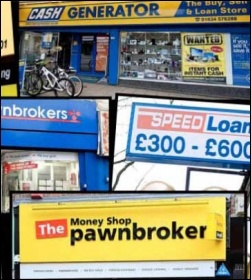 What recovey? Pawnbrokers and loan sharks proliferate , photo Photomontage The Socialist (Click to enlarge)
The media is lauding an economic recovery. Whether there is one and whether it has substance is discussed in the articles below.
But the Socialist has a warning: Beware a recovery! It's a weak recovery, and one that could make life even worse for millions of people. Whatever the economic developments, years of austerity face the British population.
How can this be?
It's because of successive governments' plans to turn Britain into a low-wage economy. The culling of real wages has been so successful and lucrative for bosses, and disastrous for working people, that half of our households have to be subsidised - wages simply don't cover living, so the taxpayer covers what companies won't.
In other words more people can't make ends meet. In 2006, 35% of people struggled to keep up with bills and debt. That has reached 52% now. Their life is on a knife-edge.
And here's the rub. Most people get by on managing debt. That debt is only sustainable for many because of cheap interest rates.
But the trouble with a 'recovering economy' is governments and finance markets will increase interest rates.
In the words of one commentator: "It's hard to see how a return to normal times [higher interest rates] can end in anything other than a disaster for a significant swathe of the population."
So a poor economy means more misery. And a recovering economy means.... More misery! As Robin Clapp comments in the article below, system change is needed.
When are 70% of people right?
When they believe the recent economic improvements have not benefitted middle and lower income families.
The TUC point out that while between 2003 and 2008 gross domestic product rose 11%, the 'median' workers' wage stagnated.
A conservative estimate of falling real wages is of 6% in the last 3 years as prices rocket ahead of wages. Estimates vary from a loss of £1,350 to £2,000 per annum in real terms for most of us.
Morrisons say one third of customers are one pay cheque from bankruptcy
L&G say 37% of the population have no savings at all
The average family has only enough money to 'last' 34 days
Is there a recovery?
To listen to the news recently you'd be forgiven for thinking that Britain was in a boom. "Britain has wow factor" screamed London's Evening Standard.
Manufacturing 'soared' 1.9% month-on-month in June. Car sales were the best since 2007 and house prices were rising again.
Let's leave aside that even more young people will be excluded from owning a home as a result.
It's a weak recovery, and as the International Monetary Fund recently revealed, austerity has not rescued Britain, whose recovery is slower than most rivals in 'the global race'.
In fact those who control the free market economy and who brought us the 2008 crash are, like an addict relapsing to their drug, trying to build a recovery on debt-laden consumer spending and a housing bubble.
Robin Clapp from Bristol wrote to us to point out:
Tucked away in the Economist (27 July) is a telling paragraph that might have been lifted from the pages of the Socialist, revealing the growing pessimism of the more far-sighted and sober capitalists when weighing up prospects for the much-lauded economic recovery.
"But the recovery remains skin-deep. The bones of Britain's economy are rotten. Shoppers are consuming not because they earn more but because they can borrow more.
"Established firms with cash in hand are hoarding rather than investing. New firms with ideas but no funding find it hard to borrow: the banks will lend only against property.
"Britain still buys more abroad than it sells, despite a weak currency. At some point, these deeper problems will surface."
We agree there is no golden age ahead for British capitalism and while the Economist will quickly revert to its more usual windy optimism, it's worth bearing these words in mind as a rare antidote to the current nonsense being spouted about recovery.
Behind Osborne's frothy claims that 'Britain's back again' is a cancerous combination of new speculative bubbles, the reappearance of potentially toxic sub-prime mortgages, more privatisation, savage cuts to the social wage and the driving down of wages through a rocket-propelled rise in zero-hour contracts.
The only long-term cure for this patient is a transplant - from the existing social system to a socialist one.
Why not click here to join the Socialist Party, or click here to donate to the Socialist Party.
---
In The Socialist 14 August 2013:
---
Socialist Party campaigns

Zero tolerance for zero-hours!

End zero-hour contracts now!
---
Socialist Party editorial

A tale of two Britains
---
Socialist Party news and analysis

Beware a recovery!

Met finally apologise for G20 death

London Olympics legacy - one year on

Football and big business: time to reclaim the game

Socialist Party subs appeal

Them & Us
---
Socialist Party events

Come to the Socialist Party Summer Camp
---
Socialist Party NHS campaign

Hunt attacks NHS staff and patients

Save Our Hospital!

Protest at the Tory Conference in Manchester
---
International socialist news and analysis

Tunisia: Mobilise to bring down the government

South Africa: Limpopo WASP launch

Seattle: Socialist challenge to corporate Democrats
---
Socialist Party workplace news

Defend the Four: Tribunal compensation award to Unison activists

Postal workers ballot for action

On your bike, Serco

Swansea council pay attacks angers workers
---
Anti-Bedroom Tax

Winning a reprieve from the bedroom tax
---
Trade Unionist and Socialist Coalition

Building TUSC in Caerphilly
---
Socialist Party comments and reviews

Reflections and sycophancy: Kinnock versus the socialist Liverpool council

The Mill: A change from the usual TV

Successes, failures and stalemates: A week in the life of a trade union rep
---
Home | The Socialist 14 August 2013 | Join the Socialist Party
Subscribe | Donate | PDF | ebook
---