Link to this page: https://www.socialistparty.org.uk/issue/464/1737
From The Socialist newspaper, 22 November 2006
Public health not private profit
Build a national fightback now!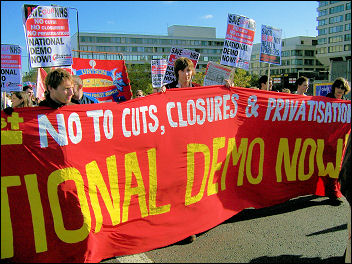 March to TUC NHS lobby of parliament calling for a national demonstration in 2006, photo Paul Mattsson
NATIONAL HEALTH Service chiefs have told hospital trusts that they can start advertising for patients. This is a new stage in the 'marketisation' of the NHS. The prospect of an 'advert war' looms as hospitals have to compete with each other for patients.
Lois Austin
By advertising, the NHS is mimicking the private health sector. A massive £1 billion is paid to the private sector for NHS treatments - that's roughly equal to the overall deficit across the NHS. However, surveys of treatments done in Independent Sector Treatment Centres (ISTCs) show that this private sector under-performs and is no cure for an under-resourced NHS.
A Commons select committee found that if the money wasted on ISTCs had been invested in the NHS, it would have been a more efficient and cheaper option. Within the NHS, that investment would have helped improve patient care for the long term, instead of just boosting shareholders' profits.
NHS hospitals are already forced to compete with each other through the 'market reform' of 'payment by results'. NHS funding follows the patient. Previously, hospitals were paid in advance, en bloc, for treatments carried out. Now they are paid in arrears for each individual treatment. This has been a major factor in destabilising hospital funding and the build-up of huge deficits.
This marketisation of NHS funding causes competition between hospitals. Those trusts that can attract funding may thrive. Those who can't will receive less funding, become run down and may eventually be forced to close.
Bringing the market into public services always leads to uneven funding and an unequal service. Chief executives and hospital managers will receive lucrative bonuses if they reach financial targets.
This could ignite an even bigger advertising war between hospitals, as NHS bosses move might and main to win their bonus. It also threatens cuts as chief executives try to protect their own earnings at the cost of services and staffing levels.
Advertising for patients would be another, very costly, nail in the coffin for a publicly funded, planned and resourced NHS that meets communities' needs. It must be resisted.
Action
Local people are still struggling to defend their health services (see page 3). There are plans to give these local protests a national focus. On 2 December, the People United Saving Hospitals (PUSH) meeting in Nuneaton will unite activists to organise for a national day of action on 15 December and to step up the campaign for a national demonstration. Keep Our NHS Public (KONHSP) plans a national week of action for the last week of January.
Across the country cuts and ward closures are going on, many dressed up as modernising patient services. The movement against cuts must urgently step up the action.
The health trade union campaign NHS Together meets at the end of November. The unions at this meeting must call a national demonstration for early in the New Year. If they don't, national campaigns like PUSH and KONHSP must organise it instead. We can't wait any longer for a national fight-back, our NHS's future is at stake!
---
>
Rally for Socialism
Saturday 25 November, 6.30pm-9pm
Friends Meeting House, 173 Euston Road, London NW1.
Speakers include: Len Hockey, Whipps Cross hospital UNISON joint branch secretary, (personal capacity).
Councillor Jackie Grunsell, Huddersfield Save Our NHS.
Mark Serwotka, general secretary PCS civil servants' union, (personal capacity). Tommy Sheridan, Solidarity MSP.
Peter Taaffe, Socialist Party general secretary.
This rally is part of Socialism2006, the Socialist Party's annual weekend of discussion and debate - 25/26 November.
Full programme see www.socialism2006.net
Why not click here to join the Socialist Party, or click here to donate to the Socialist Party.
---
In The Socialist 22 November 2006:

Public health not private profit

Nurses against 'natural wastage'

Swansea says no closures

Ipswich campaign saves nurses' jobs

Pensioners lead the way
---
Socialism 2006

Socialism 2006 main rally

Films show a world of rising struggles

Socialist Party youth rally

Socialism 2006: a great success

Collection a big success

Socialism 2006 closing rally: defend the NHS

Sri Lanka
---
Education

Stop the fat cats! No to Cutbacks! Fight tuition fees!
---
New Socialist Party publication

Marxism in Today's World
---
The Socialist Interview

Can Labour be reclaimed?
---
Homelessness Feature

Homelessness: Privatising the problem
---
International socialist news

Worldwide protests at MP's murder

Leicester protest

Thatcher's monetarist guru dies

Prodi government under siege

US rages but Ortega's victory is no revolution
---
Socialist Party news and analysis

Queen's speech says 'work till you drop'

Lincoln organises against the far right
---
Socialist Party workplace news

Local government pensions: We're no April fools!

Disciplinary action against UNISON secretary

JJB Sports workers score a victory

Fujitsu on strike
---
Home | The Socialist 22 November 2006 | Join the Socialist Party
---