Link to this page: https://www.socialistparty.org.uk/issue/781/17475
From The Socialist newspaper, 25 September 2013
Socialism 2013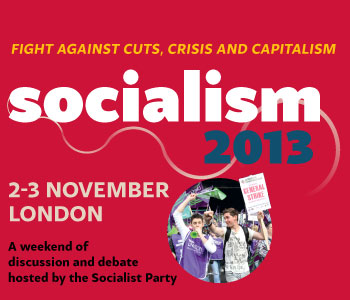 While most of us have to struggle just to get by, the pockets of the rich and powerful in Britain are rapidly filling with wealth. In June - in one of those 'you couldn't make it up' moments - the MPs' pay body IPSA recommended an £11,000 a year pay rise for them! Since then MPs have been found out yet again claiming outrageous expenses.
---
>
---
>
Internationally, the struggle for a better future than what capitalism can provide is also hotting up. Look at Brazil, Turkey, Egypt...
Meanwhile the bloody situation in Syria shows once again capitalism's brutal face. As does the 40th anniversary of the bloody overthrow of the reformist Allende government by the western-backed Pinochet military coup.
In the pages of the Economist and Financial Times, leading capitalist thinkers continue to sweat - the situation "ain't too rosy" and they know it! They're sometimes even forced to admit it, after years of denial, "that Marx bloke - he was sort of right."
There's only one event this year that brings this all together and that's Socialism 2013. Come to Socialism and discuss the current struggles of ordinary people in Britain and internationally, and the history of our movement and the lessons it provides. Discussions at Socialism 2013 range from how to save the NHS; to Chile 1973; to Liverpool city council; to the founding of the Fourth International 75 years ago; to the basics of Marxism and what socialism would actually do.
Socialism 2013 is 'where it's at' this year to learn, debate and discuss and be part of the growing fight for international socialist change.
Lenny Shail
---
>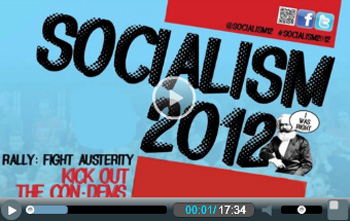 Socialism 2012 video splash
Last year's Socialism 2012
Why not click here to join the Socialist Party, or click here to donate to the Socialist Party.
---
In The Socialist 25 September 2013:
---
Socialist Party NHS feature

Mass Action Can save our NHS

Another crackpot scheme for the NHS
---
What we think

Labour conference - no socialist policies
---
Socialist Party feature

Rotten, wasteful capitalism has to go - the case for a socialist alternative
---
Socialism 2013

Socialism 2013
---
Socialist Party news and analysis

Labour to scrap bedroom tax in 2015 - we demand an amnesty now!

Them & Us
---
Socialist Students

University unions' ballot: Students and staff - unite and fight!

Socialist Students gains new members

'Success' for owners - zero for workers
---
International socialist news and analysis

Greece: Neo-Nazis murder Pavlos Fyssas, a left activist and rapper

Greek teachers show the way forward
---
Socialist Party workplace news

Bakers rise against Hovis: Victory shows zero-hours can be beaten

Support Teachers' fight to defend education

Industrial and political battles at Hull city council

Stop privatisation of the Probation Service

Glasgow Unison strike wins important victory

Workplace news in brief
---
Socialist Party reviews and comments

Book review: Militant Liverpool - A City on the Edge

Obituary - Steve Draper
---
Home | The Socialist 25 September 2013 | Join the Socialist Party
Subscribe | Donate | PDF | ebook
---