Link to this page: https://www.socialistparty.org.uk/issue/782/17504
From The Socialist newspaper, 2 October 2013
28 percent for TUSC in Fleetwood
Jane Hersey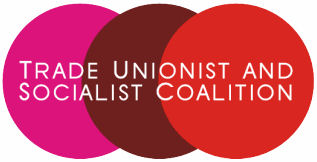 The Rossall ward Fleetwood town council byelection took place on 26 September with Ray Smith standing for the Trade Unionist and Socialist Coalition (TUSC).
GMB member Ray stood to oppose the Tory-Liberal government destroying public services and led a public campaign to keep the local hospital open. Ray used to be a Labour councillor but joined TUSC because Labour was not defending working and vulnerable people.
One supporter said: "There's a lot of anxiety at the savage attack on people living in poverty, with disabilities, in fact all vulnerable people, by the Coalition government.
"I feel so disillusioned that Ed Miliband is not standing up for us or challenging David Cameron on his attack on the poor. Amnesty have condemned the Coalition for their attack on disabled people. Why can't Ed Miliband?"
The election results were close, with the Conservatives getting 330, the independent candidate 287 and TUSC 235. Ray was just 95 votes short of winning, with 28% of the vote.
Ray said: "This is a good and positive result. This result is very encouraging for TUSC and something for members to work on for the future, especially towards the 2015 general election when TUSC should field as many candidates as possible."
Why not click here to join the Socialist Party, or click here to donate to the Socialist Party.
---
In The Socialist 2 October 2013:
---
Socialist Party news and analysis

Nationalise them now!

Tax dodging corporations profit from casualisation

Big business puts profits before environment

Tory millionaire tells Britain: 'Back to the workhouse!'

Them & Us
---
Socialist Party NHS campaign

Fighting to defend our NHS
---
Socialist Party reviews

TV review: Locked up for being ill?

TV review: Peaky Blinders

Theatre review: A man of humble beginnings
---
Socialist Party editorial

Capitalist parties offer nothing to the 99%
---
Socialism 2013

Socialism 2013 - a weekend of discussion and debate hosted by the Socialist Party
---
Socialist Party workplace news

Solid support for teachers' strike

Firefighters' four-hour strike - determined and clear that coordinated action needed

Rochdale care workers dig in

Liverpool pay victory

Leeds zero-hour protest

In brief
---
Socialist Party reports and campaigns

28 percent for TUSC in Fleetwood

Lincoln: 400 march against Library cuts

The fight against academies in Leicester

Building Socialist Students
---
International socialist news and analysis

Greek government forced to take action against neo-fascists

Activists demand full public inquiry into undercover police operations

Sudan: 'Down with the regime!'

Qatar: End this modern-day slave labour
---
Home | The Socialist 2 October 2013 | Join the Socialist Party
Subscribe | Donate | PDF | ebook
---