Link to this page: https://www.socialistparty.org.uk/issue/782/17516
From The Socialist newspaper, 2 October 2013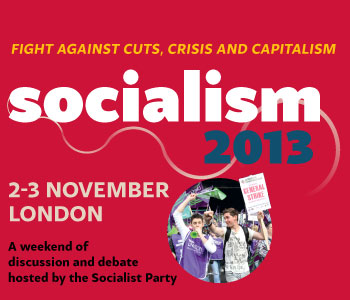 Socialism 2013 - a weekend of discussion and debate hosted by the Socialist Party
Fight against crisis, cuts and capitalism
Saturday 2nd and Sunday 3rd November 2013
Rally for Socialism 6:30pm on Saturday
Speakers include the general secretaries of the PCS and RMT unions - Mark Serwotka and Bob Crow, Socialist Party general secretary Peter Taaffe, and a South African miner.
Friends Meeting House, 173 Euston Road, London NW1 2BJ
Workshops and discussions: Register from 2:30pm at University of London Union, Malet Street, London WC1E 7HY
Weekend £30/£15(concessions)
One day £15/£8(concessions)
Rally only £5
For more info call 02089888777 or see www.socialism2013.org
Why not click here to join the Socialist Party, or click here to donate to the Socialist Party.
---
In The Socialist 2 October 2013:
---
Socialist Party news and analysis

Nationalise them now!

Tax dodging corporations profit from casualisation

Big business puts profits before environment

Tory millionaire tells Britain: 'Back to the workhouse!'

Them & Us
---
Socialist Party NHS campaign

Fighting to defend our NHS
---
Socialist Party reviews

TV review: Locked up for being ill?

TV review: Peaky Blinders

Theatre review: A man of humble beginnings
---
Socialist Party editorial

Capitalist parties offer nothing to the 99%
---
Socialism 2013

Socialism 2013 - a weekend of discussion and debate hosted by the Socialist Party
---
Socialist Party workplace news

Solid support for teachers' strike

Firefighters' four-hour strike - determined and clear that coordinated action needed

Rochdale care workers dig in

Liverpool pay victory

Leeds zero-hour protest

In brief
---
Socialist Party reports and campaigns

28 percent for TUSC in Fleetwood

Lincoln: 400 march against Library cuts

The fight against academies in Leicester

Building Socialist Students
---
International socialist news and analysis

Greek government forced to take action against neo-fascists

Activists demand full public inquiry into undercover police operations

Sudan: 'Down with the regime!'

Qatar: End this modern-day slave labour
---
Home | The Socialist 2 October 2013 | Join the Socialist Party
Subscribe | Donate | PDF | ebook
---